You're Favorite Fords From Your Favorite Ford Dealers in Ohio!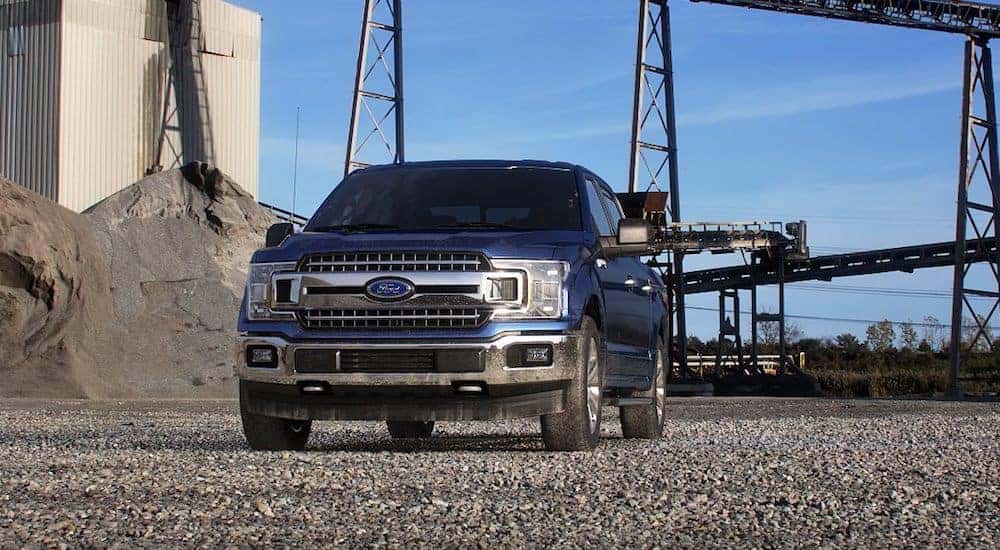 Kings Ford has been earning your business for years as one of the premier Ford dealers in Ohio. We know that the true meaning of customer satisfaction does not stop when you drive off our lot, and, our continued efforts to strive for excellence well beyond the point of purchase is what keeps drivers coming back to us time and again. We provide the highest quality inventory of new and pre-owned vehicles and combine that with the outstanding service and integrity the world has come to expect from over a century of pioneering innovation and design from the Ford brand. At Kings Ford, we base our stellar service on three pillars of excellence: quality customer service, competitive prices, and community outreach. Now is the time to check out what Kings Ford is really all about, and how we can make your new purchase not just an easy one, but a proud purchase as well.
Your #1Ford Dealer in Ohio!
As the premier Ford dealership in Cincinnati, OH, we understand the appeal of the Ford brand as a manufacturer of well built vehicles designed for every driver; and not just any old car or truck, but one that people would be proud to own and drive. Ford vehicles continue to be America's number one trusted automotive brand due to their superior on-road capabilities, high performance, and reliability provided by each vehicle day in and day out. Whether it is a small Ford Fiesta or a full-sized truck like the F-150, Ford vehicles are about more than just reaching your destination; they are about the entire driving experience pushing the boundaries of technology and design while promoting more comfort, more safety, and more overall driver satisfaction. Kings Ford is proud to be a member of the legacy of Ford dealers where exceeding expectations in strength and reliability is the standard as exemplified in every Ford vehicle that comes off the assembly line.
The Ford Inventory
Did we mention our extensive lineup of Ford vehicles? Here at Kings Ford, we carry the full Ford lineup of cars, SUVs & crossovers, trucks & vans, hybrids, and commercial vehicles available. That's a one-stop shop for all your possible vehicle needs no matter your preferred make or model. And soon you will see an onslaught of new Ford vehicles in the hot-selling SUV and truck markets which will include the 2019 Ford Ranger pickup starting production at the Michigan Assembly Plant and the new Escape and Explorer available in 2020. Approximately 75 percent of the Ford vehicle lineup will be all-new by 2020. And although our lineup is set to change in the near future, there is a lot about us that hasn't changed and frankly isn't going to ever change. We are still a family business of inventor-led builders, which means we are still the manufacturer with the most extensive listing of vehicles available by make and model. We are still proud to be a car company, we still build with care. And everything we make has and will always be made one way only: Built Ford Proud. And that's why we put our family name on all that we build.
Kings Ford has an entire lineup of new and pre-owned vehicles that will meet the needs of any customer. The features, engines, trims, and make/model might all be different, but each vehicle has the same build quality and high performance that has put Ford at the forefront of the automotive industry. If you are looking for a new vehicle, here is just a sneak peek of the vehicles you should consider.
F-150
The F-150 is a top dog. Winner of the 2017 Best Truck Brand, this truck has been the leader of the pack among trucks and Ford vehicles alike. Why do so many people turn to this pickup to drive around or haul cargo? High safety scores, unmatched performance, and unrivaled longevity are just a few of the reasons. More than anything else, the F-150 embodies the slogan that Ford has lived by for decades: Built Ford Tough.
The 2019 F-150 comes with a variety of options for people who need anything from a light-duty truck to a true powerhouse. You can find different cab sizes such as the SuperCab and SuperCrew along with different bed lengths. Using an aluminum chassis, the truck is also light and fuel efficient compared to other competitors. If you need a truck, the F-150 should be at the top of the list.
Mustang
Along with the F-150, the 2019 Ford Mustang has become a staple that represents the Ford design philosophy. The Mustang proves that Ford doesn't just specialize in making great trucks. As a sports car with a long, respectable history of reliability and performance, this option is the car anyone needing some speed should consider.
The Mustang has retained the aesthetic look and feel of a true American muscle car while incorporating the latest in safety and infotainment systems. Under the hood, you can expect horsepower in the 300 range. And for those who need that extra punch in the speed department, V6 and V8 engines are available on certain trims as well.
Edge
A competitive midsize SUV, the 2019 Ford Edge is the perfect blend of passenger comfort and vehicular performance. Sporting a twin-turbocharged four-cylinder engine on the base trim, the Edge has a respectable 22/29 MPG that other similar SUVs rarely can match without sacrificing the power and speed the 245 horsepower engine can provide. Upgrade options also include a more powerful 2.7L V6 with 335 horsepower.
Inside, the Edge is all about creature comforts. The family-friendly SUV includes standard features such as Bluetooth connectivity, USB port charging, rearview camera, and a basic infotainment system. Upgrades for security and entertainment include rear-seat DVD screens, the MyKey entry system, and Ford's plethora of enhanced safety features such as adaptive cruise control.
Focus
While the Ford lineup is dominated by large trucks and SUVs, the company knows how to do small right as well. The 2018 Ford Focus is an affordable compact car that maximizes fuel economy without an electric or hybrid drivetrain. The 2.0L four-cylinder engine comes with manual and automatic transmission options and is enough to get the small car up to speed on the highway.
Need more range? Consider the Focus Electric that utilizes a 107W motor to generate 143 horsepower. On a single charge, the car can get 118 MPGe in the city or 96 MPGe on the highway without having to visit a gas station.
Expedition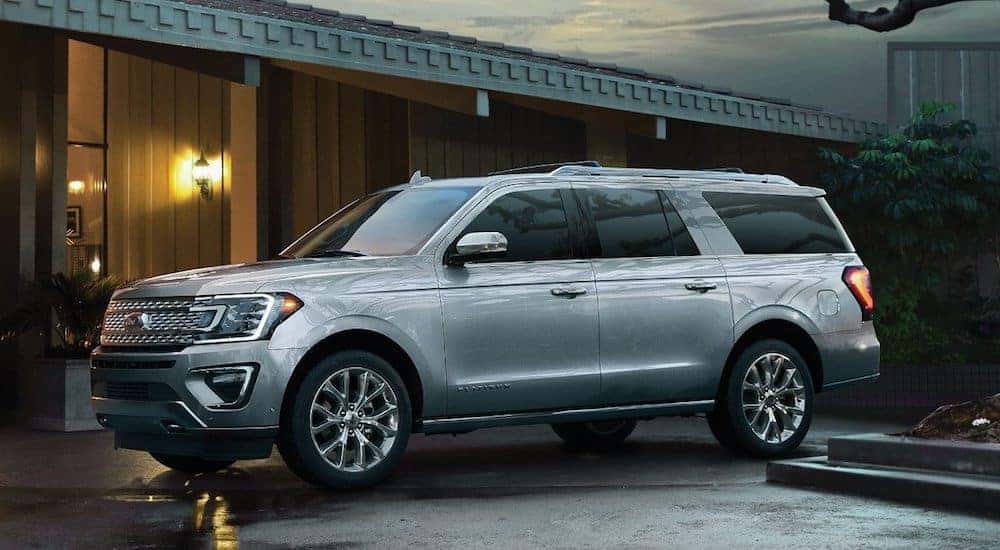 The 2019 Expedition is like a truck with the interior of a full-size SUV. Anyone wanting to travel around in comfort while off-roading or hauling heavy cargo should consider this SUV. The engine options alone, including the standard 3.5L V6 with 365 horsepower, prove that this vehicle is focused on giving the performance you need while riding in comfort. The SUV is capable of towing up to 9,200 pounds with the right engine.
Inside, the Expedition sports the same creature comforts as the smaller vehicles such as a 4.2-in infotainment display with navigation, voice control, satellite radio, and smart device connectivity. The vehicle also received a five-star overall rating from the NHTSA for its assortment of enhanced and standard safety features.
Why Kings Ford?
At Kings Ford, our focus is on overall customer experience and satisfaction and work hard to be the best Ford dealer in Ohio and beyond. We employ a knowledgeable staff of skilled salespeople and technicians to guide you through the purchasing process. Whether you are looking for a new vehicle or need to get an existing one serviced, we have the capable hands that will get the job done quickly and get it done right, all while saving you time and money. Our commitment to competitive pricing is just another assurance we offer to help you save. Not quite sure what you need or where to begin? Our great customer service can help make the process of buying a new or pre-owned vehicle not just easy but enjoyable. They can answer any questions, provide clarification on documents you need to sign, or explain how the various fees, deals, and incentives all factor in. We like to make sure you know exactly what you are paying for before you sign on the dotted line, and that's why we would love to be your favorite Ford dealer in Ohio.