Dayton Drivers
Dayton is a business hub for manufacturing, shipping, research, engineering, and the service industry. With so many people rushing along the roadways during their busy morning commutes, Dayton drivers need dependable vehicles to take them through bustling traffic and off to work in no time. Innovation is the center of Dayton, with a strong history of aerospace technology, astronauts, inventors, and aviation. Along with housing the National Museum of the U.S. Airforce, Dayton is also the birthplace of famed aviation pioneer, Orville Wright. There's no better vehicle to drive in this deeply-rooted American city than the classic homegrown automotive brand, Ford.
Columbus Residents
Our state capital, Columbus, Ohio, is the fourteenth most populated city in the United States and the second most populated city in the Midwest. With one of the largest universities in the country (Ohio State) and a growing population of educated workers, Columbus is a thriving metropolitan area. At Kings Ford, we specialize in offering only the best of the best for our local drivers.
Whether your family has lived in Ohio for generations, or you recently moved to Columbus for an exciting new job opportunity, you'll find quality new and used vehicles at Kings Ford. We trump the competition of other Ford dealers. Ohio workers and families are near and dear to our hearts. We want you to be happy with our service, so you'll refer your coworkers and friends to our dealership. Spread the word; Kings Ford supports the hard-working people of Columbus by providing quality vehicles at unbeatable prices.
Cincinnati Buyers
Cincinnati is a historical city that was established in 1788. As the first city founded after the American Revolution, Cincinnati is all too familiar with the story of American strength and economic growth. True patriots in Cincinnati choose to buy American-made vehicles from companies with a shared background of fierce independence and innovation. That's why we encourage all car shoppers in Cincinnati to stop by and test drive Ford's from the past or present at Ford dealerships. Ohio is part of America's heartland. Ford automobiles and Ohio drivers naturally go hand-in-hand.
Some of Our Favorites
Ford F-150 – Perfect for Cincinnati
The Cincinnati area – and Ohio in general – is the perfect place to own the Ford F-150, especially if you work in a trade or agriculture. If you do work in a trade, then you already know how important it is to have equipment that will keep working as hard as you do, and that can handle any task you throw at it. With six different engines available, offering up to 450 hp and 510 lb-ft of torque at optimal power, you can get just the right F-150 at your Ford dealer in Ohio to keep up with you and work all week long.
It does not matter if you are a carpenter, painter, electrician, plumber, or in any other vital trade, you can rely on the Ford F-150 to help you get your job done. Need to load up a ton of drywall to take to a job site? The available 3,270 lbs of maximum payload make that easy.
And if you are looking to pull a trailer full of supplies and building materials to a worksite, then the Ford F-150 has you covered there too, with an available 13,200 lbs of maximum towing. Of course, all that power is just as helpful on the weekend too. It can be used when you want to load up with camping supplies and get away from the city for a few days or haul your boat to the river for a Sunday on the water. No matter what you are into, the F-150 has the power and performance to work with you all week long and help you have fun on your days off too.
Amazing Ford Plug-In Hybrids
Sustainable energy for a better future is clearly important to Ford, which you can see in the powerful and sporty plug-in hybrid options available at Ford dealers in Ohio. Of course, there are also a number of traditional hybrids available, and the upcoming electric Mustang Mach-E is looking to set the standard for what we expect from electric SUVs. That being said, if you are looking to cut down on spending at the fuel pump, then a great plug-in hybrid is a smart choice.
One of the most popular plug-in hybrid options is the Ford Fusion, which has a fantastic 2.0L Atkinson-Cycle I-4 plug-in hybrid engine, offering 188 hp combined and an estimated 42 MPG combined. This gorgeous four-door sedan has more than 100 cu.ft. of passenger space with plenty of headroom and legroom both in the front and rear. With its excellent fuel economy and plenty of room for friends or family, this is a fantastic car for the Cincinnati area; it lets you get across the city or head over to Milford, Northgate, or down to Covington with ease. And with an estimated 26 miles of electric-only range, you can make plenty of short trips without using any gas at all.
The Plug-In Hybrid Titanium trim for the Ford Fusion not only has this incredible engine but also comes with fantastic features throughout. This includes 10-way power-adjustable front seats, ambient lighting, a 12-speaker sound system, and a heated steering wheel. This model also comes with truly fantastic safety features, including adaptive cruise control with stop-and-go, voice-activated touchscreen navigation, and pre-collision assist with automatic emergency braking.
If you are looking for something a little different, then there is the Ford Escape, which also features a plug-in hybrid option for incredible fuel economy and great driving experience in and around Cincinnati. This model has a 2.5L Atkins-Cycle I-4 Hybrid engine that generates up to 200 hp combined and up to 155 lb-ft of torque, with a combined fuel economy of up to 41 MPG. This small SUV has plenty of room inside, with more than 37 cu.ft. of space behind the rear seats and more than 65 cu.ft. of cargo area behind the front seats – making it a fantastic option for loading up with friends and everything you need for a day of fun.
With the hybrid engine, the Escape can tow up to 1,500 lbs, so it is a fantastic choice if you have a small camper or trailer that you want to take with you and get away from the city for a few days. Of course, the Escape is just as fun to drive around Cincinnati, especially if you choose the available Titanium trim. The Titanium features a 12-inch configurable LCD digital instrument cluster, ambient lighting, and dual-zone electronic automatic temperature control. There are few ways to drive across the Ohio River to have some fun down in Kentucky quite as comfortable as behind the wheel of the Ford Escape.
Ford Explorer – Ideal Family SUV
If you have a big family or a large group of friends that you like to drive around with you, then it is hard to beat the Ford Explorer. This large and gorgeous SUV has seating for up to seven people, with plenty of room for everyone and great options inside and out. It is a fantastic choice for getting around Cincinnati and the surrounding area, making it ideal for anyone in Glendale or the Sharonville area.
Whether you have kids that need to pile into your SUV or you tend to drive other adults around, the Explorer is a great choice thanks to up to nearly 40 inches of legroom in the second row and more than 32 inches of available legroom in the third row. Several different engines are available for the Ford Explorer, including a hybrid, and you get nearly 88 cu.ft. of interior cargo space. Whether you like to head to the river for a fun Saturday, have after-school supplies you need to cart around, or simply want to be able to load up with groceries, the Explorer can handle it.
And yet, you do not have to sacrifice luxury with this vehicle. While your kids might be happy to stretch out in the third row, you can enjoy the available 14-speaker sound system, substantial 10-inch LCD Infotainment touchscreen, and available twin-panel moonroof as you hit the road.

Ford EcoSport – Great Choice for Cincinnati Students
Whether you have kids in high school that are going to be driving soon, or you are a student at the University of Cincinnati, the Ford EcoSport is a great choice for getting around after school. With a pair of smart-charging USB ports and an available 10-speaker B&O sound system, your friends will be able to keep their devices charged, and you will all enjoy listening to music in the EcoSport. Available ambient lighting makes for a cozy and fun ride, whether you are cruising around after class or heading out of town for the weekend.
New Driver Safety
If you have high schoolers that are getting ready to drive, the Ford EcoSport is a great choice thanks to its standard and available safety features. The EcoSport comes with hill start assist, which is great for when you have to park on the street, along with a rearview camera. Available safety features include a blind spot information system with cross-traffic alert and a reverse sensing system that alerts you when objects are detected behind you while in reverse. While these kinds of features cannot replace careful, responsible driving, they can help improve safety and might make the difference between your new driver getting home on time and having to call you for help.
2020 Model Overviews
There's a lot to be excited about for Ford fans in 2020. Kings Ford is proud to showcase an impressive collection of the latest cars, trucks, SUVs, and vans to be seen at Ford dealerships. Ohio residents can stop by our dealership any time to test drive any of these shiny new vehicles from Ford. Here are some of the top options we're especially psyched about for the upcoming season.

The 2020 Ford Fusion
Starting at $23,170 the 2020 Fusion is a versatile and stylish sedan, offered in a few different engine options to fit any budget. The desirable trim levels range from the economical S, the midpoint SE or SEL (both come in optional hybrid versions), and the premium Titanium trim. The Plug-In Hybrid Titanium is estimated to get an amazing 107 miles per gallon in the city and 97 miles per gallon on the highway. If fuel efficiency is a priority for you, the 2020 Ford Fusion is the car to watch.
The 2020 Ford Mustang
Nothing says "cool" quite like a Mustang. This iconic vehicle is back again in 2020 with a sporty, up-to-date design and timeless, vintage class. A starting MSRP of $26,670 makes the new Ford Mustang accessible to many drivers hoping to become a proud new owner of this attractive model. Check out the EcoBoost fastback or convertible, athletic BULLITT or luxury Shelby models to find your perfect match.
The 2020 F-150
If you're in the market for a tech-savvy truck, you must see the new F-150. Starting at $28,495, the F-150 is truly customizable. Begin by choosing from a regular, supercab, or supercrew style with a box of 5-½', 6-½' or 8' length. The standard XL comes with a 3.3-liter V6 engine. Upgrading to the Lariat trim brings Sync 3 plus FordPass Connect technology, Intelligent Access with push-button start, and luxurious leather seats. The King Ranch has a 5.0-liter V8 engine, while the Raptor or Limited trim includes a high-output 3.5-liter EcoBoost V6 engine.
The 2020 Ford Explorer
Looking for a modern SUV to comfortably fit seven passengers? The 2020 Explorer is completely redesigned with newly available trims, starting at an MSRP of $36,675. Find everything from a fuel-efficient hybrid to Ford's most powerful Explorer to date. The Explorer ST produces 400 horsepower and 415 lb-ft of torque. It can get up to 143 miles per hour, putting adventure at your fingertips with the assistance of rear-wheel drive.
The 2020 Ford Edge

Starting at an MSRP of $31,000, the 2020 Edge is a "thrill ride with the brains to match." It's the first SUV from Ford's Performance Team. That means power, control, and driveability are all first-rate in this five-passenger vehicle. Based on premium fuel in the standard model, the 2020 Ford Edge's 2.7-liter V6 turbocharged EcoBoost engine can produce 335 horsepower and 380 lb-ft of torque. Ford CoPilot 360 technology and wireless charging stations make this vehicle a great companion for both daily commutes and long road trips.
The 2020 Ford Expedition
Starting at an MSRP of $52,810 on the 2020 Expedition is a commanding vehicle with room for eight, offering best-in-class legroom. Get 60/40 power fold seats in the King Ranch edition for premium versatility. Opting for the Heavy Duty Trailer Tow Package takes this large SUV to another level by providing an impressive 9,300 lb towing capacity. This powerhouse on wheels spares nothing in terms of technology, offering wireless charging, FordPass Connect, 4G LTE Wifi, Ford+Alexa, and Waze. Sync 3 uses enhanced voice recognition and climate control to keep your hands on the wheel of this massive vehicle. Apple CarPlay and Android Auto keep you connected for long trips to new or familiar places.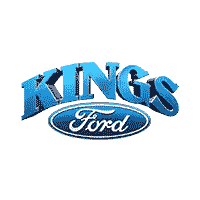 Kings Ford
No matter where you are from or what Ford vehicle you are interested in, here at Kings Ford in Cincinnati, Ohio, we are happy to help you find the perfect new vehicle. Our friendly sales team will work with you to get you into your dream vehicle.