Five Reasons to Choose Kings Ford
Any Ford dealership can tell you they do a good job or proclaim that you should choose them, but many of them fail to support that claim. You deserve a dealership that wants your business and shows you through their actions that they are committed to your needs. Here are just a few of the many reasons why you should choose Kings Ford for your next vehicle.
Our incredible selection of new vehicles: We have hundreds of brand-new Ford cars, trucks, and SUVs available for you to choose from every single day. There are other Ford dealerships out there that only keep a relatively limited selection of vehicles on-hand, with perhaps a few dozen for you to choose from.Here at Kings Ford, however, we want to ensure that you drive away in the perfect option with all of the features and packages that you want, so you will absolutely love your new car. By keeping hundreds of models available, we give you the freedom to pick and choose the perfect combination of options in order to get just what you need.
Our used and pre-owned options: While we all love new Ford vehicles, we also know that a new car is not always the right choice for everyone. That is why we keep a large selection of used models for you to choose from, including a wide range of cars, trucks, and SUVs from Ford and other manufacturers.We also have a carefully chosen and rigorously inspected inventory of certified pre-owned Ford vehicles for you to consider. These models are in the absolute best condition possible and come with factory-backed warranties that protect your investment, allowing you to choose a pre-owned model and still have exceptional peace of mind.
Our friendly and knowledgeable salespeople: Providing you with an incredible selection of new and used vehicles is a great place to start, but we do not stop there. When you have hundreds of different vehicles to look at and consider, the process can undoubtedly feel overwhelming, which is when you need someone with experience on your side.Our salespeople are highly trained and know the auto industry inside and out, so they can work with you to make sure you get the perfect vehicle with everything you need. They are not here to push a particular model out the door; they will listen to you, answer your questions, and see to it that you find the car that meets your needs.
Simple, straightforward financing: We are not going to pretend that the financing process is anyone's favorite part of buying a vehicle. Even if you have excellent credit, it can still be a lengthy and confusing experience at some other Ford dealerships. That is why our financing experts do everything they can to keep financing as quick as possible.There is even an easy application available right on our website with a valuation tool for any trade-in you might have. This lets you get started right now, to minimize the time it takes later, and we will make sure you understand every step of the process and drive away with financing that meets your budget and works for your lifestyle.
Long-term service and support: As your Ford dealership, our first priority is to make sure you drive away in a vehicle that you love – but that is not the end of our relationship with you. Once you have the perfect ride, we want to make sure you continue to enjoy it for many years to come.Our expert service center is here to provide everything you need: from routine scheduled maintenance and inspections, to regular oil changes, and even more elaborate repairs if necessary. We will keep your Ford on the road for a long time and ensure it is in the finest condition possible so you can continue driving and enjoying your vehicle for years to come.
Of course, that is only the start of the many reasons to choose Kings Ford, but you will have to come and experience the rest of them for yourself.

Why We Love the Ford Brand
The Ford automotive legacy goes back more than 100 years, and that is a heritage that really means something. There are so many reasons we love the Ford brand that we cannot begin to list them all here, but one of the main things that keeps us coming back for more from Ford is their lineup. The modern lineup of vehicles you will find at your Ford dealership is truly one of the finest every developed and offers a wide range of amazing models.
Although Ford has largely moved away from traditional cars, the Mustang remains a shining beacon of power and performance in the auto industry. For anyone interested in a nimble and responsive coupe, the Mustang truly is one of the finest options on the road with incredible power to spare. And if you prefer a more cost-efficient solution, you should check out the Fusion Hybrid, with tremendous fuel economy and a sporty design that is incredibly fun to drive.
If you are more interested in an SUV, then Ford definitely has you covered with a selection of some of the finest models on the road. Best of all, there are different Ford SUVs available at a wide range of sizes and in many different styles. With the all-new Ford Bronco, the lineup has only become even better, and there is no denying that Ford is a leader in SUV development.
The Ford F-Series of trucks has been the best selling set of vehicles on the road for decades, with the Ford F-150 being the best selling pickup since the Reagan administration. There is a good reason for that, and we love everything the F-150 has to offer, with incredible power and performance, a rugged yet sophisticated interior, and amazing safety features. For truck-lovers, there is no other brand out there, quite like Ford, to meet your needs.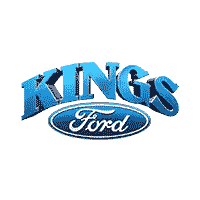 Find Your Next Ford at Kings Ford
Here at Kings Ford, we feel privileged every single day to be your chosen Ford dealership. We work hard to earn your trust and keep it with straightforward salespeople, financing experts, and service professionals who all put your needs first. So call or visit us at Kings Ford today and discover a better way to shop for and enjoy your next vehicle.