Ford Dealerships
The car-buying process can be grueling, but it can be made a whole lot easier if you've already zeroed in on a particular brand and dealership. Well, if you're struggling with a decision, you should consider Ford's array of offerings. Whether you're seeking a car, truck, or SUV, we're confident that you'll appreciate everything that the brand's vehicles have to offer. Furthermore, if you are content with a Ford, you should consider purchasing that new vehicle from Kings Ford in Cincinnati, Ohio. Continue reading below to find out why this is the Ford dealership for you…
Why Kings Ford?Service CenterNew Inventory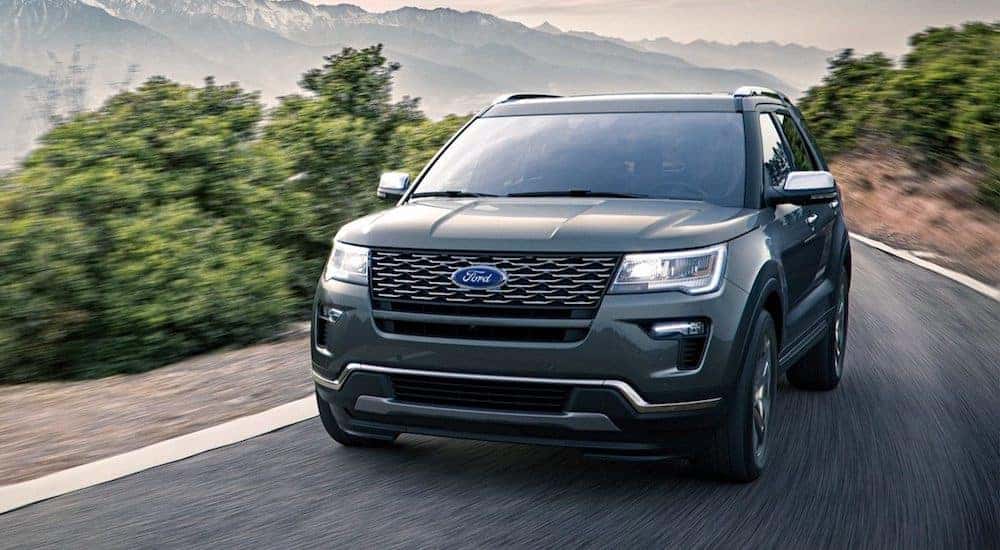 Why Ford?

 
With so many capable vehicles currently flooding the market, it can be tough for a prospective buyer to land on a specific offering. Well, if you're first looking to settle on a particular brand, you won't do any better than Ford's impressive offerings of cars, trucks, and SUVs. The brand has continually been lauded for their reliability, meaning you can trust that your recently-purchased vehicle will last you for several years. Furthermore, their unmatched performance and technology lead to an enjoyable driving experience… something that can't be said of other brands' vehicles.
 
Reliability
 
While many consumers tend to be focused on various amenities as they're shopping for a new car, they fail to recognize the most critical aspect: reliability. Few car brands can tout that their offerings will last more than a decade… but then again, few car brands are like Ford.
 
Ford has continually been lauded and awarded for their products' long-lasting reliability. If you're the type of consumer who likes to hang on to their vehicle for more than a decade, you should take a look at the brand's various offerings. Whether you opt for one of Ford's sedans, pickup trucks, or SUVs, we're confident that your purchase will last you for more than 100,000 miles… something that can't be said of rival brand's offerings.
 
Performance
 
Of course, if you're also familiar with Ford's vehicles, you'll understand that their offering is also known for their performance prowess. The brand's cars, trucks, and SUVs tend to be some of the most impressive offerings in the entire class, as the accompanying engines help deliver an unmatched driving experience. If you're the type of driver who likes to zoom past your fellow drivers on the highway, then we're sure you'll appreciate all of the power that's lingering under your target's hood.
 
Of course, just because these vehicles are powerful, it doesn't mean they're not efficient. Rather, Ford's engineers have done an admirable job of producing units that offer a unique combination of both power and efficiency. Therefore, if you're looking to save some extra cash at the gas pump, it will be more than possible if you opt for any of Ford's vehicles.
 
Technology
 
Of course, we wouldn't blame you if you desired some sort of technological amenities to be featured in your new ride. Well, Ford will more than deliver, as the brand has continued to unveil innovative technology in each of their offerings. These various functions predictably influence entertainment, as the gadgets often allow you to access radio or any other notable application. However, this technology also plays a significant role when it comes to safety, as the functions can help you to avoid accidents from occurring altogether!
 

Why Kings Ford?

 
Now that you've determined that you want a Ford, it's time to shift your focus to the buying process. Well, if you live in the Cincinnati, Ohio area, you can't make a better choice than Kings Ford. The dealership provides all of the amenities that a customer could possible want from a car-seller, including a vast inventory, a number of convenience factors, and a number of notable services. At the end of the day, you'll be hard pressed to find a better car-buying experience elsewhere.
 
Inventory
 
One of the downsides to pursuing a vehicle from one particular dealership revolves around the consumer's lack of options. Ultimately, you'll have to settle for whatever's sitting on the dealership's lot, which seemingly limits your ability to choose your ideal vehicle. Fortunately, this won't be a concern if you pursue a vehicle from Kings Ford, as the dealership is fully stocked with a number of vehicles that can appeal to any type of consumers.
 
For starters, the business currently has more than 350 new vehicles sitting on their lot. Therefore, no matter what new Ford you may be seeking, there's no doubt that you'll be able to come across it on Kings Ford's lot. Looking to save some money with a used vehicle? That will be a distinct possibility as well, as the dealership is also housing more than 75 pre-owned cars. If your budget is too tight to afford a new car, then you'll surely be able to find a logical option sitting at Kings Ford.
 
The dealership even sells some unique vehicles that appeal to only certain types of car buyers. For instance, Kings Ford has several commercial vehicles for sale, providing business owners will a logical option. Customers can even pursue a lifted truck from the dealership, providing options for those off-roading fans.
 
Convenience
 
The car-buying process can be a drag. Customers don't only have to spend hours searching through a particular dealership's inventory. Rather, they'll also have to dedicate hours to negotiations. If you're looking to shop around for the best possible price, you'll have to invest several days to the entire endeavor. When all is said and done, you feel more burnt out from the process then you do excited about the purchase of your new ride.
 
Well, Kings Ford is looking to improve the entire buying process with a number of notable convenience factors. For starters, the dealership's convenient hours means you'll never have to shuffle around your schedule in order to visit the premises. Rather, the business is open seven days a week, including starting at 7:30am on Monday through Friday. That way, you can complete your errand before you head off to work, or you could wait until the weekend to initiate the process.
 
Furthermore, the dealership is incredibly easy to find. Kings Ford is located right off Interstate 71 in Cincinnati, Ohio, thus providing consumers an "easy in, easy out." Thanks to the easy-to-find location, you'll never have to waste hours aimlessly driving around in an attempt to find the actual premises.
 
Services
 
Customers don't solely have to rely on Kings Ford for their next vehicle purchase. Rather, the dealership also provides these individuals with a number of additional services, as well. Specifically, the finance department is focused on finding a financial deal that works for both sides. When customers have poor credit, it can be tough for them to find the necessary line of money to purchase that car. Well, Kings Ford offers to finance your new vehicle, meaning you can complete all the financial aspects of your transaction in one place.
 
Does your recently-purchased vehicle need some work? Well, you can also rely on Kings Ford to handle any necessary repairs. Specifically, the dealership's service and parts department will handle any necessary maintenance or repairs, meaning you won't have to settle for an untrustworthy mechanic as you're looking to fix up your ride.
Stop By Kings Ford!