What you need to know about a Ford Certified Pre Owned Vehicle – Cincinnati, OH
One of the best things one can do while searching for the right used car is making sure it's reliable. Many horror stories come from sketchy dealerships selling faulty vehicles, but when you get a Ford Certified Pre Owned vehicle, that's not something you have to worry about. In order for a Ford to become a Certified Pre Owned vehicle, it must pass a rigorous inspection. After passing the inspections, the certification comes with a warranty, complimentary roadside assistance, and some vehicles are eligible for extra convenience features.
When you purchase a Ford Certified Pre Owned vehicle, you will receive a $100 deductible with low APR financing; a major bonus. Working with your Ford dealership, there are various financing options available from Ford Credit. The Ford Credit team is comprised of an account manager, a mobile account manager, and customer support. The online services make it easier than ever to get in touch with your Ford team.
Inspections
There are 172 parts to the inspection that every car needs to pass before earning the title of a For Certified Pre Owned (CPO) vehicle. The general categories that they cover are the vehicle's history, a road test, the exterior and interior, under the hood, hybrid/electric vehicles, under the body, vehicle diagnostics, and the convenience features.
The full list of what is covered in all 172 points can be found here
Vehicle History is comprised of a VIN inspection, service recalls performed, obtaining a vehicle history report, scheduled maintenance performed, and a vehicle emissions sticker in the states with that requirement.
The road test checks on the performance of the vehicle. In this part of the inspection, they keep an ear out for noises that seem, "off." They are sure to check how the vehicle idles and drives with properly operating shift interlock, clutch, struts, shocks, brakes, ABS, and any gauges.
The exterior of the vehicle has five categories that are targeted in this part of the inspection which are Underbody panels and bumpers, the doors, hood, and roof, decklid/tailgate alignments, grille, trim and roof rack, and glass, mirrors, and lights.
There is much more to be examined when it comes to the interior of the vehicle, which breaks down into nine categories. They check airbag and safety belts, carpet, trim, mats, seats, window and door locks, sunroofs, moonroofs, and convertible tops, audio and alarm systems, temperature controls, luggage compartments, and general amenities.
What is checked under the hood breaks down into five basic categories: fluids, engine, cooling system, fuel system, and electrical system.
Hybrid and electric vehicles are their own category, which covers the equivalent targets. More specifically, the cooling system, powertrain mounts, entertainment/infotainment, cargo management, high voltage systems and services, charging components, heating systems, convenience features, and driver assist features.
Underbody checkups are broken into another five categories. The frame and exhaust systems cover just that. The transmission, transaxle, differential transfer case covers mounts, joints, and operations too. Tires, wheels, and brakes get detailed and specific while covering everything that makes the vehicle safe to drive.
Convenience features are a simple category. It includes the owners guide, keys and remote controls, a universal transmitter, and fills up on fuel. Vehicle Diagnostics covers a module system test that has the vehicle perform Self-Test for all CMDTCs.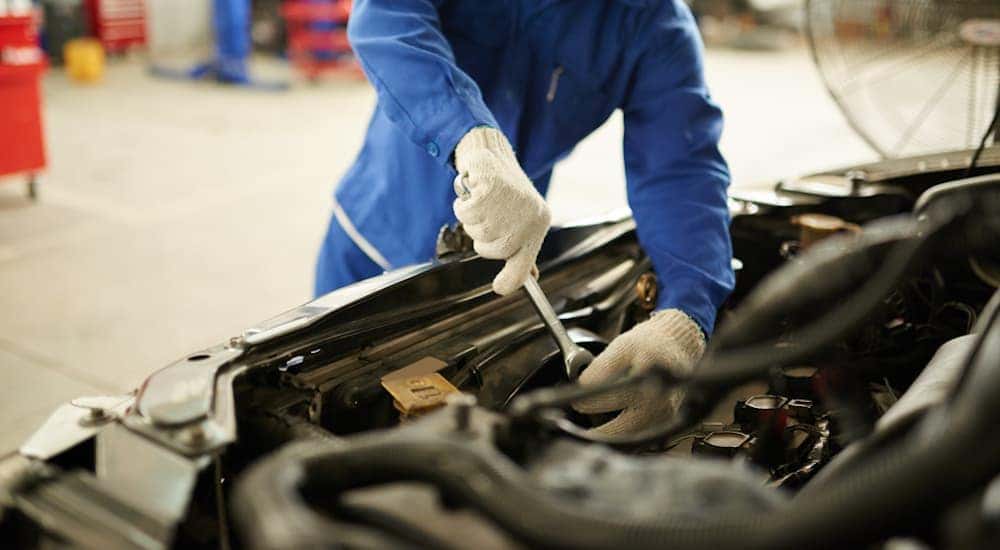 Limited Warranty and Roadside Assistance
After the intensive inspection, the Ford Certified Pre Owned vehicle is given a limited warranty that covers over 1,000 components. This limited warranty is able to be transferred to any future owners, with no extra costs or hidden fees, and lasts until 12 months or 12,000 miles, whichever happens first. The coverage includes, but is not limited to the engine, transmission, rear wheel drive, front wheel drive, steering components, brakes, front and rear suspension, electrical system, air conditioning and heating, technology and emissions components, factory audio system, and safety system.
With the Ford Certified Pre Owned vehicle, over the next seven years or 100,000 miles, the powertrain also has a limited warranty coverage. For as long as the powertrain warranty lasts, Ford provides 24-hour roadside assistance. The roadside assistance includes towing, jump starts, flat-tire changes, and lockout services. Ford also offers additional coverage with extended service plans.
Although it's highly unlikely, the Ford Certified Pre Owned program has back up plans, in case a vehicle-related emergency occurs. Within the first few days of breaking down, you can be reimbursed at a maximum of $500. More reimbursements are available for methods of transportation after a breakdown, whether it's a taxi, shuttle, or rental car. It doesn't matter if the breakdown took place in the same town of the dealership, Ford will still have you covered in the Certified Pre Owned program.
Extras!
Luckily, there is a budget calculator that helps find the right Ford Certified Pre Owned vehicle at a cost that's right for you. The trade-in value tool gives an estimate on the amount your current vehicle could be worth if you wanted to trade it in. After taking advantage of the budget calculator, there's an easy to use application for credit right online, so you don't even have to go anywhere!
A three month SiriusXM All Access trial is available to anyone who purchased a Certified Pre Owned vehicle through Ford, Lincoln, or Mercury, as long as the vehicle has a factory equipped SiriusXM Satellite Radio. While Sirius XM gives you over 150 channels, the All Access package lets you listen to any channel available, even premium programming. An added bonus is that with the SiriusXM app, you can listen anywhere you want.
Some vehicles that are equipped with navigation systems are offered the SiriusXM Traffic and Travel Link. Those services deliver specific traffic and weather updates and information. Whether its local skiing conditions, prices for fuel, and sports scores. It's easy to get wrapped up in a hectic schedule, but these services take a little bit of stress off traveling.
The Big Takeaway…
Even if you're confident that the used vehicle isn't going to give out on you, is it worth taking that chance? Unless you have loads of money and can afford to go through vehicles like underwear, the answer to that is probably, "no." So in that case, it's really a no brainer to keep an eye out for Ford Certified Pre Owned vehicles, which are guaranteed to be the reliable vehicle you need.
Whether you're looking for a car, truck, SUV, or crossover, Ford has new and Certified Pre Owned vehicles to choose from at a reasonable price. It's worth it to spend the few extra dollars to ensure that the used vehicle you're buying is one that will last. There really isn't a reason not to pick from the variety of vehicles Ford has to offer, and it's easy to see why so many Americans remain loyal. At Kings Ford in Cincinnati, Ohio we have new, used, and CPO vehicles waiting for you to drive one home.