Ford Certified Pre-Owned
When you want to purchase a pre-owned Ford, you deserve all the advantages that come from a visit to Kings Ford.
Our showroom and lot is headquarters to a constantly rotating inventory of Ford model vehicles. From cars to trucks to SUVs, we have a complete line-up of the best-loved Fords. Plus, we offer countless vehicles under our certified pre-owned umbrella.
Why Kings Ford?Certified Pre-OwnedUsed Inventory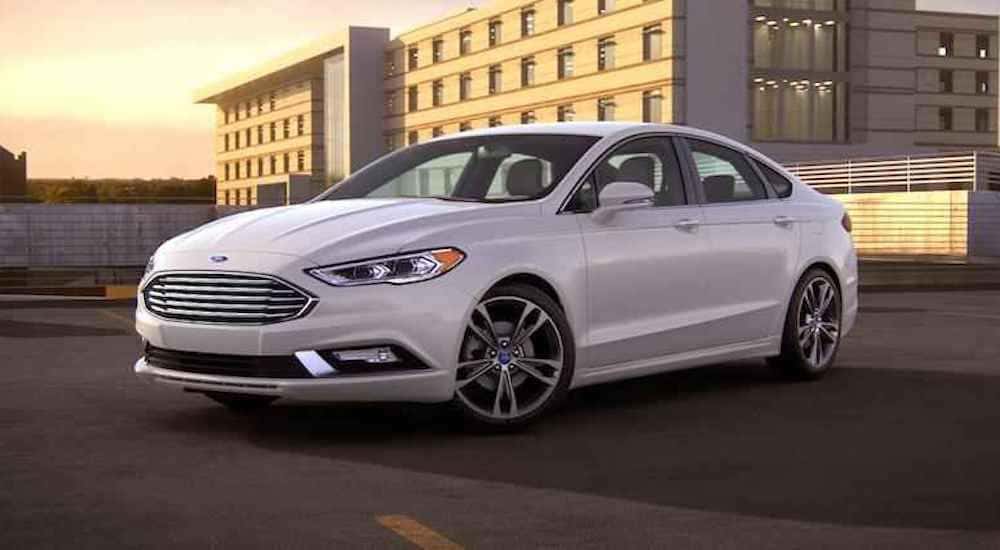 What is a Ford Certified, Pre-Owned Vehicle?
If you're new to purchasing from Kings Ford, you might not be familiar with the term "certified" or know what makes one pre-owned Ford certified and one not certified.
In order for any vehicle to be considered a CPO (shorthand for certified, pre-owned), it must be fewer than five years old and have less than 80,000 miles on the odometer. Additionally, it needs to pass a rigorous 172-point inspection. Each item on this inspection verifies that the vehicle is in good operational order and ready to safely run at Ford's high standards.
The 172-point inspection is performed in-house by our service technicians, and is signed off for your peace of mind. When you purchase a CPO, you'll get a copy of the completed 172-point inspection for your records.
In addition to the inspection, a CPO vehicle must also be free from any major damage in its CarFax report. This ensures that no CPO you ever buy from Kings Ford has gone through a collision or been in a flooding situation.
What Are the Benefits Consumers Get When Buying Ford CPOs?
The Ford company offers significant peace of mind to all consumers who want to get a used vehicle without worrying about its expected performance. In addition, every CPO comes with several add-ons:
Warranties – Not only is every CPO eligible for a 12,000-mile or 12-month Comprehensive Limited Warranty Coverage plan, but it also includes a 100,000-mile or 7-year Powertrain Limited Warranty Coverage plan, too.
Assistance – Worried about being stranded by the side of the road in the event of an accident? With a CPO, 24-hour Roadside Assistance is available. Just call the number and someone will come to your rescue.
Convenience – All CPOs purchased at Kings Ford have their tanks and oil topped off. They even include a fresh set of wiper blades!
Can All Dealerships Offer Ford CPO Services?
Notice that you don't see Ford CPO being advertised at other dealerships? That's because they don't have the authority.
In order to pass along the savings and comfort that come with CPO services, a dealership must have a special agreement with Ford. Kings Ford has the relationship necessary to be able to help you get a CPO vehicle and, with approved credit and proper paperwork, drive it off the lot the same day!
People Who Care About Your Driving Needs
Of course, being able to own a CPO isn't the only reason that people put their trust in Kings Ford. Another is the way that we treat everyone who walks through our door.
Our goal isn't to sell you a vehicle. It's to help you find the right vehicle for your lifestyle. That's a big difference, and it's why we're consistently rated highly by satisfied car, truck, and SUV buyers.
When you work with one of our personnel, you can be sure that we're here to help — always.
Financing Options for All Types of Credit
Not everyone who comes to Kings Ford has exemplary credit. That's why we offer a range of financing options.
Certainly, if you have an excellent credit score and record, you may be invited to take advantage of some of our extremely low annual percentage rates (APRs). Be advised that super-low APRs are typically available at specific times of the year, so be sure to ask your Kings Ford attendant about your choices when you come in for a test drive.
Those with average credit may still qualify for financing, but with higher APRs and possibly a larger down payment. When you have selected the right vehicle for your needs, we can discuss your situation further and come up with a game plan.
In the event that you are unable to secure financing through us, you may still be able to get a loan through your financial institution. Or, you may have enough money in cash and with your trade-in to look at other non-CPO pre-owned Fords with mileage higher than 80,000 or ages older than five years.
What we want most of all is for you to have the pleasure of driving a reliable vehicle off our lot and knowing you got the best deal and unsurpassed customer service.
Popular Models of Ford CPOs
At our location, you'll find plenty of Fords that fall into the CPO category. Not only do they span many models, but they come in a variety of colors depending upon the selection we currently have available.
Some of the more popular types of Fords that we sell through our certified pre-owned program include the following:
Ford Edge – The Ford Edge is a midsized SUV that offers all the attractive qualities of an SUV with an excellent price. Over the years, the fuel efficiency has improved systematically thanks to Ford's meticulous engineering. Car buyers with larger families will appreciate the roominess available when driving on the "Edge".
Ford Escape – Another SUV, the Ford Escape has the horsepower to get you over the river and through the woods with ease. Its evolution continues to impress SUV lovers, many of whom couldn't imagine ferrying their precious human (and pet!) cargo in anything but an Escape.
Ford Expedition – Want an SUV that can tow like a pro? You need the Ford Expedition. Its towing capacity is off the charts, allowing you to go off-road and take your gear with you.
Ford F-150 – This truck continues to be a bestseller, and has been for the life of the F-Series. Dating back to the late 1940s, the Ford F-150 has evolved well and provided generation after generation with the opportunity to find out what "Built Ford Tough" really means.
Ford Fiesta – This is one neat little car that has more pick-up than you might expect. Additionally, prepare to be very surprised at the modest price tag. What it lacks in a roomy interior it more than makes up in efficiency and consistency.
Ford Focus – It might be small, but it's a perfect choice for anyone interested in spending relatively little to get tons in return. The Focus isn't just known for its safety, but for its smooth ride, too. Many first-time car owners gravitate toward the Ford Focus.
Ford Fusion – When you're talking about midsized cars, you can't overlook the Ford Fusion. With competitive gas mileage, it won't break the bank because you don't need to constantly fuel up. At the same time, expect a quiet ride whether you're going city or highway.
Ford Mustang – As a muscle car, the Ford Mustang always has an element of mystery, surprise, romance, and bravado. It's come a long way over the years, but it's never lost its ability to draw in a crowd. The Mustang continues to be loved by young and seasoned car buyers alike.
Ford C-MAX – Plug-in hybrids are popping up around all the dealerships, and Kings Ford is no exception. The C-Max has a Fusion body but gives you all the sustainability and eco-friendliness that you want from a car that can go electric-only — and do so more effectively than a comparable Prius.
Make Kings Chevy Your Cincinnati Dealer of Choice
Why wait another day to check out our inventory at Kings Ford? Stop by and let us know what kind of certified pre-owned Ford you'd love to drive!