What is the Ford Max Tow Package?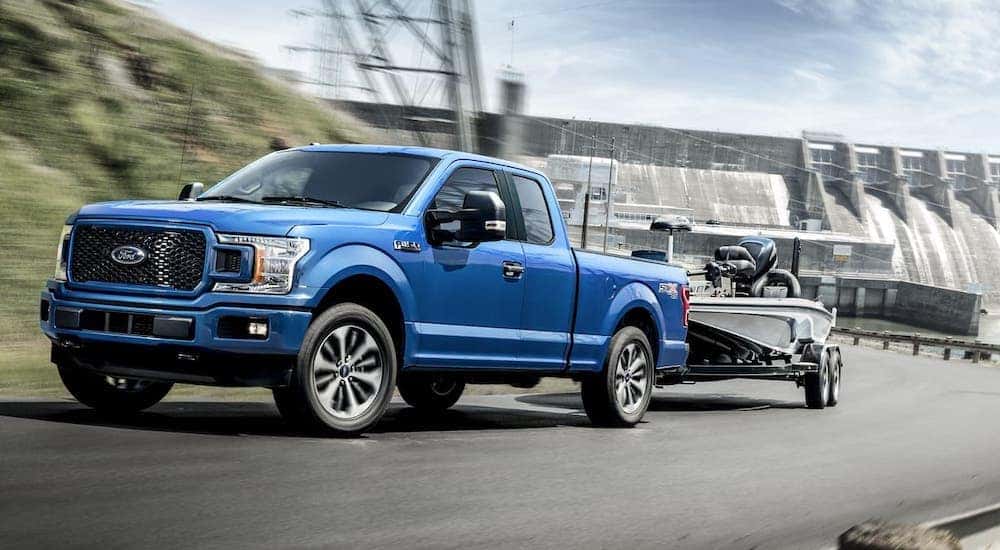 Many of our customers at Kings Ford in Cincinnati, OH, who are looking at Ford trucks for sale are interested in using their vehicle for towing. Ford trucks are all excellent choices for this sort of work, but determining exactly which configuration and packages are right for you can sometimes be confusing. Perhaps the question we get most often is: what is the Ford Max Tow Package? And how is it different from the standard Trailer Tow Package? If you are one of the people who have this question, this post is for you. We will lay out all the differences so that when you are ready to purchase one of our Ford trucks for sale, you will know exactly which towing package is right for you.
The first piece of information that you should know is that the Ford Max Tow Package (or Max Trailer Tow Package as it is officially known) is only an option on the Ford F-150 series trucks. For the Ford Ranger, there is only a basic Trailer Tow Package that adds a hitch and 4/7 pin connector as well as increases the tow rating. With the Ford Super Duty trucks, all models come ready to tow from the factory with a hitch and 4/7 pin connector. However, they do have specialized tow packages for campers and gooseneck trailers. So if a Ford Ranger can handle your towing needs, or if your trailer requires the extra might of a Ford Super Duty truck, then deciding which tow package you need is a straightforward matter.
However, most of our customers are interested in the Ford F-150 and will need to decide between the Trailer Tow Package and the Max Tow Package. The differences between these two packages are not obvious, and you will probably not be able to tell which package is present on a Ford truck without referencing the build sheet. However, once you hook a trailer up to your vehicle, those hidden differences will soon become quite apparent.
The Trailer Tow Package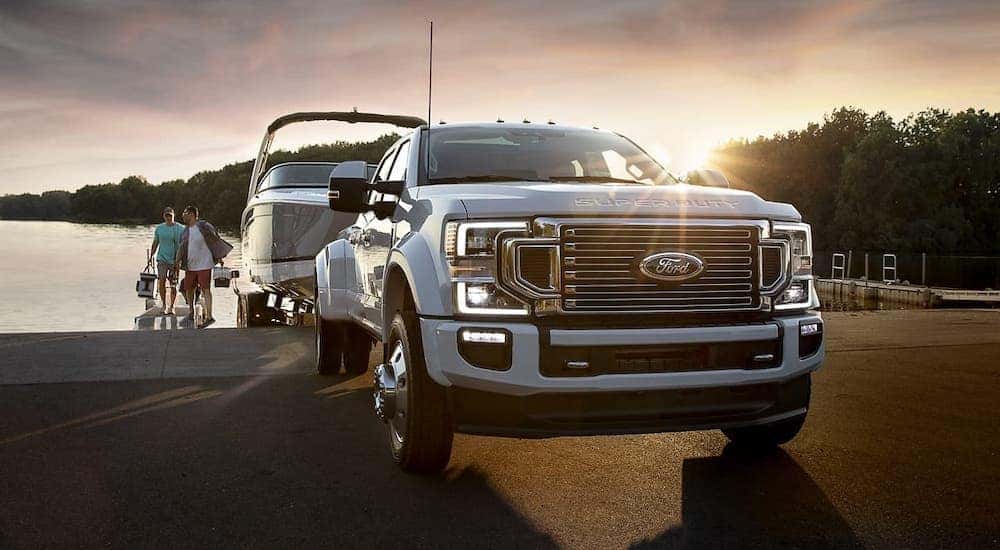 The basic Ford Trailer Tow Package is actually not that basic. It, of course, comes with the obvious Class IV trailer hitch and standard 4/7-pin wiring harness to connect your trailer. However, the package also includes numerous less obvious features to improve your trailering experience. For instance, on every engine except the base 3.3L V6, the Trailer Tow Package also adds an engine oil cooler to keep the truck from overheating under the heavier strain of towing. Other mechanical upgrades include a heavier front stabilizer bar and, on some models, an auxiliary transmission oil cooler. Finally, the package adds a tailgate LED that makes hitching a trailer in the dark a much easier experience. Altogether, these upgrades mean that an F-150 with the Trailer Tow Package is a far more capable vehicle than one that has simply had a hitch and wiring added later. So if you are looking at Ford trucks for sale with the intention of adding towing capability down the road, be aware that spending the money on a factory tow package will get you far more value for your dollar.
However, the Trailer Tow Package does not stop with physical upgrades to the truck and also adds two valuable electronic features. These are Pro Trailer Backup Assist and Smart Trailer Tow Connector. While a good mechanic could replicate the mechanical additions of the Trailer Tow Package, these integrated electronic upgrades are only available from the factory. Pro Trailer Backup Assist is designed to make reversing with a trailer attached a far simpler and more intuitive task. When this feature is activated, and the truck is put in reverse, steering is performed with an auxiliary knob on the dashboard instead of the steering wheel. Simply turn the knob in the direction that you want to go, and the computer will figure out the necessary steering inputs to get you there while monitoring your trailer through the backup camera. This not only makes maneuvering with a trailer a breeze; it means that you will never again need to stop and think about which way to turn the wheel to keep from backing into something.
The second electronic system included in the Trailer Tow Package is less evident to the driver but just as valuable. Smart Trailer Tow Connector monitors the electrical systems in any trailer plugged into your truck and displays relevant information right in your instrument cluster. This will let you know if your trailer has any burned out lights or if its batteries are running low, preventing any unpleasant surprises while you are out on the road. Along with Pro Trailer Backup Assist, these advanced electronic features more than justify purchasing a Ford F-150 with the Trailer Tow Package if you have any desire to pull a trailer in the future.
The Max Tow Package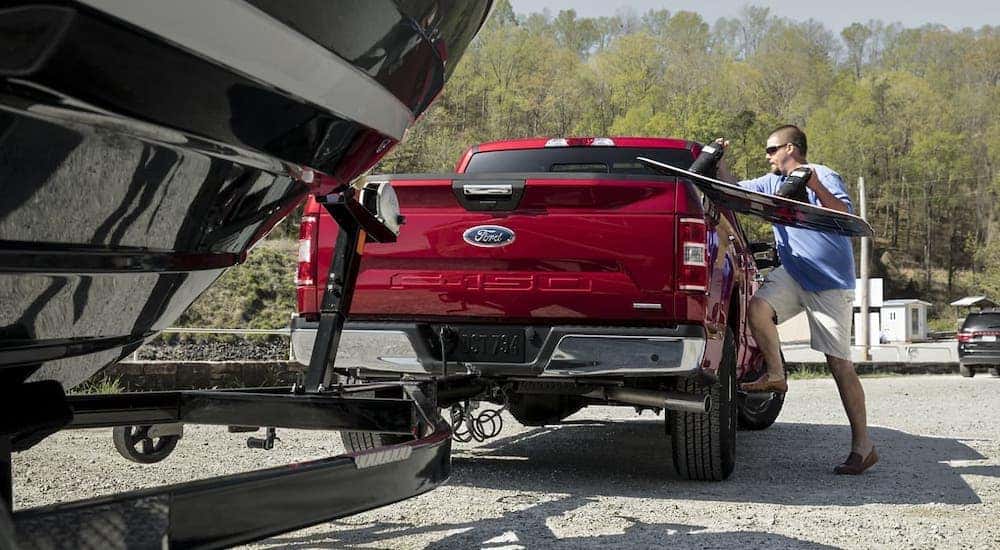 If you are looking at Ford trucks for sale specifically for something to tow trailers, then even the basic Trailer Tow Package might not be enough for you. In that case, look for an F-150 with the Max Trailer Tow Package. This improved towing package includes all the mechanical and electronic features found in the starting towing package, from the engine oil cooler and upgraded stabilizer bar to Pro Trailer Backup Assist and Smart Trailer Tow Connector. But it also adds some extra features that are particularly valuable for pulling heavier trailers longer distances.
The single most significant change included in the Max Tow Package is the upgrade to an electronic-locking rear axle with a 3.55 gear ratio. The addition of an electronic-locking rear axle means that power will be directed evenly to both rear wheels, significantly improving traction on poor surfaces. If you are in mud or snow, this might be the difference between getting your trailer moving or not. While the larger 3.55 gear ratio is not as large an improvement as the electronic-locking rear axle, stepping up from the standard 3.15 or 3.31 will provide more effective torque and help you get a heavy trailer moving more efficiently. If the Max Tow Package is combined with the Heavy-Duty Payload Package, then this will be further upgraded to a 3.73 gear ratio.
Two other physical changes included in the Max Tow Package are a larger fuel tank and an upgraded rear bumper. While the base Ford F-150 has either a 23-gallon or 26-gallon fuel tank, trucks equipped with the Max Tow Package have a 36-gallon fuel tank. Increasing fuel capacity by almost 50% is not only important because pulling a large and heavy trailer will result in higher fuel consumption, but because needing to stop for gas with a trailer attached can be a hassle that is better avoided.
Finally, the Ford Max Tow Package includes the Integrated Trailer Brake Controller. This electronic system not only connects your trailer's brakes to the brake pedal in your truck, but it also allows you to adjust just how much brake force your trailer is applying on the fly from a switch on the dashboard. This valuable system makes stopping with a trailer much simpler and safer. And with its adjustability, you can easily get your trailer to behave the same way, no matter if it is empty or fully-loaded. Further improving safety, if the connection to the trailer is lost, your truck will immediately alert you with a warning chime and a message in your instrument cluster.
Overall, the Max Tow Package is a valuable upgrade over the already feature-rich Trailer Tow Package. It is a vital addition to any Ford F-150 that will often be used for towing. We hope this post has answered your question of what is the Ford Max Tow Package and given you insight into which of our many Ford trucks for sale is the right choice for your towing needs. If you have any more questions or wish to test out some of these advanced features for yourself, stop by Kings Ford and let our friendly sales team help you out.