2021 Ford F-150
With 40 different powertrain/trim/body style configurations to choose from, the 2021 Ford F-150 has Ford lovers chomping at the bit! Back for another year of high performance and perfection, America's best-selling pickup truck will not disappoint. As far as Ford trucks for sale goes, this is the most highly anticipated release of the year. Although many details have yet to be released, we are going to share everything we know so far with you.
How Does It Look?
The 2021 Ford F-150 will get a lot of upgrades inside the cabin with state-of-the-art technology, advanced convenience features, and premium-quality materials. The appearance of the interior will vary depending on which trim level you choose, and there will be ample space for passengers in the front and back. The seating capacity ranges between two and six people.
As for the exterior, you can expect the new F-150 models to look like the previous models. They will be available in three cabin configurations and two-bed lengths as always. You will be able to choose between regular, extended, and crew cab styles and a short or long bed length. It will have an aggressively-styled outward appearance, large bumpers, and Ford's signatures grille.
As for exterior paint colors, the new F-150 will be available in 11 shades, including Oxford White, Space White, Agate Black, Iconic Silver, Stone Grey, Carbonized Grey, Guard (grey), Race Red, Rapid Red, Antimatter Blue, and Velocity Blue. This mixture of both neutral and fun colors allows buyers to show off their personalities.

Will There be a Hybrid?
New for 2021, the Ford F-150 is getting a hybrid powertrain. Although all of the specifics have not yet been released, Ford says that this hybrid powertrain will consist of a 3.5-liter PowerBoost V6 motor that operates as a full hybrid engine. One tank of gas is estimated to keep this motor going up to 700 miles.
What Kind of Performance Is Expected?
Representatives at Ford have not yet released the official list of powertrains, but we do know that there will be at least five options. The current 2020 model is available with six powertrain options, and our best guess is that five of those powertrains will carry over into the 2021 production line.
At this time, we estimate that the standard 3.3-liter V6 motor that generates 290 hp will carry over. This fuel-efficient unit delivers adequate power for both urban living and outdoor adventures without overdoing it. Another engine that should show up again is the 2.7-liter EcoBoost V6. This one produces 375 hp, and it is the most fuel-efficient of the entire engine lineup. The popular 5.0-liter V8 engine will most likely carry over for the market that likes more power, and the 3.0-liter diesel PowerStroke V6 motor should stay in production as well.
Is Sync Still Around?
There is a lot of new technology that Ford engineers have incorporated into the new 2021 F-150 models. A new infotainment system is just one of the many upgrades that have been made. However, the Sync system has not left the production line. It has been improved upon.
The new Sync 4 system will be replacing the former Sync 3 system in F-150 models. Every trim level, even the base, will have this advanced upgrade. Features that will carry over from the Sync 3 system include Bluetooth connectivity for hands-free calling and text messaging, a 4G LTE Wifi hotspot, and compatibility with Apple CarPlay and Android Auto for seamless app and audio integration. The new features for Sync 4 include cloud-based connectivity and Over-the-Air safety updates. These are both groundbreaking innovations that have not been seen in the automotive industry yet.
If you opt for one of the higher trim levels, Sync 4 will also feature a voice-activated navigation system. With real-time traffic updates, you will be able to make it to your desired destination in a timely manner. You can even take alternate routes to avoid accidents or rush hour traffic.

What Safety Systems Does It Have?
There are currently two safety systems that we know for sure will be included in F-150 models. First is the BLIS system with Trailer Coverage. What this does is extend blindspot monitoring and rear cross-traffic alert to include a trailer that you are towing. Previous systems only covered the truck, which can lead to accidents whenever a trailer is in tow. With this advanced system in place, you can tow a trailer and be aware of any other vehicle in your blind spot or behind you.
The other safety feature that we are excited about is the Intelligent Adaptive Cruise Control with Stop-and-Go technology. Using this system, you will set your desired speed. The truck will travel at this speed until traffic begins to slow down. As the traffic slows, the adaptive cruise control system will slow your truck down to match the pace. Once the traffic has resumed its higher speed, the system will return the vehicle to the original speed that was set. This advanced system also works with Speed Sign Recognition technology and Lane Centering technology. This ensures that you will be traveling at a legal speed and remain in your designated lane.
How Many Trims Are There?
The new 2021 Ford F-150 will be available in seven unique trim levels. Starting with the base XL model, this version comes with Sync 4 and an 8-inch touchscreen. That's something we don't typically see on an entry-level model.
The STX is the second trim. It adds cloth upholstery and a blacked-out interior. It's the perfect ride for off-roading adventures on the weekend and heading to work inside the city during the week. Very few details have been released as of now, but we can expect to see some bold design elements on this model.
Next, the XLT does away with the darkened interior aesthetic and uses a Medium Dark Slate color throughout the cabin. The touchscreen interface has been upgraded to a 12-inch monitor, and a fold-down console has been added. Another upgrade is the 40/20/40 bench seat.
The most popular trim level in recent years has been the Lariat. This time around, it has been combined with the Sport Appearance Package, and the interior is done in Vintage Carmine. It features leather seats and front captain's chairs.
If you want something indicative of the Southwest, then the King Ranch is a solid pick. This cowboy-inspired model gets leather upholstery, seats that are heated and cooled, and real wood accents on the dashboard. This one is quite a beauty.
For a sleeker style, the Platinum is a great choice. It features multi-contour bucket seats with Active Motion for optimized comfort. The cabin is done in Carmelo, and the dashboard accents are finished in brushed aluminum and gunmetal.
Lastly, the top-tier Limited trim features a sophisticated interior done in Light Slate and Admiral Blue. The door inserts, console, steering wheel, and dashboard are all covered in subtle leather, and the Bang & Olufsen sound system comes with 18 speakers. If you love luxury and music, this is the model for you.
The 2020 Ford Ranger


This is the starting pickup in the current lineup of Ford trucks for sale, and it is a midsize model that is ideal for getting light amounts of work done. It is a great place to start if you are not sure just how much power and performance you need from your pickup. There is one engine available: a 2.3L Turbocharged EcoBoost engine that delivers up to 270 hp and 310 lb-ft of torque. This engine comes paired with a 10-speed automatic transmission and makes for a remarkably smooth and enjoyable ride.
You have quite a few different trim levels and available packages to choose from with the 2020 Ford Ranger, which is typical of all Ford trucks for sale. When properly equipped, the Ranger can get up to 7,500 lbs of maximum towing capacity. If payload is more important to you, then you can get up to 1,860 lbs of maximum payload when configured for it. because this is a midsize truck, however, the box is fairly limited in size: giving you up to 51.8 cu.ft. of cargo space if you choose a supercab with a 6-foot box, or up to 43.3 cu.ft. with a supercrew and 5-foot box.
The 2020 Ford F-150
If a full-size pickup seems more your style, then consider the 2020 Ford F-150, which has been the best-selling truck in its class since nearly the beginning of recorded history. The F-150 is a full-size, light-duty pickup that represents the ideal middle-way among Ford trucks for sale. It has six different engines available, which gives you a ton of freedom to get just what you need. Rather than detail each one, let us take a look at a few of the options to see what is available.
The standard engine on the F-150 is a 3.3L Ti-VCT V6 that offers up to 290 hp and 265 lb-ft of torque, which comes with a 6-speed automatic transmission. There is also an available 5.0L Ti-VCT V8 engine that delivers up to 395 hp and 400 lb-ft of torque, which comes with a 10-speed automatic. For truly incredible performance, however, there is an available 3.5L High-Output EcoBoost engine that boasts up to 450 hp and up to 510 lb-ft of torque.
Towing and payload will depend on the engine you choose and your configuration, but you can get up to 13,200 lbs of available towing on the 2020 Ford F-150 or up to 3,270 lbs of maximum payload. You can see that is significantly more than the Ford Ranger, but just wait until you see what the Super Duty models can do. Larger boxes on the F-150 give you more space for cargo, with up to 52.8 cu.ft. of space in the 5-foot box and more than 77 cu.ft. in the 8-foot box.
The 2020 Ford Super Duty


Finally, we come to the Ford Super Duty trucks, the biggest and most powerful Ford trucks for sale. These include the F-250 and the F-350, which give you tremendous towing and payload potential. There are a lot of options here, so we will just touch on a few; come visit us at Kings Ford to get into even more details.
Three engines are available on the 2020 Ford F-250 and F-350, including a massive 7.3L V8 engine that provides up to 340 hp and 475 lb-ft of torque for incredible performance. There is also a beastly 6.7L Power Stroke V8 Turbo Diesel engine available, which delivers up to 475 hp and an astounding 1,050 lb-ft of torque. If you need a tremendous amount of work done, then a Super Duty with this engine is the way to go.
What does that kind of power get you? The 2020 Ford F-350, when properly configured, can get up to 35,500 lbs of maximum fifth-wheel towing capacity, or up to 7,850 lbs of maximum payload. Your imagination really is the limit when you have that kind of power at your disposal and you are trying to plan a week of camping or when looking at boats to go along with available Ford trucks for sale.
Towing vs Payload
Before we go any further, it is important to make sure we are all on the same page about what "towing" and "payload" refer to, because these are important terms when looking at Ford trucks for sale. "Towing" indicates the amount of weight that a truck can pull behind it thanks to a hitch that connects a trailer or camper to the rear of the pickup. "Payload," on the other hand, refers to how much weight can be physically loaded into a truck, including the driver and passengers in the cab and anything piled into the box.
Now that we have that sorted, let us take a look at the current lineup of Ford trucks for sale and see how they compare for letting you get work done and have some fun.
Ford F-150 Towing Guide: 2015 to Present

The 13th Generation of the Ford F-150 has been going strong for half a decade now, and during that time, the Ford F-Series of trucks have been the bestselling vehicle in America. What does that mean for you? Well, it means that if you're interested in used Ford trucks, then there are a lot of used F-150s out there for you to choose from. But, even if you limit your search to just the most recent models, the 13th Generation F-150s, you still have a lot of options to sort through.
After talking with customers and hearing what they are most interested in when looking at used Ford trucks, we thought it would be helpful to provide you with a little guide on the towing capacities for different 13th Generation F-150 models. Towing is a big factor for a lot of our customers when it comes to choosing a pickup, especially a hard-working model like the F-150. But looking for different towing capacities and specs on models across five years can be a massive headache. So we figured we would simplify the process a bit for you.
A Quick Note
Before you jump into the guide below, please note that this is a simplified version of what's out there. Towing capacity is based on a lot of different factors, including package choice, cab size, and the engine in the truck. Because F-150s offer a lot of options for customization, two models from the same year can offer very different towing capacities. Giving you every possible option across five years would be exhausting and would result in a table or chart that you would never want to read.
To keep things simple, we will present you with the maximum towing capacities possible each year, based on the engines that were available at that time. This can help you narrow down some of your options to better find what you really need, but remember that specific vehicles are each unique. Be sure to verify the actual towing capacity of any particular truck you are interested in before you buy it.
The 2015 Ford F-150

When looking at used Ford trucks, 2015 models of the F-150 are a great place to start. This was the first year of the 13th Generation, so a lot of them are still on the road in great condition. Four different engines were available in 2015 with three different cab sizes to choose from:
The 3.5L V6 engine with a regular cab could have a maximum towing capacity of up to 7,600 lbs when properly configured. With a Supercab, this same engine had a maximum towing capacity of up to 7,400 lbs. And finally, with the Supercrew cab, you can find models with up to 7,300 lbs of maximum towing.
If you find a 2015 model with the 2.7L V6 engine and a regular cab, then it could have up to 8,500 lbs of maximum towing if properly configured. With a Supercab, this engine could offer up to 8,300 lbs of maximum towing. And with the Supercrew cab, the 2015 F-150 could have up to 8,200 lbs of towing.
The 5.0L V8 engine with the regular cab on used Ford trucks in this generation could have up to 11,100 lbs of max towing. With the Supercab, you could get up to 11,000 lbs of towing when properly configured. And with the Supercrew cab, this engine could provide up to 10,900 lbs of towing capacity.
Finally, the 3.5L Turbocharged V6 with a regular cab offered up to 12,200 lbs of towing. This engine with the Supercab could get up to 12,100 lbs of maximum towing. When properly equipped, this engine and a Supercrew cab could offer up to 11,900 lbs of towing.
The 2016 Ford F-150
The same engines and cab configurations were offered in 2016 as those in 2015, which means most of the towing capacity maximums that you'll find on used Ford trucks from this year are the same as 2015 models. There are a few differences that are very minor, however, but they are worth noting. In particular, the maximum tow ratings for the 5.0L V8 engine are 100 lbs lower for the Supercab and Supercrew: 10,900 lbs and 10,800 lbs, respectively. The other difference is that the max towing for the 3.5L Turbocharged V6 engine with a Supercab is 12,000 lbs for the 2016 model rather than 12,100 lbs.
The 2017 Ford F-150
Once again, 2017 numbers are nearly identical to those in 2016, which means they were adjusted down slightly for certain engine and cab configurations compared to 2015. The only difference on 2017 used Ford trucks compared to 2016 is that the 5.0L V8 engine with a regular cab on the F-150 had a maximum tow rating of 11,000 lbs, rather than 11,100 lbs. Otherwise, these models all have the same potential as those from 2015 and 2016.
The 2018 Ford F-150

2018 was a big year for the F-150 as it replaced two of the previous engines with three new ones, so there are some big differences here. While looking at used Ford trucks, the F-150 in particular, you can pretty well group models from 2015-2017 together, and 2018 to the present together. Once again, tow rating depends on the cab size and engine, along with other factors, so there are 15 overall combinations to consider:
The 3.3L V6 engine on the 2018 Ford F-150 combined with a regular cab offered up to 7,700 lbs of towing capacity when properly equipped. With the Supercab, this engine offered up to 7,400 lbs of maximum towing. Finally, when paired with the Supercrew cab, a 2017 model could also have up to 7,400 lbs of towing.
With the 2.7L V6 engine, 2018 models with a regular cab can have up to 9,000 lbs of towing capacity. This engine with a Supercab can have up to 9,100 lbs of towing, and with a Supercrew cab, this engine can offer up to 9,000 lbs of towing when properly equipped.
The available 5.0L V8 engine with a regular cab could get you up to 11,200 lbs of towing capacity on 2018 models. With a Supercab, this engine offered up to 11,300 lbs of max towing. Finally, with the Supercrew cab, you can find models with this engine that offer up to 11,600 lbs of max towing.
2018 Ford F-150s could also come with a 3.0L Turbo Diesel V6 engine, which was not available with a regular cab. With a Supercab, this engine offered up to 11,400 lbs of towing. When paired with a Supercrew cab, this engine could get the F-150 up to 11,400 lbs of max towing.
The improved 3.5L Turbocharged V6 engine with a regular cab could offer up to 12,100 lbs of towing capacity. With a Supercab, this engine could get you up to 12,000 lbs of max towing when properly equipped. And finally, with a Supercrew cab and this engine, 2018 F-150s could get up to 13,200 lbs of max towing.
The 2019 Ford F-150
Used Ford trucks from 2019 are essentially the same as those from 2018 in terms of towing capacity, at least when looking at the F-150. 2020 models also offer the same maximum towing when looking at the engine and cab configurations, though you won't find too many of them on the used market just yet. We hope this gives you a sense of what's out there and what to look for.
Come visit us at Kings Ford in Cincinnati, OH, today to see all of our used Ford trucks and find the F-150 that is perfect for you.

Ford Trucks Tech
Ford trucks are not only known for their stout towing capacity and general rugged demeanor; they have long been among the leaders in technology as well. Ford's Sync 3 infotainment system debuted in 2016. It featured an easy-to-navigate interface and useful features such as Apple CarPlay and Android Auto, a 4G LTE WI-Fi hotspot, and Alexa capability. With the launch of Ford's Sync 4 system in 2020, Ford has established itself, again, as the leader in smart software. Always on the cutting edge of useful tech—for both safety and convenience—Ford continues to bring the latest and greatest safety, towing, and infotainment tech around. If you're looking for Ford trucks for sale, you will be surprised by how far Ford has pushed the limits of technology.
Infotainment
With the launch of Ford's Sync 4 system, Ford's latest infotainment software, you'll find twice the computing power of the current Sync 3 system. And it's not like there's anything wrong with Sync 3—this was a groundbreaking system that is still among the best in the industry. With the newest system, you'll find refreshed graphics, along with a smoother and faster interface. It is also designed with large screens in mind, between 8 and 15.5 inches, so you can expect that larger touch screens will be available with the new Sync 4 system.
Sync 3 allows you to search for music easily, employs enhanced voice recognition, and lets you adjust climate controls all while keeping your hands on the wheel and your eyes on the road. Sync 4 will have these capabilities as well. They also both use Amazon Alexa for voice navigation, traffic information, over 30,000 skills, Amazon Prime shopping—with Sync 4, you can even have packages delivered to your vehicle—and controlling your supported home devices. Basically, with either system, you are connected wherever you go. So no matter where you might find yourself in your Ford truck, you'll be able to stay in touch.
Safety Tech
Ford's Co-Pilot360 is an advanced suite of driver assists that shows how committed Ford is to make sure you stay safe on the road. This system includes many features, such as automatic emergency braking with pedestrian detection. With this feature, the system uses cameras to detect a potential collision, and can even detect pedestrians. If a potential danger is detected, the system will brake automatically to avoid a collision. A rearview camera is another impressive feature, as well as a blind-spot information system with cross-traffic alert, and lane-keeping.
Another exciting safety feature you'll find when looking for Ford trucks for sale is a 360-degree camera, which gives you a complete view around the truck, including your low-level blind spots. Curve Control, using a combination of stability control and anti-lock brakes to slow the truck down when going too fast around curves, is another excellent safety feature, especially for high-profile trucks. And yet another safety feature you'll find on Ford trucks for sale is the presence of inflatable rear seat belts. These activate in a collision and reduce the chance of injury from the seatbelt. When it comes to safety, Ford has you covered—from every angle.
Towing Tech
Known for their workhorse mentality and ability to tow heavy loads, Ford trucks also employ advanced technology to simplify towing, and make life a little easier for all of us. Ford's towing assist systems are designed to help with your every-day towing needs. Systems such as Pro Trailer Backup Assist allow you to back into a parking space by inputting left or right commands with a control knob while the truck controls the brakes and steering, taking the guesswork out of backing a trailer. A 360-degree camera helps you locate your trailer hitch with ease. You'll also find Hill Descent Control useful on slopes, such as boat ramps, especially when people are loading behind you. And the blind-spot monitor, which tracks not only your truck but your trailer or boat as well, scans the blind spots to make sure you do not run into vehicles outside the view of your side mirrors.
Spend a Day in Cincinnati
At Kings Ford, we know how exhausting it can be to car shop. This is a big decision, and we try to make this experience as stress-free as possible. And one of the ways we recommend to make this easier on you and your family is to make a day of it. Check out some of the local sights and grab a bite to eat. Cincinnati is a beautiful and vibrant city with lots of great restaurants and things to do. Plus, with all the money you've saved at Kings Ford, you'll be able to hit the town and not worry about splurging on a fancy meal or day out. So let's take a look at our favorite local attraction and restaurant in the area.
Cincinnati Riverwalk
You might not know this, but Cincinnati is known as one of the most walkable cities in the country. One of the reasons for this is the beautiful Cincinnati Riverwalk that runs along the Ohio River in both Cincinnati and Kentucky. This is an excellent place for you to explore the city while also getting a taste for its history. It's also a great place to spend an afternoon after car shopping. It is several miles long, so you will have a lot of room to explore, and the trail is all paved, so you won't have to worry about bringing hiking boots. The path is perfect for families, runners, and anyone needing to get outside and explore the outdoors. We recommend starting at the Roebling Suspension Bridge and walking across one of Cincinnati's most distinctive bridges for a fantastic view of the city.
Moerlein Lager House
After you've worked up an appetite, why not head over to the Moerlein Lager House along the dynamic Smale Riverfront Park. Here you'll find a working microbrewery with a full line of Moerlein craft brews and food reminiscent of the city's celebrated 19th-century beer gardens. You'll also be in the heart of Cincinnati, near Great American Ball Park, Paul Brown Stadium, and Heritage Bank Center.
Directions
We know people come from all over to Kings Ford because of our extensive inventory, competitive pricing—and because of the Kings Ford Difference. So we thought it would be helpful to provide directions from some of the major cities outside Cincinnati.
Columbus: Jump on I-71 S; Follow I-71 S to Mason Montgomery Rd in Deerfield Township; Take exit 19 from I-71 S. Take Fields Ertel Rd to Kings Auto Mall Rd in Landen. Total trip time is about 1 hour and 15 minutes (or 85.0 miles).
Dayton: Take I-75 S; Follow I-75 S to Tylersville Rd in West Chester Township. Take exit 22 from I-75 S. Follow Tylersville Rd and Mason Montgomery Rd to Kings Auto Mall Rd in Landen. Total trip time is about 45 minutes (or 38 miles).
Indianapolis: Take Southeastern Ave to I-74 in Warren Township; Follow I-74 and I-275 N to Mason Rd/Mason Montgomery Rd in Symmes Township. Take exit 19 from I-71 N. Take Fields Ertel Rd to Kings Auto Mall Rd in Landen. The total trip to time is about 2 hours (or 118 mi).
Louisville: Follow I-71 N to Mason Rd/Mason Montgomery Rd in Symmes Township. Take exit 19 from I-71 N. Take Fields Ertel Rd to Kings Auto Mall Rd in Landen. Total trip time is about 2 hours (or 119 mi).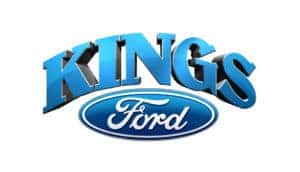 Visit us at Kings Ford!
If you're in the market for a Ford truck, check out our huge inventory, in person or even on our website. We have a knowledgeable sales department ready to answer any questions you may have or to set up a test drive for one - or all - of the great truck models Ford has out this year. Call or visit us today to get started.