What Is Available For Ford Trucks for Sale?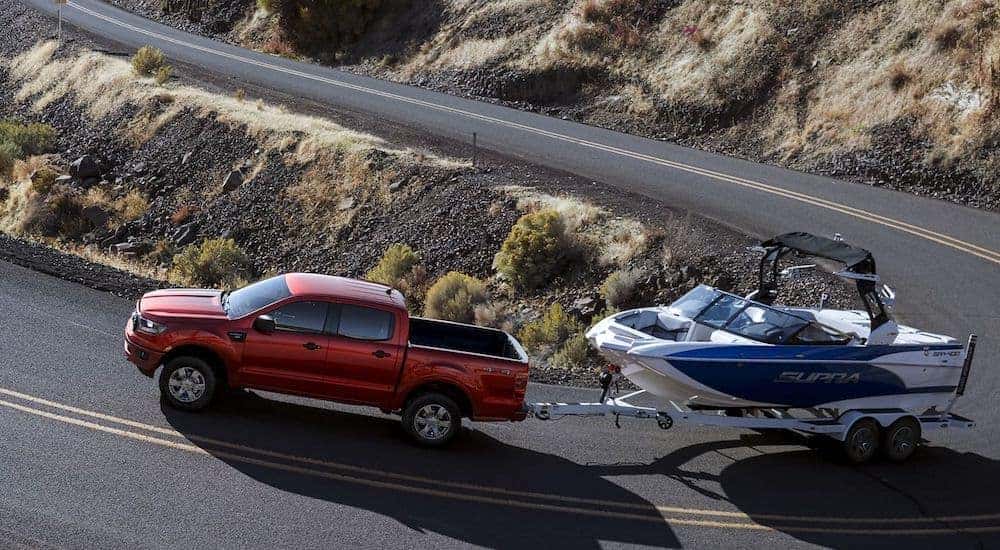 Here in the greater Cincinnati area, there are plenty of places with Ford trucks for sale. These places include mom and pop locations, used car dealerships and superstores. But, where is a place where you can get the customer service, vast inventory and competitive pricing that encompasses the best of all types of dealerships? King's Ford, right here in Cincinnati.
You are certainly not alone in this community if you are searching for Ford trucks for sale in Cincinnati. After all, Ford trucks are among the best-selling vehicles in automotive history. And that is not just limited to pickup trucks, either. The Ford F-Series is the best-selling vehicle in American history, selling more than 34 million and more than 900,000 in 2018 alone, which is the highest it's been since 2004. But, the Ford line of pickup trucks does not end at the F-Series. Take a look below at the F-150 and some of the other pickup trucks offered by Ford. When you are done reading, head over to Kings Ford and get a look at some of the most popular Ford trucks for sale in person.
Ford F-150
The Ford F-150 is pretty much the definition of an American pickup truck. These trucks can be seen all over North America, in service as work trucks and family vehicles. Currently in its 13th generation, the Ford F-150 continues to dominate sales in its class. One look at the 2019 Ford F-150, and you can easily see why.
The 2019 Ford F-150 gets a best in class 22 miles to the gallon on the highway and can tow up to 12,000 pounds. It comes with five engine options, ranging from a 3.3 liter V6 with 290 horsepower and 265 lb-ft of torque, to a twin turbo V6 with 450 horsepower and 510 lb-ft of torque. They also offer a diesel engine option that can get up to 30 miles per gallon on the highway.
Along with the impressive engine options, the 2019 Ford F-150 also offers plenty of technological features that make utilizing the F-150's powerful engines all the easier. Some of these include a back-up camera, stability control and Dynamic Hitch Assist. Dynamic Hitch Assist is an all new feature for 2019, it allows the driver to use the back-up camera to attach the trailer hitch to the truck, essentially turning trailering into a one man job. After all, what fun is having the most towing power available for a truck the size of the 2019 Ford F-150 if you can't actually tow anything behind it?
Ford Ranger
For those who remember the original Ford Ranger, seeing the newest version might be a bit of a shock. The 2019 Ford Ranger, back on the market for the first time since 2011, has clearly spent the last eight years bulking up to stand out in a competitive class. Gone is the slimmed down compact truck of the 1980s, 1990s and 2000s. The 2019 model has clearly put on some weight and muscle and is ready to hit the road.
The 2019 Ford Ranger will have a stronger steel body, except for the hood and tailgate, which will be aluminum. It will also offer a 2.3 liter inline 4-cylinder engine, with 270 horsepower and 310 lb-ft of torque, which complements its rugged body style. It is designed more for play than work, as it offers several features that lend itself to off-roading. Some of these features include blind spot monitoring with trailer coverage and Terrain Management System. This system has different settings for different types of terrain and will automatically adjust functions of the Ranger, such as traction control, stability and transmission mapping accordingly.
The 2019 Ford Ranger looks poised to come back with a vengeance, based on the relatively powerful engine and tow capacity (up to 7,500 pounds). The Terrain Management System will certainly be a high selling point, just like it was for the Ford Raptor.
Ford Raptor
Although the Raptor is technically a trim level of the F-150, it has earned a name and legacy for itself. It was the first to implement the Terrain Management System, as it was originally meant as the recreational version of the F-150. So many people were outfitting the F-150 with after-market parts, that Ford decided its customer base could use a Ford truck specifically for that purpose.
The 2019 Ford Raptor gets a 3.5 liter V6 engine that gets an eye-popping 450 horsepower. This is the same engine that goes in the Ford GT, Ford's entry into the world of supercars. The off-road styling and the performance engine pair nicely to produce a fantastic recreational truck.
Ford Super Duty Trucks
For most of us on the road, the full-sized and mid-sized trucks are more than enough to get the job done. Whether it is hauling around work materials or towing recreational toys to the beach, the vast majority of us are just fine with the F-150 or Ranger.
Some of us, however, need a little more muscle under the hood. That is why Ford also offers progressively larger trucks in its F-series line. These trucks are known as the F-250, the F-350, the F-450 and the F-550. The higher the number goes, the more engine power and towing and hauling capacity it will have. These trucks also have a wide variety of trim levels and configurations. They can also be had with varying bed sizes, cab sizes and even number of wheels. There are a lot of different options to choose from, so it is best to sit down with one of our sales representatives and figure out if you really need to tow upwards of 32,000 pounds.
Ford Trucks for Sale
At Kings Ford, we have plenty of new Ford trucks for sale for you to choose from. Our sales staff will be happy to walk you through every one of them and help you figure out which Ford truck best suits your driving needs. If you have a lot of work to pull behind you, we can set you up with a Ford F-150 (or 250 or 350…). If you are more of the sporty type, we will figure out if the Ranger or the Raptor better suits your lifestyle.
If you think you may be in the market for a used vehicle, we can show you our inventory of certified pre-owned trucks. Certified pre-owned means that these vehicles have passed an exhaustive bumper to bumper test, to ensure its roadworthiness. These tests cover everything from interior checks to engine diagnostics and body examination. In Ford's case, this checklist covers 172 points, which also include vehicle history reports and a road test. The certified pre-owned brand means that this vehicle is just as good as new and comes with a warranty to back up Ford's claim. It is also significantly less expensive than a new pickup truck.
Whatever you are in the market for, we will be glad to show you here at Kings Ford in Cincinnati. Until you can make it down in person, feel free to browse our website. We have photos and specifications of all of our new and used vehicles. You can also visit our finance center and see our service department. We can't wait to get you in a Ford truck soon!