What are the Best Used Cars in Ford's Lineup?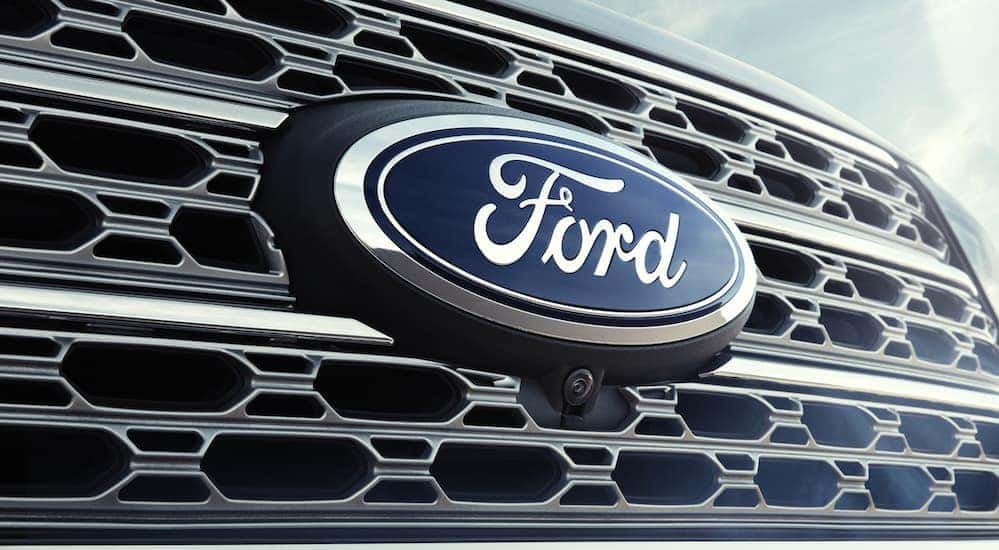 If you're looking for used cars in Cincinnati, Ohio, you're undoubtedly savvy enough to know that a new car loses value as soon as you drive it off the dealer's lot. Everyone understands this, and still, we buy new cars. Why? Well, there are benefits to buying a new car. Technology is better, generally, in a new car, and safety features are always improving. There's also the peace of mind in knowing the vehicle's history. But what if you could find the safety and technology you look for in a new car for nearly half the price? What if you had the peace of mind in knowing the vehicle has a clean record as well?
That would be the best of both worlds. And that's where we come in. We've done the work already. To qualify as Certified Pre-Owned (CPO) Ford, the vehicle must be less than six model years old with less than 80,000 miles. It must also pass a 172-point inspection and have a clean vehicle history report, which assures that it has not been in a major accident or has suffered significant structural or mechanical damage.
So now that we've gotten that out of the way, let's take a look at which used vehicles are the best value in 2020. Luckily Ford has a car for everyone with a lot of choices, so let's see which cars deserve your attention. When buying a Ford, whether new or used, you can count on the car retaining its value, but we're going to focus on some options you might know already and some that maybe you haven't considered. These models are great options when looking for a CPO vehicle in particular.
Ford Explorer
This is a classic. The Ford Explorer is known to hold its value and earns high praise for its interior quality and cargo space. If you're looking for a family car, this is the perfect car for you. Seating up to 7 people, you can be assured you will have room for the demands of day-to-day life. With enough power to tow along a load while going on an adventure, and hybrid engine options, this is an SUV that makes sense for the family-minded consumer.
Introduced in the 1990s as a sport-utility-vehicle, the recent iterations of the Explorer have been more sophisticated and less truck-like as in previous years. Now you'll find the Explorer not only has great performance and handling, but features many updated technology options as well. Compared to its competitors, the Explorer has more athletic handling, and its engine options are among the most powerful in its class.
If you decide to buy new, or find yourself lucky enough to grab a very lightly used current year model, the 2020 Ford Explorer features a hybrid option. Here you'll find better fuel efficiency while not sacrificing as much muscle as you might expect. The 2020 Explorer Hybrid can tow 5,000 lbs, and puts out 318 hp and 322 lb-ft of torque.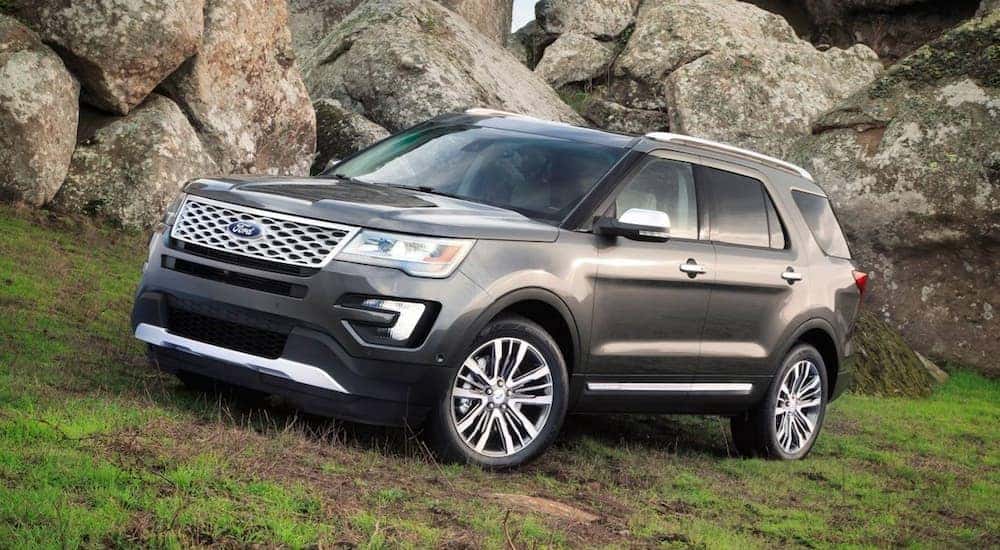 Ford Edge
The Edge has been around a while, so this is a great option if you're looking for a midsize, two-row crossover. This is an SUV that competes well in its segment due to its affordability, quiet cabin, and lots of standard features. If you're unsure whether you should look at an Explorer or an Escape, you might want to take a look at an Edge. This is the model that straddles the two and is generally thought of as Ford's best 5-seat offering.
The 2015 year was a redesign year, so that's a good place to start looking for an Edge. With the redesign came newfound handling and agility, and significantly improved interior refinement, which brought it to the top of its class in the mid-sized SUV ratings. Also worth noting is the roomy interior and accommodations, with generous cargo space.
Ford Escape
The Ford Escape has been redesigned for the 2020 year, which means we'll take a look at the 2019 year, because that can be an opportunity to find a great deal. The 2019 model is a fast SUV with remarkable handling, which makes it one of the sportiest small SUVs. It has 1.5- and 2.0-liter turbocharged engines, and with a taut, controlled ride, and a quiet interior, this is a fun car to drive. Also, the impressive Sync 3 system is standard. The Escape is loaded with features, style, and performance, and is one of the only compact-crossover SUVs that can give the Mazda CX-5 a run for its money in terms of performance.
Not only is the Escape fast, but it's also good for kids, with enough space for car seats, strollers, and anything else you might have along with you for the ride. A tremendous value, the 2019 model year starts at just under $29,000, so as this model hits the used market, be prepared to find some deals and great value.
Ford EcoSport
If you're looking for a subcompact-crossover SUV and want features such as Apple CarPlay, Android Auto, and a 2,000-pound tow rating, the 2019 Ford EcoSport is the car for you. The EcoSport is loaded with features and none more impressive than the Sync 3 infotainment system. This includes an 8-inch touch screen with pinch-to-zoom and swipe controls, as well as Apple CarPlay, Android Auto, Alexa, and Waze navigation. Plus, you're looking at excellent fuel economy for an engine that can tow 2,000 lbs at 23/29 mpg. Along with the bold style and modern interior, and lots of high-tech features, this is a small crossover with great value.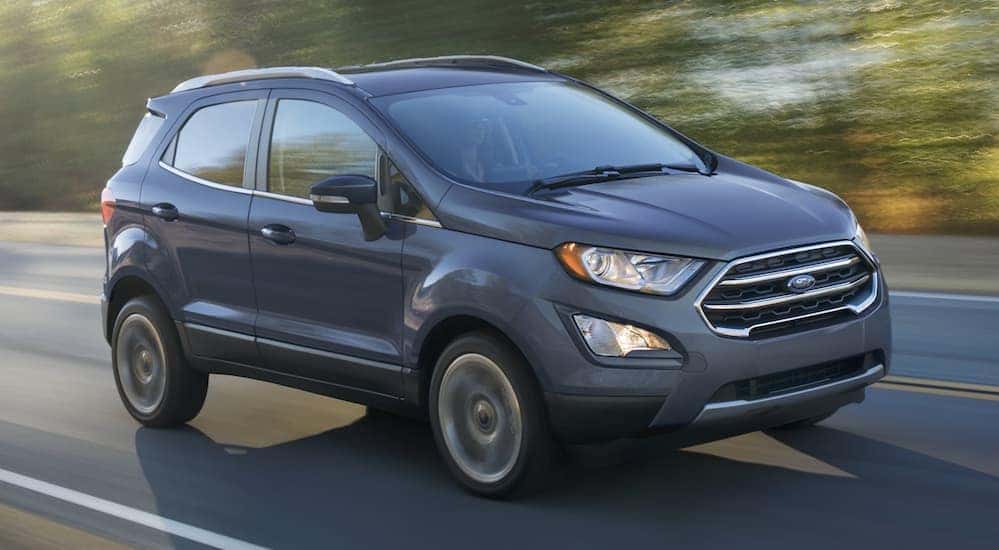 Ford Taurus
Maybe you're not in the market for a crossover SUV, so let's take a look at a Ford that's been around a long time: The Ford Taurus. The Taurus is a big, comfortable 5-seater that you will be able to find for a good price. If you can find one loaded, then you'll have a big luxury-like sedan for a reasonable price. Standard on the 2019 model are many features, such as a rearview camera, Sync integrated music and telephone system, 18-inch alloy wheels, 60/40-split folding rear seat, tilt/telescoping steering wheel, power driver's seat, steering-wheel controls for audio and cruise control, power windows with one-touch up/down functions, and Ford's programmable MyKey system. With a starting price at $29,000, this is a car to keep your eye on in the used car market.
Positive Car-Buying Experience
People come to Kings Ford from all over, and that's because we've long been the premier Ford dealership in the Cincinnati, Ohio area. What people have come to expect from us is a no-hassle experience. They're driving from Mason, Loveland, and West Chester because they know we pride ourselves on a positive car-buying experience.
Not only do we know how to find you a competitive price on the right car for you, but we work hard to make sure the buying process is as easy and hassle-free as possible. We've only talked about some of our possible offerings here, but we have an extensive inventory of new and used vehicles. This is the best of both worlds, where you can find a high-quality Ford at a great price, and know that you will be driving home happy. Now that's hard to argue with.