The Ultimate Guide to the 2020 Ford Escape Infotainment System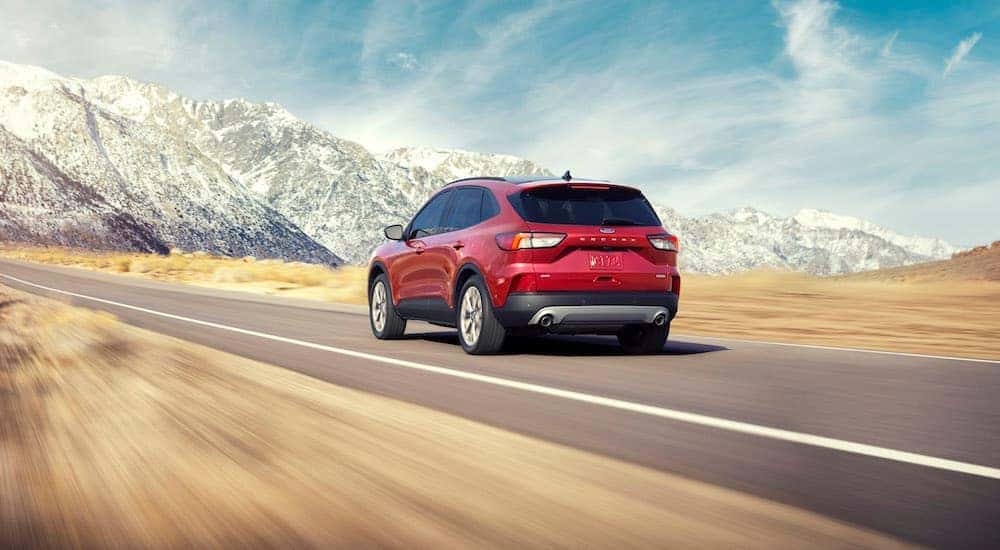 It's true what they say about cars not being made like they used to be. However, that's not necessarily a bad thing. In today's post-modern world, we are seeing more advanced technology being integrated into our vehicles for the sole purpose of making our drives more pleasant and safe. Ford SUVs are no different. In fact, the 2020 Escape infotainment system is one of the best in its class. User-friendly and clean, this system is a breeze to use. Our team of auto experts here at Kings Ford has come up with a guide to tips/features for the 2020 Escape infotainment system. Let's jump right in!
Standard Sync Overview
The base 2020 Escape trim is known as the S. This trim comes standard with the Sync infotainment interface. Displayed on a small 4.2-inch display, it operates with Bluetooth connectivity for hands-free calling. It also comes with a USB port for charging your mobile device, and you can listen to music through the 6-speaker stereo system.
Pairing Your Smartphone
As we mentioned before, both the Sync and Sync 3 infotainment systems operate with Bluetooth for hands-free calling. This function also enables you to text hands-free as well. However, before you can make or receive calls and texts, you must first pair your device to the system. This will allow the phone and the vehicle to communicate with each other.
First, you need to turn on your smartphone, the Escape, and the infotainment system. Then, you will press the Phone button to access the phone menu settings. Next, you will choose to add a phone. From your smartphone's Bluetooth menu, you will search for Sync and select it when it appears. There will be a six-digital PIN displayed on the vehicle's monitor for approximately 3 minutes. This number should appear on your mobile device, and you will need to confirm that the two numbers are matching. You may also manually type in the 6-digit code if needed.
Once the pairing has been successful, a notification will appear on your Escape's infotainment screen confirming the connection has been established. Congratulations! Your smartphone is now synced.
Sync 3 Upgrade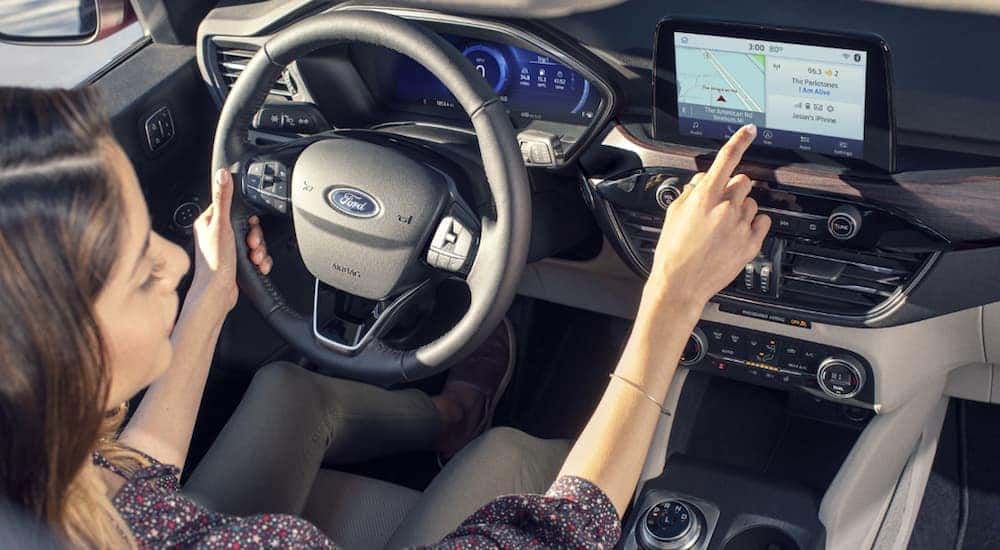 As for the Escape trims that are SE and above, these get an updated infotainment system. Centrally located on the instrument panel, the Sync 3 infotainment interface is displayed on an 8-inch touchscreen and uses voice-recognition to run multiple tasks. It's one of the most intuitive systems available today, and it responds to your commands quickly and efficiently. Not only does it have Bluetooth capabilities for hands-free calling, but it is also compatible with Apple CarPlay and Android Auto for seamless audio streaming. You can listen to your personalized playlists with ease while keeping your eyes on the road ahead.
Automatic Phonebook Download for Sync
Once you have connected your mobile device, you can activate the automatic phonebook download. This feature is handy because it instantly transfers your contacts, your call history, and any new changes to contact information every time your phone connects to the vehicle. Once you grant access to the phonebook, you will be able to access the menu list with options such as redial, text messages, phonebook, phone settings, Bluetooth devices, and dial a number.
Radio with Sync 3 Overview
Sync 3 uses handy voice-recognition to easily complete tasks for you while you watch the road. You can also quickly select what you want by tapping the corresponding icons on the touchscreen interface.
Use presets to save your favorite radio stations. You can save two banks of presets for AM and three for FM. If your Escape is equipped with HD Radio, that means that is has a special receiver that enables the system to play digital broadcasts without any distortion or static noise. Keep in mind that when HD Radio is in use, you will need to look for an FM station that is broadcasting through an HD channel. An HD logo will change from gray to orange once the connection has been established.
Controlling the Radio with Memory Presets
AM, FM, HD, and SiriusXM Satellite Radio can all be preset using the memory settings. It's a very simple process.
First, look at the Feature Bar at the bottom of the interface. Press the Audio icon, and then choose Sources. You can then choose your source (AM/FM/HD/Sirius) and press Direct Tune. Enter the state you want to save in presets and press enter. Next, choose the Preset Bank and press/hold one of the memory preset buttons to save the station.
Connecting to Your Wifi Hotspot
The 2020 Ford Escape now comes with a 4G LTE Wifi hotspot to keep you connected everywhere you go. This is probably one of the most exciting features in the vehicle. In order to use your Wifi hotspot, you need to activate and connect to your FordPass Connect.
To connect to your hotspot, you first need to access the Wifi Menu on your mobile device. This can typically be found under Settings. Be sure that your smartphone's wifi is turned on, or you won't be able to connect. Available networks will begin to appear, and you will need to choose your Escape's Wifi hotspot. Please note that your Wifi name is located on the SYNC Wifi Hotspot Settings screen.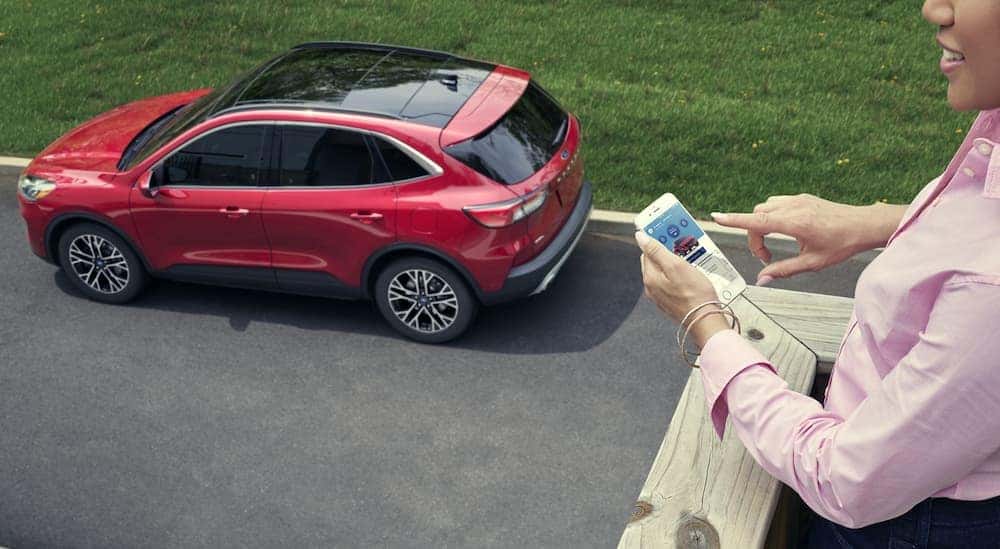 Once you have found the appropriate Wifi name, you will be asked to enter the password. You can use the default password or create one of your own. Remember that these passwords are case sensitive. After you enter the password, select Join or Connect.
To confirm that you are connected to the Escape's Wifi hotspot, open an internet browser on your smartphone, and visit www.kingsfordinc.com. If that takes you to our homepage, then you're all set!
Sync 3 Navigation Overview
The Escape models with the navigation system are quite handy for city living. Delivering audible directions, traffic info, and maps, this system is easy to use and will keep you on the fastest route to your destination.
You can cancel a route by selecting the Controls button on the bottom left corner of the screen. Then select Menu, Cancel Route, and Yes. You can also view a turn-by-turn list by selecting Controls, Menu, Screen View, and Turn List. To make the map full-size, select anywhere on the map.
Adding favorite destinations has never been easier. Simply select Destinations, Favorites, and then enter the address. Hit Save, and you're good to go. To mute the audible directions, just press the speaker icon.
To zoom in or out, you can use the "+" and "-" icons, the distance indicator icons, or simple pinch-and-zoom on the touchscreen.
There are numerous ways to use the navigation system to your advantage in the 2020 Escape.
Test Drive the 2020 Ford Escape
Are you chomping at the bit to try this infotainment system out for yourself? You can take a new 2020 Ford Escape for a test drive right here at Kings Ford in Cincinnati, OH. Our team of experts is available to answer any questions you may have about the infotainment system or the vehicle in general. Give us a call or stop by today!