Kings Ford SUV Inventory
Our inventory is something that we are proud of at Kings Ford. We have the finest selection of Ford sedans, Ford SUVs, trucks, and sporty coupes that every customer can appreciate. We have many acres of choices for our customers to peruse that would please every lifestyle, need, and budget. We understand that every person and situation is unique and have worked tirelessly to make certain that what we are diverse and desirable to please our customers. Below are the Ford SUVs that you will find available on our lot and in our showroom at Kings Ford.
2019 Ecosport
While we are still waiting on an official announcement about the 2020 model, the 2019 Ford EcoSport is a great option for buyers. Built with practicality and efficiency in mind, the 2019 Ford EcoSport is a well-balanced subcompact SUV with plenty of nifty features. This five-seater is powered by a turbocharged 1.0-liter engine that pushes out 123 hp and 125 lb-ft of torque. Equipped with a 6-speed automatic transmission, it has an outstanding fuel economy set at 28 mpg combined (27 city/29 highway). Under the hood of the sportier SES trim level rests a 2.0-liter four-cylinder engine that generates 166 hp and 149 lb-ft of torque.
Besides the athletic SES, there are three other trims, including S, SE, and Titanium. Rolling on 16-inch alloy wheels, the EcoSport S boasts an infotainment interface displayed on a 4.2-inch monitor that operates with Bluetooth connectivity for hands-free calling. A rearview camera is also included as well as dual USB ports. The SE version upgrades the infotainment system to Sync 3 with a 6.5-inch touchscreen and Apple CarPlay/Android Auto compatibility. The top-tier Titanium model rides on 17-inch wheels and features luxurious cabin updates such as leather upholstery and a 10-speaker B&O stereo system with HD radio.
2020 Escape
Taking a step up to the 2020 Ford Escape, this compact crossover carries five passengers and is loaded with advanced features. With four trims to choose from (not including the hybrid), you will get a variety of options depending on which version you go with.
The base S trim level is equipped with a 1.5-liter four-cylinder engine which has replaced the 2.5L engine offered on the 2019 Escape S. Mated with an 8-speed automatic transmission, it gets an estimated 27 miles per gallon in the city and 33 miles per gallon on the highway. This level also includes the Sync interface with AppLink smartphone integration and Bluetooth connectivity. The Escape SE has the same 1.5L engine and includes foglights, heated seats, and button-button ignition with the option of a roof rack for a sportier look and feel. The SEL adds a power liftgate, and the Titanium gets a turbocharged 2.0-liter four-cylinder engine. The 2.0L engine offered up to 245 hp and 275 lb-ft of torque, and had a fuel economy of 25 mpg combined (22 city/29 highway), the numbers for 2020 have not been announced yet.

2020 Edge
The 2020 Ford Edge is the first SUV member of the Ford Performance fleet. Powered by a turbocharged 2.7L V6 engine, this beauty generates 335 hp and 380 lb-ft of torque and has a fuel economy set at 24 mpg combined (21 city/29 highway). In addition to the SE, SEL, and Titanium trim levels, the Edge ST is also available. It offers enhanced active noise control for a quieter cabin, a responsive electronic throttle, and an aggressive transmission for a more spirited driving experience.
This SUV also includes Ford's Co-Pilot 360, which is a suite of the most advanced safety features on the market. Blindspot monitoring, rear cross-traffic alert, pre-collision assist with emergency braking, adaptive cruise control, evasive steering assist, automatic high beams, parking assist, a rearview camera, and a lane-keeping system all work in unison to help prevent accidents on the road.
2019 Flex
If you are looking for more room, the 2019 Ford Flex is a great choice. While this model is set to be discontinued in 2020, this is still a great SUV that Ford currently offers. Able to carry seven passengers, its boxy body style allows for more cargo room than its little brothers. With all seven seats occupied, it still has 20 cubic feet of space in the back for groceries or sports gear. If you need more room than that, you can fold down the back rows to access up to 83.2 cubic feet. The standard engine is a 3.5-liter V6 that generates 287 hp and 254 lb-ft of torque. With this larger motor, the gas mileage isn't as fantastic as the smaller model. It gets 19 mpg combined (16 city/23 highway). The second engine option is the turbocharged 3.5-liter V6 that produces 365 hp and 350 lb-ft of torque.
The 2019 Flex is available in three trims, including the SE, SEL, and Limited. The base SE includes heated side mirrors, rear privacy glass, a voice-controlled infotainment system, and a 6-speaker stereo. The SEL adds luxury features like a power liftgate, leather upholstery, and an extra speaker for the stereo. It also has blindspot monitoring and rear cross-traffic alert. The top-of-the-line Limited offers several upgrades from the inside out. The cabin boasts wood accents, ambient lights, a 12-speaker premium Sony sound system, and navigation. The exterior features metallic accents, rain-sensing wipers, xenon headlights, and LED taillamps for a sleek look.
2020 Explorer
As one of the most popular SUVs in the country, the 2020 Ford Explorer delivers a powerful and practical performance. With seating for seven and a maximum cargo area of 87.8 cubic feet, this beast is now available as a hybrid and in the ST trim level.
For the conventional model, the terrain management system allows you to use one of seven selectable driving modes, including normal, trail, deep snow/sand, sport, slippery, eco, and tow/haul. Displayed with special 3D graphics on a 12.3-inch digital cluster, this model gives you the ability to handle even the worst road conditions.
Towing and trailer sway control comes standard with the 3.0L Ecoboost engine and can be added to the smaller 2.3L Ecoboost and the 3.3L Hybrid models. This advanced feature helps with stability and control by selectively applying the brakes when needed.
2020 Expedition
As the largest Ford SUV in the fleet, the 2020 Expedition seats 8 comfortably and has a best-in-class towing capacity of 9,300 pounds. The aforementioned Co-Pilot 360 safety suite comes standard on this vehicle.
There are four trim levels, including the XLT, Limited, King Ranch, and Platinum, that also extend over to the longer Expedition MAX model. The top-tier Platinum version is powered by a robust 3.5L EcoBoost engine that pumps out 400 hp and 480 lb-ft of torque. It also has a best-in-class fuel economy set at 19 mpg combined (17 city/23 highway). Advanced tech features include a 4G LTE Wifi hotspot to keep you connected everywhere you go, wireless charging, Ford+Alexa, and the Sync 3 infotainment interface.

All-New 2021 Mustang Mach-E
While the Ford lineup of SUVs is already quite impressive, the designers at Ford have blown us away with something truly new and exciting. The 2021 Ford Mustang Mach-E is an all-new, all-electric SUV that has us reevaluating everything we thought we knew about the SUV market. Although details on the Mach-E are still being revealed, what we already know is more than enough to get us excited about what is to come.
True Mustang Performance
The last thing we expected from Ford was a Mustang SUV, let alone an all-electric one, and yet that is exactly what we have been given. The "Mustang" in its name is no joke, however, and the all-new 2021 Mustang Mach-E truly lives up to that high standard. With different trims and batteries available, you can choose exactly the level of power and performance you want.
The available extended-range battery in the basic trims of the Mach-E offers excellent power and performance. It provides up to 332 hp and 417 lb-ft of torque, converted from kW and Nm, to deliver an exhilarating driving experience. With all-wheel drive, these trims can go an estimated 0-60 in a mid-5-second range, which is faster than the standard Porsche Macan.
If you choose the performance-focused GT trim of the Mustang Mach-E, then you can go from 0 to 60 in less than 4 seconds. There is even an upcoming GT Performance Edition that will be available, which will be able to go from 0 to 60 in a mid-3-second-range. The battery in this beauty will produce up to 459 hp and 612 lb-ft of torque for a truly remarkable experience.
Impressive Range
Great power and performance is one thing, but you also expect an EV to give you excellent range with a charged battery. On this front, the 2021 Ford Mustang Mach-E does not disappoint, with a couple of options for batteries and different charge methods. The starting Select trim features a standard battery that offers up to an EPA estimated 230 miles of range on a full charge.
By comparison, if you choose the Premium trim with the available extended range battery, then you can get an estimated range of up to 300 miles on a full charge. Whether you are going to a charging station or plugging in at home overnight, this is an excellent range for an electric SUV. In fact, it matches the highest estimated range of the Tesla Model Y, showing us all just how committed Ford is to making the Mach-E the best vehicle possible. With the extended range battery, using a 150 kW Direct Current fast-charge charger, the Mach-E can get up to 47 miles of range off just a 10-minute charge.
Next-Level Technology
A lot of attention has been paid to the innovative technology found inside the 2021 Ford Mustang Mach-E, and for good reason. The heart of this technology is the gorgeous 15-inch Infotainment touchscreen display, which is loaded with the next-generation SYNC 4 system. This functions with the FordPass app on your smartphone to take things to a whole new level.
By creating a profile in the SYNC system, you can customize the various settings in your vehicle to get them exactly how you like. From the interior lighting and sound system to the seat position and even the customizable instrument cluster display, all of these features are set to your profile. Then, when the SYNC system detects that you are approaching the vehicle with your phone, it will make sure all of your settings are correct, and change them to match your profile if needed. Even before you get in the Mach-E, it makes sure your ride is exactly how you like it.
The 10-speaker Bang & Olufsen sound system is absolutely stunning and provides a deep, rich audio experience while you drive. There are even selectable Drive Experience settings that you can choose from. So whether you are feeling "Unbridled" or prefer a "Whisper," the vehicle's audio, lighting, and even its responsiveness can change to match your mood and provide you with the best driving experience possible.

2021 Ford Bronco
The new 2021 Ford Bronco is going to be a vehicle for the history books. Outdoor enthusiasts who love the adventure of driving wherever they please are already clambering for the 2021 Bronco, revived after 25 years since the last Bronco was built. Simply put, there is no other vehicle on the road with the kind of versatility, off-road capability, and affordability that is found in the new Bronco. With two- and four-door models available in six trim levels, the options are wide open for just about any type of outdoor recreation.
With designs inspired by the original first-generation models of the Bronco, each trim level of the 2021 Bronco will be suited to a particular style of outdoor adventure with modern amenities and upgrades for a singular driving experience. All Broncos come standard with 4x4, removable doors and roof, and the option to add 35-inch tires with the Sasquatch Package. G.O.A.T. driving modes (Goes Over Any type of Terrain) will adjust to match the terrain, with up to eight possible modes that are unique to each trim. Features like marine-grade seats and rubberized flooring with integrated drains will mean cleaning up after getting loaded with sand, mud, or other debris will be a snap.
Powering the Bronco is the standard turbocharged 2.3-liter EcoBoost engine, which runs on four cylinders and puts out 270 horsepower and 310 lb-ft of torque. The optional 2.7-liter twin-turbo V6 engine produces 310 horsepower and 400 lb-ft of torque. For the standard 2.3-liter engine, buyers can choose either the segment-first seven-speed manual transmission or the ten-speed automatic that can be paired with either engine. When you choose the four-cylinder option, it has an incredibly low crawler ratio of 94.75 to one, so your Bronco can take on those tough obstacles at low speeds with the power being sent to the wheels that need it.
Though the styling is retro, the 2021 Bronco will be outfitted with the latest tech to make off-road adventures safer and easier to find. Ford's Sync 4 infotainment system is accessible from an available 12-inch screen in the center of the wide dash, and Apple CarPlay and Android Auto will be wirelessly integrated. Off-road navigation will offer trails nearby to explore, and camera views all around the Bronco—including the wheels—will make negotiating tough terrain much easier. An exciting feature called Trail Control is an option that can take your attention off having to control the speed and throttle by letting the Bronco take over with a type of low-speed cruise control for off-road terrain.
Some of the off-roading features of the 2021 Bronco are best-in-class to take driving into places you may never have been able to explore on wheels. Departure and breakover angles available at 37.2 and 29 degrees will mean you can tackle those steep inclines and dips without scraping the undercarriage. An available approach angle of 43.2 is the most aggressive, and can be had on specific trims. Ground clearance of 11.6 inches is the best for midsize SUVs, and will keep your Bronco clear of debris while you drive over low bushes, brambles, or other objects on the ground. If you need to ford a stream or shallow water, you have up to 33.5 inches of clearance to handle the washouts or water crossings without stalling.
Off-road driving is about to get a shot of excitement with the new 2021 Ford Bronco, built tough like a truck and made to be suited to any outdoor adventure lifestyle. Come down to King's Ford to ask us about the 2021 Bronco to find out how you can purchase yours today!

2021 Ford Bronco Sport
For adventurous drivers who still need their SUV to travel in town and manage daily routines, the 2021 Ford Bronco Sport is the crossover version of the full-fledged 2021 Bronco. Think of the Ford Bronco Sport as the younger sibling of the Ford Bronco, with much of the same capability for off-road adventure but a little less extreme. The 2021 Bronco Sport is the perfect SUV for anyone who loves the excitement of driving trails in rugged country and wants better than average SUV capability married to the comfort of a Ford Escape.
The 2021 Bronco Sport will come in five trim levels that offer features that can be found on the Bronco, such as standard 4x4, five G.O.A.T. driving modes (Goes Over Any type of Terrain), and a Safari-style roof which has an increased height tall. Available in the Big Bend trim, just one above the base level, are desirable features like rubberized floors, zippered pockets to store gear, and a rear floodlight system. Choosing the Badlands trim level will offer the advanced twin clutch 4x4, which can send all the available torque to one wheel if needed, so you're more likely to get your vehicle moving even if three of the wheels are compromised.
Engine options for the 2021 Bronco Sport start with the standard 1.5-liter three-cylinder turbocharged engine, which makes 181 horsepower and 190 lb-ft of torque. This engine is paired to an eight-speed transmission and four-wheel drive. Upper trims made for more serious off-roading will come with the 2.0-liter four-cylinder turbocharged engine, which puts out 245 horsepower and 275 lb-ft of torque. With the 2.0-liter engine comes a beefier four-wheel drive and more G.O.A.T. driving modes to help tackle rougher terrain. Though the Sport isn't as hefty as the Bronco with a truck base, it's still a formidable SUV with more agility and off-road features than other crossover SUVs.
Other desirable features from the Bronco, such as Trail Control and a 180-degree camera view, will make off-roading more accessible than ever. With the 2021 Bronco Sport, you can even ford water up to 23.6 inches where it's safe to do so. Tech features like Ford's Sync 3 infotainment system, an available Bang and Olufsen sound system, wireless charging, and an eight-inch screen in the dash will keep you connected, entertained, and navigating the wild spaces in modern style.
For your outdoor adventures, Ford offers specialized gear to suit your conditions. Whether you head to the water and want the roof racks for your kayaks, or you prefer camping with the available Yakima Skyrise HD tent that attaches to the crossbars of your roof rack, you can have the gear to match the trip. This will also match the unique Bronco Sport you choose for the terrain you plan to enjoy. Other details like tie-downs and a cargo management system on the interior, as well as available tow hooks for the exterior, will make every trip you take into unexplored country easier to plan and organize.
On top of the already impressive list of features, Ford adds the Co-Pilot 360 system of driver-assisted safety features. For all trim levels, standard features such as blind-spot monitoring, lane keeping assist, auto emergency braking, and forward collision warning are included. Upgrading to Co-Pilot Assist will include adaptive cruise control, navigation, and lane centering; or add the Co-Pilot 360 2.0 package for traffic sign recognition, which will be read by the adaptive cruise control to maintain proper speed limits.
The 2021 Ford Bronco Sport will be an outdoor enthusiast's best friend when it comes time to hit the slopes, surf the waves, catch the big fish, boondock in the woods, or chase the best view from the mountainsides. Come on down to King's Ford to ask us how you can be the owner of a new 2021 Ford Bronco Sport to get outdoors in a vehicle made for the wildest of places.
Exquisite Style and Functionality
One of our favorite aspects of the 2021 Ford Mustang Mach-E is the level of style and sophistication it has been designed with. Rather than going for a minimalist approach like some other electric vehicles, it has the aggressive and powerful design of a Mustang. That power, paired with amazing features like the available panoramic glass roof, which gives you an incredible view of the world around you while you drive, creates a truly unique experience.
The remarkable E-Latch system also completely changes how we look at getting into and out of our vehicle. With the E-Latch, the Mustang Mach-E will know when you get out of and leave the vehicle, and it will automatically lock the doors behind you. As you approach your Mach-E, it will detect that it is you and will automatically illuminate a button on the door. All you have to do is touch the button and the door will open for you, reminding you that you are truly experiencing the next generation of automotive history.
Kings Ford Specials and offers
At Kings Ford, we understand that our customers are looking for the best automobiles for the best deals and we are happy to make that happen. From the Ford dealer incentive offers to the many discounts available, we have a diverse number of deals available to fit every customer, so that our customers can be certain that they save money on the Ford SUV of their choice. We understand that this is a very important factor to consider when purchasing an automobile and have taken great care to make certain that when you buy from us that you are also to save. Below are just a few specials and offers that are available at Kings Ford:
Kings Ford Sales Team
You will not encounter any pushy sales tactics when you decide to visit Kings Ford to search for your next Ford SUV. We understand that the purchase of your next Ford SUV is a decision that you cannot take lightly and is one that will need to be satisfied with for years to come. As a result of these factors, we want to be certain that our customer needs are what drives each Sales Plan. A member of our Sales Team will sit down with you in an effort to determine exactly what you are looking for in your next Ford SUV and then will direct you to the vehicles that fit the requirements that have been identified by you. Every member of our Sales Team receives rigorous training and an orientation to our business and the philosophy that we have with respect to the approach to sales that we want them to utilize. In this manner, we can be certain that our customer needs are the focus of every sale at Kings Ford. It is this approach that earns our Team members many accolades for their efforts and we are very proud to be able to offer this approach to every customer at Kings Ford.
Kings Ford Finance Team
We have many lenders that allow us a great deal of flexibility with the financing options that are available and a Finance Team that is filled with experts in their field. You can be sure that when you meet with a member of our Finance Team that you are meeting with someone who has a thorough knowledge of the many options available and the requirements from each lender. You will meet with a member of our Finance Team who will review your credit history and find the best lenders for your given situation. The Finance Team is very skilled at finding options that will work for you in order to get you into the SUV of your choice, even if you have credit challenges. At Kings Ford, we know that the purchase of an SUV is an investment that you need to be satisfied with for years to come and we make every effort, at every phase of the process to ensure that you are comfortable.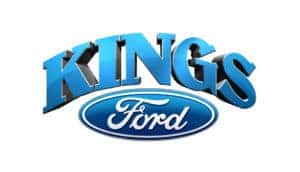 About Kings Ford
At Kings Ford the customers' wants and needs are our main focus when we develop a Sales and Finance plan for each customer. We understand that the purchase of an SUV is an important investment that should be planned meticulously, as it is a decision that will affect the customer for years to come. We intend to make certain that every customer is satisfied at every phase of the process when purchasing any of our vehicles.
When you are ready to purchase your next truck, sedan, or SUV, visit us in Cincinnati, Ohio. We have an excellent sales team who are happy to help you with any questions or concerns you might have from discussing different models through the buying process. Our team won't stop helping you there; you can come back to us for routine maintenance and repairs for your vehicle. When you're ready for your next Ford SUV, call or visit us on our lot, we're happy to help.