The F-150's Powerful V6 and V8 Engines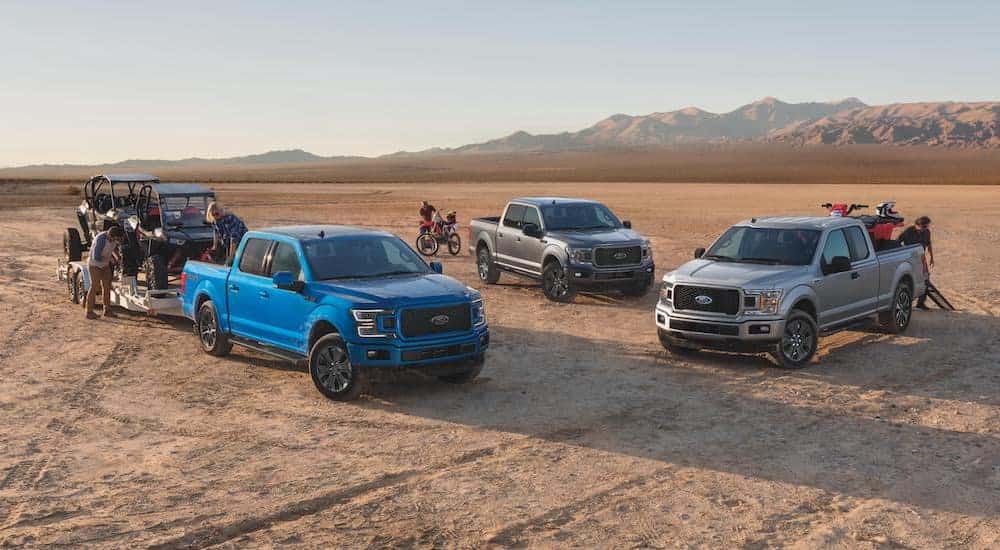 When it comes to Ford trucks for sale, sometimes our eyes are bigger than our needs. Then again, sometimes we sell ourselves short when it comes to evaluating what we need out of our full-sized, ready-to-tow, all-terrain friends. In recent years, Ford has offered two engines that have received a great deal of publicity and raised a significant amount of discussion amongst truck fans––as if they didn't already have enough to debate. Some folks swear by the V6 EcoBoost engine that Ford has added to its lineup, while others all but worship the 5.0L V8. The overall consensus is that there is no true right or wrong answer when it comes to choosing an engine for one of Ford's powerful trucks, but the decision boils down to personal preference. Still, there's a lot to unpack when comparing these engines, so read on to discover how each option can benefit drivers.
The EcoBoost Engine Option
The EcoBoost engine hit the US in 2008, appearing as a 2.0L engine in the Ford Explorer. It offered 275 horsepower and 280 lb-ft of torque, making it a reasonable contender in the SUV market. Officially launched in 2011, the EcoBoost concept has seen wide acclaim for its ability to improve fuel economy while still providing enough power to allow larger vehicles to be fully functional. Still, there are some who see more "Eco" than "Boost," or vice versa.
EcoBoost can improve fuel economy up to 20 percent without the bleeding wallet effect of hybrids and diesel vehicles. The secret is in a combination of turbocharging, direct fuel injection, and twin independent variable camshaft timing, or Ti-VCT for short.
Ford Motor Company took its time developing this trifecta of technology, and it has paid off. Right now, EcoBoost is the top sub-brand within Ford and is proving to be a significant investment that might just be the wave of the future for the automotive industry. As of 2020, EcoBoost engines are offered in the Fiesta, Fusion, Mustang, Escape, Edge, Flex, Explorer, F-150, EcoSport, and Expedition. It's come a long way in just nine years.
The process through which an EcoBoost engine functions isn't exactly simple, but it's not rocket science either… Though it does come pretty close. A turbocharger drives air into the engine, which increases power without the need for a bigger engine or more fuel. The direct injection fuel component improves fuel efficiency by skipping the intake process. Then, of course, there's the Ti-VCT element of the process, which reduces weight while being stronger and reduces overall friction loss. Other essential elements to the EcoBoost engine include an exhaust gas recirculation system and highly regulated oil flow.
The Ford F-150 has featured a second-generation 2.7L EcoBoost engine since 2018, though F-150 has included an EcoBoost option since the 3.5L V6 in the 2010 model. The 2020 version of the F150 includes a choice of six engines, three of which are equipped with EcoBoost technology. The first is a 3.5L EcoBoost engine, which is matched with a ten-speed automatic transmission. This engine sweeps its Great-Granddad off his feet, offering 375 horsepower and a best-in-class 470 lb-ft of torque. As a result, this engine can tow up to 13,200 pounds.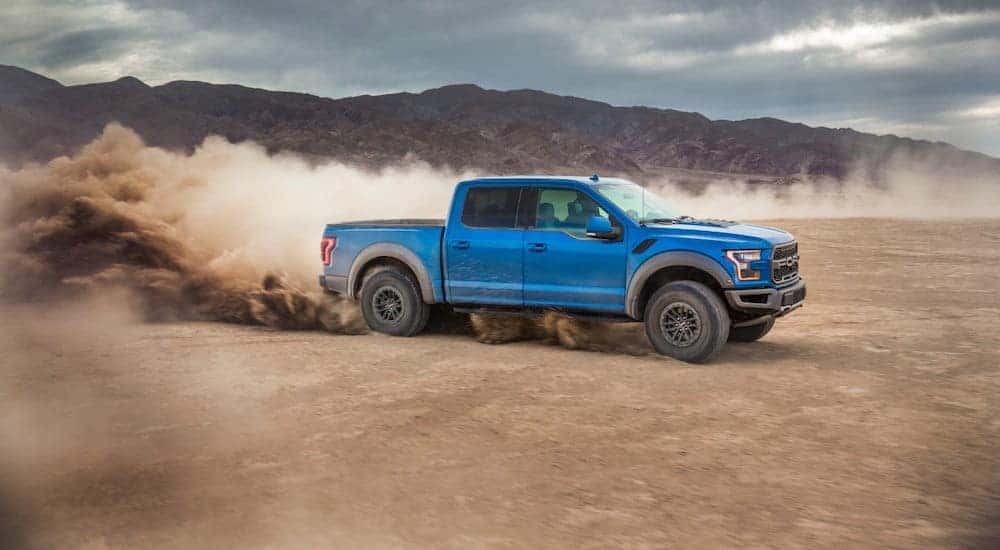 Next is the High Output 3.5L EcoBoost engine. Available on the Limited and Raptor trims, this engine is engineered for high power, high performance, and high output. The result is best-in-class 450 horsepower with 510 lb-ft of torque.
Rounding out the EcoBoost family on the F150 pickup is a modest 2.7L engine… If you consider 325 horsepower and 400 lb-ft of torque "modest." With the 2.7L engine, the F-150 is still a highly powerful truck, after all. This member of Ford's EcoBoost lineup is constructed with two injectors per cylinder and a dual overhead cam design, all wrapped in a compacted graphite iron body for ultimate in strength and performance.
The Mighty V8
And then there's the Ford V8. There are fan pages across the internet that drool over nearly a century of large and in charge V8 engines from Ford. The 1932 Flathead V8 changed the automotive industry for good, as the first mass-produced V8 engine. In truth, creating powerful engines for powerful vehicles is something Ford does very, very well.
The Super Duty pickup includes a 7.3L V8 engine. This 430 horsepower, 475 lb-ft torque engine appears on the F-550, F-600, F-650, and F-750, as well as the E-series. It's a serious engine that your average driver may never encounter.
With that said, it's a great example of how a V8 engine works. Engineered with overhead valves, Ford's V8s create power at the start of the rev cycle, which helps heavy loads move forward sooner. A variable-displacement oil pump and piston cooling jets are present to keep things moving in a cool, calm, collected manner.
Of course, to truly compare proverbial apples to apples, let's look again at the F-150. Of the six engine options, one is a 5.0L Ti-VCT V8, nicknamed "Coyote." If you thought Ti-VCT was only for EcoBoost, think again- remember, that's just one of the three components that make EcoBoost technology as efficient and effective as it is. The Coyote also employs a direct injection fuel system, with one injector inside the cylinder, and the other in the air intake port.
When paired with the V8, an F-150 can tow up to 11,500 pounds and carry up to 3,270 lbs. It also offers 395 horsepower and 400 lb-ft of torque. So, if anything, it's just comparable to the EcoBoost offerings on this particular model.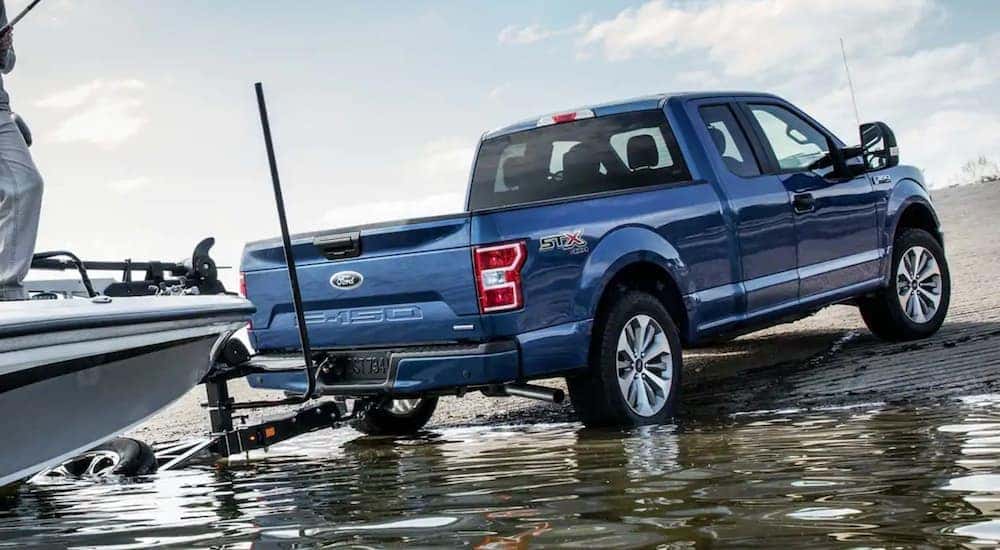 Final Thoughts
So why would someone choose an EcoBoost over a V8? Well, why would someone choose a V8 over a diesel?
For most drivers, the true test of a truck is its capability. Many drivers don't care if the engine is diesel, EcoBoost, or a V8, so long as the truck handles well, accelerates reasonably, and tows whatever load is required, however far and across whatever type of terrain necessary.
That being said, this is Ford country, and Ford fans will frequently swear allegiance to one engine over another. That's perfectly fine and natural. After all, some people prefer chocolate, while others want peanut butter. We at Kings Ford are not here to judge.
What we can do is recommend that anyone caught on the fence between the EcoBoost and V8 options in the 2020 Ford F-150 take a test drive. Try it out for yourself. Some drivers feel that the EcoBoost, while commendable in its ability to save gas money, is "sluggish" and not as responsive as the V8. On the other side of the argument, some drivers feel the V8 has the roar and the power that only a great big engine can provide. Also, having a Coyote under the hood sounds pretty cool, if we're honest.
Of the three EcoBoost engines offered on the 2020 Ford F-150, the 3.5L V6 is most popular, and most likely to go to bat against the Coyote V8. Though the V8 inches past the V6 in horsepower, there's not much comparison between torque.
Whichever engine you prefer, visit us at Kings Ford in Cincinnati, OH. We'll help you find the perfect truck that has a great engine, and that meets your requirements.