Ford's Pro Trailer Backup Assist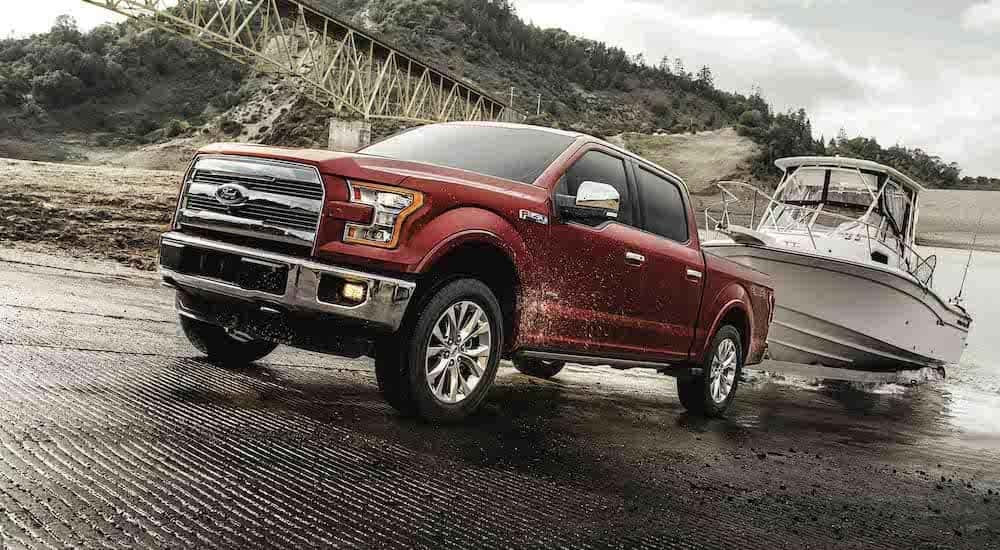 If you are in the market for used Ford trucks in Cincinnati, OH, head over to Kings Ford, our dealership is fully stocked with the best selection of used pickups. We've even got several Certified Pre-Owned models for folks who want a few more assurances with their vehicle purchase. Our friendly team of sales associates is available to help you choose the right truck that suits your driving needs. We've even put our heads together to tell you about one of our favorite used Ford truck features known as Pro Trailer Backup Assist. If you want to learn everything there is to know about this useful system, keep reading!
What is Pro Trailer Backup Assist?
One of the greatest benefits of buying a truck is having the ability to tow trailers, RVs, and boats. After all, what's the point in getting a truck if you can't bring along all your recreational toys when you head out on weekend adventures?
That's what the Pro Trailer Backup Assist feature is for. Designed to make hitching up a trailer extremely easy, this functional system will have you hooked up and ready to go in no time. You'll never be embarrassed in front of your friends again, or at least you won't be embarrassed about having to attempt parking with a trailer multiple times!
How Does the Pro Trailer Backup Assist Feature Work?
When you are attempting to navigate parking spaces with a trailer, things can get pretty tricky. It can be difficult to keep your truck precisely lined up with the trailer while you're reversing. Even with a friend guiding you, it can still be difficult. Sometimes it can take multiple tries before you get the trailer and the truck lined up properly to park. The Pro Trailer Backup Assist fixes all of these issues by making hitching a simple, one-person process.
As part of the Ford Co-Pilot360 Technology suite, the ProTrailer Backup Assist feature works like this. First, you push the Trailer Backup button to activate the system. Next, you turn the trailer backup knob right or left, and the attached trailer will follow suit. The trailer backup knob is used to maneuver the trailer however you want it. Need to turn left? Turn the knob left. It's that easy.
This system works by using the measurements that you have input about the trailer. A rear-mounted camera tracks the positioning of the trailer while you are driving in reverse and guides it to the appropriate spot.
Why Do You Need the Pro Trailer Backup Assist Feature?
The Pro Trailer Backup Assist feature is useful for people from all walks of life. Whether you are a city clicker who only vacations out to the lake during the summer or you are an avid outdoorsman, this handy system is a great thing to have at your disposal. Let's look at it from a few different viewpoints.
People who live in urban or suburban neighborhoods may not have much experience backing up a hitched truck. It can be dangerous to attempt first-time maneuvers without the help of a friend. Even with a friend guiding your moves, human error can always occur. The Pro Trailer Backup Assist system eliminates human error and the need for a second pair of eyes. People with little or no experience with driving a truck with a hitched trailer can back up with no problem at all. So, if you want to take the kids to the lake or bring along a trailer loaded with recreational toys like ATVs, this system will be very useful for you.
On the other hand, folks who live in rural areas or who work in agriculture may have vast experience backing up a truck with a trailer in tow. However, even the most experienced person is still subject to human error. Furthermore, it can be quite tedious to have to worry about backing up with a trailer every time you want to move your horses or other livestock. With the help of the Pro Trailer Backup Assist system, you can easily get to your desired parking location with any issues.
What else would you possibly need this innovative system? Well, it's technically an added safety feature. Since it is part of the Ford Co-Pilot360 safety suite, this system operates under the guise of a safety feature. It truly is there for your safety and the safety of others, though. Without the Pro Trailer Backup Assist function, you could run over obstacles or run into things, including other vehicles or even other people. With this system, you will be guided into the proper backup position that will prevent damage to your truck and keep everyone safe.
What Used Ford Trucks Have the Pro Trailer Backup Assist Feature?
Pre-owned Ford F-150 pickup trucks since 2015 have the Pro Trailer Backup Assist feature. Surprisingly, it doesn't cost that much either. As an economical piece of safety equipment, more people can enjoy the benefits of the system without breaking their bank. You do not have to purchase a brand-new truck to get this feature.
The same Pro Trailer Backup Assist operation is also available on used Ford SUV models such as the Expedition.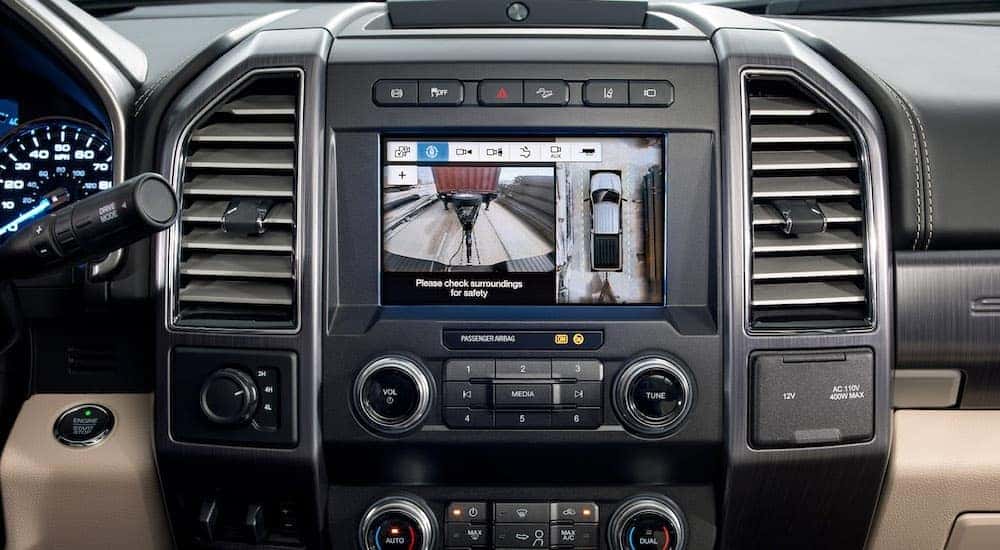 Tips to Keep in Mind
If you are purchasing a used Ford truck with the Pro Trailer Backup Assist system included in the package, there are a few things you should keep in mind when driving with a trailer in tow. This system does not mean that you can reverse your truck without paying attention. Proper attention and care must be given every time you slip behind the wheel and turn the ignition on.
You might also need to make minor changes to the backup navigation by adjusting the trailer knob slightly. This will ensure that your trailer is moving at the correct angle to get you situated into the campsite, boat ramp, parking space, or wherever else you are trying to back up.
Next, you should always remember to watch your rearview mirror and exterior side mirrors as you travel in reverse. Keeping your eyes on the direction that the trailer is going will ensure that you don't have any mistakes or accidents. It can also let you know if you need to make any last-minute adjustments to the trailer knob.
Finally, keep in mind that you have complete and total control over the speed of the trailer while the Pro Trailer Backup Assist function is activated. You can keep the speed consistent, or you can slow things down by applying the brakes. The system will respond to your speed input and adjust the trailer accordingly.
Finding the Right Used Ford Truck
Now that we have your attention, used Ford trucks are some of the best used vehicles money can buy. Loaded with innovative features included in the valuable Co-Pilot360 suite, you will definitely get your money's worth from any of these beasts.
Used Ford F-150 trucks can be found in many different trim levels with various body styles and powertrain systems. They also come with a wide range of comfort, convenience, and entertainment features to make your experience on the road a much more pleasant one.
To learn more about our current inventory of used Ford trucks here at Kings Ford, give us a call or stop by for a test drive today!