Ford SUVs: What to Get Excited About – Cincinnati, OH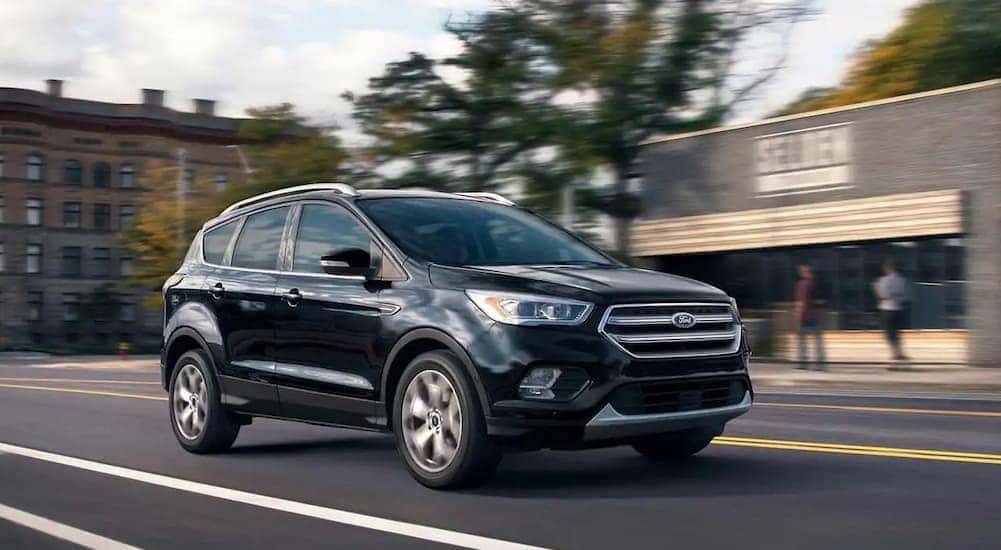 Beginning with the 1966 Ford Bronco, Ford has steadily introduced dozens of sport utility vehicles into the automotive world. While they are far from alone in the SUV market, they have still managed to stand out in it for decades, consistently producing some of the most reliable and dependable sport utility vehicles around. Ford SUVs have rightfully earned a spot in a saturated SUV market.
Most every automaker on the planet has at least one SUV in its stable, with many having multiple SUVs of various sizes. Ford is one of those that keeps several in its family at any given time. And, given that ford is soon to move away from all of its passenger cars (except the Mustang), we can expect to see much more attention paid to its extensive SUV portfolio and, of course, the legendary F-Series of pickup trucks.
Take a look below at a few of Ford 's SUV options, ranging from the compact to the quite large. When you are done, we invite you to come down to Kings Ford and check these beautiful American machines out in person.
Ford Escape
The Ford Escape is a crossover SUV that debuted in 2001 and is currently in its third generation. It was one of the best-selling SUVs in America last year, even outselling its big brothers the Explorer and Expedition. The 2019 Ford Escape looks to continue the trend of hot sales, having sold more than 270,000 last year.
The 2019 Ford Escape has three engine options. The first is a 2.5-liter inline-4 cylinder engine with 168 horsepower. The next is a 1.5-liter inline-4 cylinder gets 179 horsepower. The most powerful is the 2.0-liter turbocharged inline-4 cylinder, which pulls 245 horsepower. All three come paired with a six-speed automatic transmission. The 1.5-liter gets the best gas mileage of the three, at 30 miles per gallon on the highway. These numbers might not be as big and powerful as the ones you will soon see on the Explorer and the Expedition, but they are perfectly suited for a crossover SUV that prides itself on handling and agility.
If you are looking to get around the Cincinnati area in style, comfort and with good gas mileage, we highly suggest the 2019 Ford Escape. If you can hold off for a few months (we know that might be difficult), Ford is bringing back the Ford Escape hybrid later this year. It was shelved in 2012, but the 2020 model will include both a hybrid and hybrid plug-in version. Stay tuned for more news on that.
Ford Explorer
At long last, the 2020 Ford Explorer will issue in a long overdue new generation of the iconic Ford SUV. The current fifth generation has been around since 2011. Production on the 2020 Ford Explorer will begin this month and will also include a new hybrid model.
Until then, we still have the incredible 2019 Ford Explorer. The Explorer passed the heavy lifting baton to big brother Expedition more than two decades ago, but it still has the towing capacity of up to 5,000 pounds. Moreover, the Explorer has concentrated more on being a passenger-friendly vehicle, loading up on infotainment and safety features.
Some of these features include SYNC-3, Ford's voice-activated technology. Through this system, you can access Ford's navigation system or your own smartphone. They also offer an available 180-degree camera for the front of the Explorer, which is extremely useful for people who have trouble seeing below the end of the hood. The 2019 Ford Explorer is also the first in its class to offer inflatable rear seat belts. In the event of a crash, these safety belts will provide considerably more protection to those wearing them than a traditional seatbelt. They are also compatible with car seats and booster seats.
The Ford Explorer might not be the big dog in the lineup anymore, but it has certainly embraced its family-friendly role well.
Ford Expedition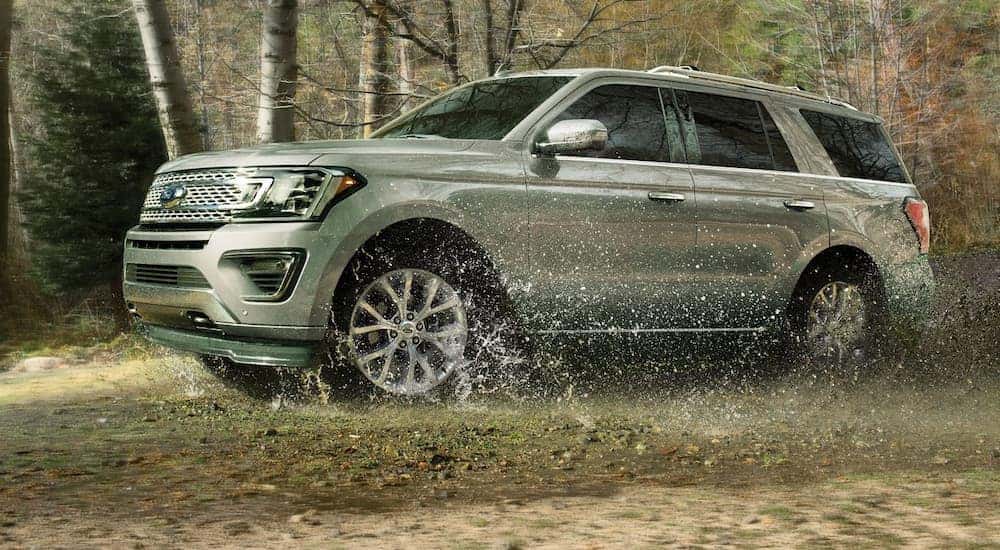 The Ford Expedition entered its fourth generation last year. And with this birthday comes an all new look. What was once the biggest got even bigger. If you are looking for a large SUV with plenty of cargo space for your luggage, kids' book bags, groceries, work projects, or most anything you can imagine could fit in an SUV, we would love for you to check out the 2019 Ford Expedition Max.
The 2019 Ford Expedition now has a new edition, the Expedition Max. The regular Ford Expedition has 20.9 cubic feet of cargo space behind the third row, 63.6 cubic feet behind the second row and 104.6 with all rear seats folded down. That is a lot of room, even for a vehicle of the Expeditions substantial size.
With the Expedition Max, those numbers balloon even larger. The expedition Max extends the rear out from 200 inches on the Expedition to 221.9 inches on the Expedition Max. With that extra space nearly two feet comes 121.4 cubic feet of total cargo space, including 36 cubic feet behind the third row and 79.6 cubic feet behind the second row. That's even more room for more luggage, more groceries, more of anything you can fit in your Expedition Max.
Ford SUVs at Kings Ford
We are surely sorry to see that Ford is moving away from its passenger vehicles. Cars like the Ford Fiesta and the Ford Focus have served our friends and neighbors in Cincinnati for a very long time. And, of course, the Ford Mustang will be around as long as people love the thrill of American muscle under their seats.
However, we are excited about all of the advancements in the SUV lines. The hybrid editions of the Escape and the Explorer look to be intriguing additions to an already best-selling family of high-quality SUVs.
We invite you to come down to Kings Ford and get a good look at the 2019 Ford Escape, the 2019 Ford Explorer and the 2019 Ford Expedition in person. Our sales staff will be happy to show you all around each of these vehicles. If you need to know more about the engine on the expedition, we will be happy to explain all the options Ford has for you. If you are curious about the safety features of the Ford escape, we will run through the whole list with you. If you would like to test drive the Ford Explorer, we will probably be jumping over each other to decide who gets to ride along with you.
Our finance team can get you set up with the perfect deal for you. We know how important this part of the process is, and we will walk you through each step along the way. We can discuss any incentives, rebates or discounts you may be eligible for and not even know about. We can also discuss leasing as an option, in case you decide now is not the best time to buy.
Kings Ford is a one-stop shop for all of your automotive needs in and around Cincinnati. If you can't make it down right away, please check out our website. We have pictures and specifications on all of our vehicles, new and pre-owned. We can't wait to get you in your very own Ford SUV soon!