Ford First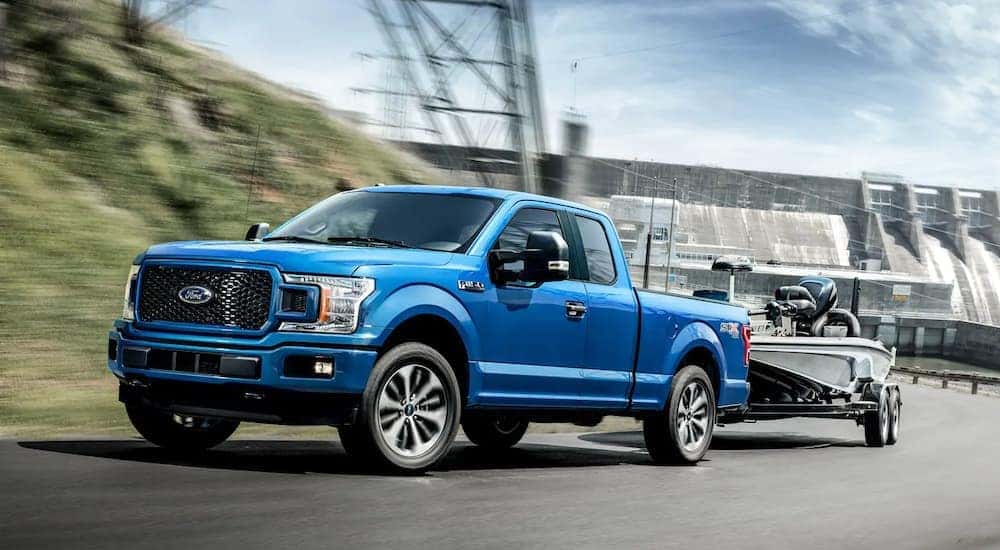 The concept of branding has existed for decades in the marketing and advertising world, both as a general term and as a line of work. It's become a part of general knowledge with the rise of social media and influence marketing – brands and people are now more aware than ever about how they're perceived and how they, in turn, can shape that perception. So, what does the brand Ford mean to you? Hopefully, it brings to mind icons like the original Mustang and Thunderbird. You may also think of innovation, from Henry Ford's assembly line to Ford's current shift towards automation. Or maybe you just think about America's best seller, the rugged F-150. No matter what comes to mind, there has never been a better time to visit your local Ford dealership. There's bound to be something for you in Ford's diverse, technologically-advanced line-up. It's time to become a part of the Ford brand.
New Vehicles
Ford offers one of the most complete vehicle lineups available today. From the sub-compact Fiesta to the humongous F-350, there is a Ford for every taste, need, or desire. Below is a quick sampling of Ford's best-selling vehicles:
F-150
Pick-up trucks have never been hotter. Nearly 1/5 (18%) of light vehicles sold in the US come with an open bed and that number is expected to rise as more mid-sized trucks hit the market this year. Leading this charge is the F-150 family, with over 900,000 units sold in 2018. In fact, the F-150 has been the best-selling truck in America for 42 straight years. Current buyers are flocking to the F-150 for its fuel economy and towing. Ford's V6 Ecoboost engines get 4-cylinder fuel efficiency with V6 power and the 3.0-liter Turbo Diesel can tow a class-leading 11,400 pounds. Add in the unmatched luxury of the King Ranch and Platinum trims, and you've got a recipe for even more sales. No vehicle on the market today combines capability and refinement quite like the F-series.
Explorer
The mid-sized Explorer SUV is perfect for families, with seating for seven. Fold down the two back rows and to take advantage of 87.8 cu.ft. of cargo space. Drivers who typically need five seats but could need seven in a pinch will appreciate the power-folding third row. Worried about the Explorer being too much of a mom-mobile? Opt for the Platinum trim to experience European-grade luxury in this functional SUV.
Families will also appreciate the Explorer's extensive suite of safety features. The Explorer is a champ in the carpool lane plus available active park assist takes over all the intricacies of parallel and perpendicular parking. The car controls any necessary shifting or maneuvering for you, meaning you're only responsible for acceleration and braking. Add in parking sensors on the side of the vehicle and you have a car comfortable in even the tightest parking lots. A 180-degree camera in the front grille eliminates blind corners and exits by showing you a full view around corners. Simply put, the Explorer is safe, luxurious, and extremely capable.
Escape
The compact Escape is one of America's best-selling SUVs. Weekend warriors will enjoy the available intelligent four-wheel drive and 68 cu.ft. of cargo space with the second-row seats down. Drivers can use the foot sensor in the back bumper to open the hatch when their hands are full. On the road, the Escape has all the safety features one would expect, including adaptive cruise control, forward collision warning with brake support, blind spot cross-traffic alert, and lane keep assist. Like the Explorer, the Escape will also help you conquer tight parking spots. Connect it all with FordPass, an app that helps you locate the vehicle and remotely access features to remote start your vehicle, lock/unlock it, or check the fuel level. Add in the Wi-Fi hotspot to allow you and your passengers to connect up to 10-devices so that even when the road ends, your connection to the world doesn't.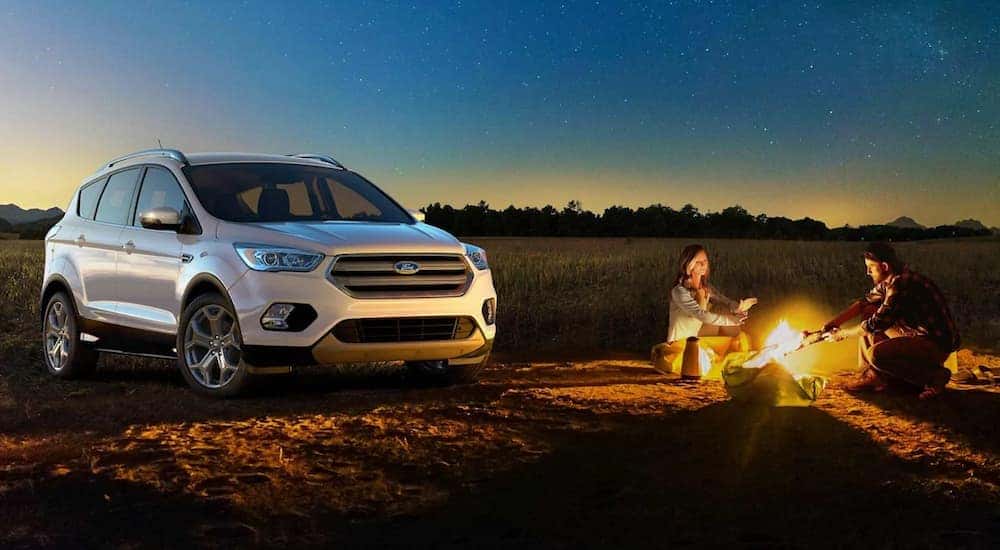 Mustang
It's been 50 years since the original Mustang kicked off the pony car wars. Buyers were immediately drawn to a cheap sports car that promised thrills for a new class of enthusiasts. It wasn't long before Chevy, Dodge, and Pontiac were all producing their own copies of the Mustang. Today, the Mustang is as loved as ever, with the 10,000,000th Mustang rolling off the line not too long ago. Power is diverse and ranges from the base 4-cylinder to the GT350's 526 horsepower V8. Inside, the Mustang has loads of tech and comes standard with Ford's Sync infotainment system, a rearview camera, and FordPass, a smartphone app that keeps you updated on scheduled services, gas prices and parking. Spend a little more on upgrades and you can get remote start, the voice-activated navigation system with pinch-to-zoom capability, and you can upgrade to have the Sync 3 System with Apple CarPlay and Android Auto compatibility.
Used and CPO
If a new Ford isn't the vehicle for you, it's a safe bet that your local Ford dealership will also have an extensive used and Certified Pre-Owned (CPO) selection. While all used vehicles are inspected and deemed safe and reliable, CPO vehicles go through a stringent set of test and inspections before they can earn the title. Ford CPO vehicles check all of the following boxes:
Passed 172-point inspection
Under 80,000 miles of use
Under five years old
Come with a comprehensive limited warranty
Come with 24/7 roadside assistance
Whether new, used, or CPO, there is no wrong way to go when shopping at your Ford dealership.
Service
With the exception of mechanics and gearheads, there are likely very few people who find vehicle service and maintenance exciting. Despite this, it's critical that you keep up with your Ford's regular service schedule. While it might be easy to blow off a tire rotation or oil change in the short term, regular service visits can prevent costly repairs down the road. Your Ford dealership will know your vehicle like the back of their hand, as their service techs are trained specifically for Ford vehicles. Even if you bought your Ford from another dealer, they'll be happy to help. Non-Ford dealerships and auto shops just can't match their expertise.
The Kings Ford Difference
Kings Ford is the premier Ford Dealerships in Cincinnati. We have an extensive inventory of Ford vehicles ready to be sold. Whether you're looking for a brand-new 2019 model or a used model, we'll be able to help you find what you're looking for quickly. We will be able to help you through every aspect of the process, from finding your perfect vehicle, to securing financing, and everything in between. Our highly-trained and well-respected staff members will be able to assist you and will provide you with exemplary customer service. This is something we pride ourselves on, as we strive to provide excellent customer service to each customer who walks through our doors. If you're someone who has had a poor car-buying experience, don't let that sway you from stopping by Kings Ford. We will show you the respect that you deserve and provide you with an inventory that will leave you speechless. If you're ready to commit to the new or used Ford, or you have questions for the experts, it's time to stop by our conveniently located dealership. You'll be glad that you did.