Buying Used: Ford F-150 or Chevy Silverado?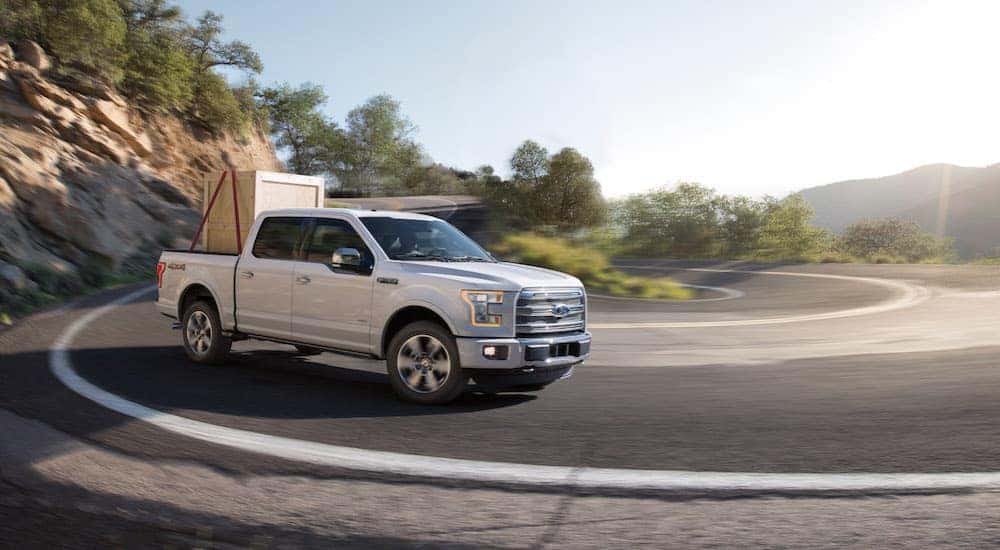 Buying a used truck is a great way to get the power and performance of a pickup while still going easy on your wallet. Deciding on which truck to choose, however, can get pretty complicated and it may require a lot of time and energy on your part to research everything that is out there. One thing that can help, however, is to narrow down your options and compare a couple of different models at a time, to keep from getting overwhelmed by what's available. For example, let's take a look at the Ford F-150 vs Silverado 1500 from Chevy and see how some used models might stack up against each other.
Keep in mind that this is going to be a general comparison and not one that looks at two very specific used models that you might find at a local dealership. This is just meant to give you a sense of what a used Ford F-150 might be able to do, compared to a used Chevy Silverado from a comparable year. With different trim levels and options available when these trucks were new, however, you might find specific models that break this mold.
You can use this general outline to help point you in the right direction of the truck that is best for you, and follow it when comparing specific used models too.
Recent Generations
First of all, let's take a look at the recent generations and models of the Ford F-150 vs Silverado 1500 to see what you'll typically find with used models. In general, you'll get the best value and peace of mind when buying used from a reputable dealership, rather than a private seller. Most dealers only have recent models available as used options, so don't expect to find a Ford F-150 from the mid-90s at your local dealer.
Starting with the Ford F-150, when you look at good used models, you will probably be looking at late 12th Generation or 13th Generation pickups. The 12th Generation of the F-150 started in 2009 and went through 2014, while the 13th Generation began in 2015 and is still in production. The 12th Generation of the F-150 saw a lot of safety and feature upgrades throughout the vehicle, with different engines available starting with 2011 models. With the 13th Generation, a nearly all-aluminum body was introduced that greatly reduced the weight of the truck.
When you look at different models of used Chevy Silverado, you're probably going to want to focus on the 2nd Generation of the Silverado, which started in 2007 and ran until 2014, as well as the current, 3rd Generation. The 2007 model showcased a redesigned exterior as well as new engine options that provided more power than previous models. While 3rd Generation used Silverado models will offer better features overall, but also cost more.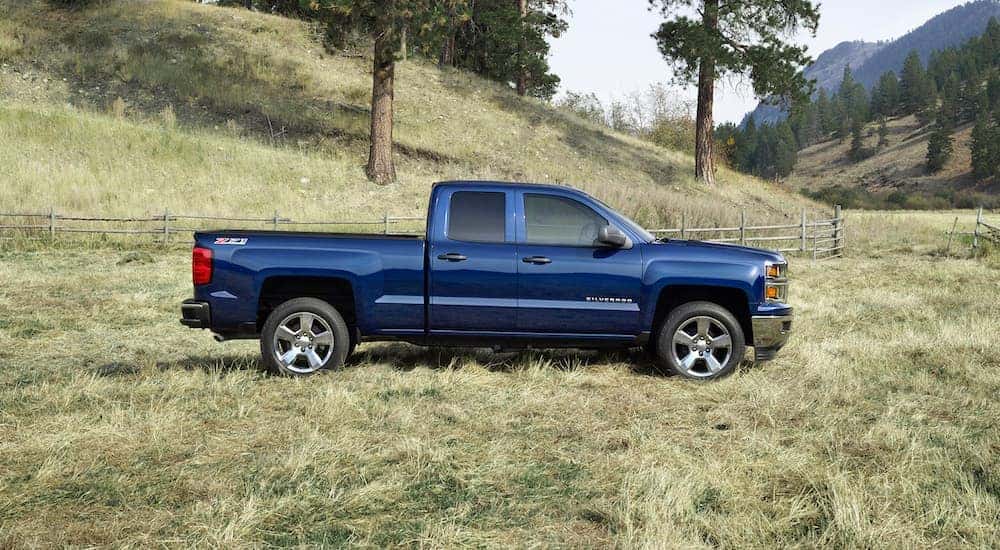 Common Tech Options
A lot of the tech features and options that you can find in the F-150 vs the Silverado 1500 will depend a great deal on the model year you're looking at and the trim level. Since you are considering used pickups, the choices made by the original owner to customize the truck will have a big impact on what you find. If you go back to 12th Generation F-150s, you'll find AM/FM radios, CD players, and you'll have to look at higher trims for Infotainment displays and similar features. 13th Generation models, from 2015 on, will typically have larger Infotainment displays, which will be more common in general, and support for satellite radio.
When looking at a used Chevy Silverado, you're going to find a lot of the same limitations and tech features based on the model year. 2nd Generation models will often have good tech features like Bluetooth support and Infotainment screens since they only go back as far as 2007. If you look at 3rd Generation Silverado pickups, then features like Bluetooth, Apple CarPlay and Android Auto, and satellite radio becomes much more common.
Common Safety Features
If you want the best safety features, then you should buy the newest model year you can afford, since more features are always being added. For example, the 12th Generation F-150 had airbags, head protection, and AdvanceTrac roll stability for safety features. By comparison, you'll easily find 13th Generation F-150s that feature active safety systems like collision warning with brake support, a blind spot information system with cross-traffic alert, and lane-keeping systems.
Similarly, newer Chevy Silverados will also have better safety features than older models. For example, if you look at 2nd Generation models, released up to 2014, you'll find airbags and stability control systems, but not the active safety features found on 13th Generation F-150s released in 2015. That means you need to look at 3rd Generation models, which are likely to be more expensive since they are part of a newer run of pickups.
Recent Engine Options
When looking at used pickups like the F-150 vs Silverado 1500, you're going to find a lot of different engines available over the years. Just the 12th Generation of the F-150 had seven different engines available over its production run. This can make it tricky to examine and compare all of your options, but we'll take a look at a few of them just to get an idea of what is out there.
Looking at a 2010 Ford F-150, for example, you might find one with a 4.6L V8 engine that can provide up to 292 hp and 320 lb-ft of torque, or a 6.2L V8 engine that offers up to 411 hp and 434 lb-ft of torque. Going up to a 2017 model from the 3rd Generation, however, you could find one with a 3.5L EcoBoost V6 engine that provides up to 375 hp and 470 lb-ft of torque.
By comparison, Silverado trucks also had different engines available in different years, so you need to look at specific models. A 2010 Silverado, for example, might have a 4.8L V8 that provides up to 302 hp and 305 lb-ft of torque, or a 6.2L V8 that offers up to 403 hp and 417 lb-ft of torque. Meanwhile, a 2017 Silverado can have a 6.2L V8 engine that provides up to 420 hp and 460 lb-ft of torque. As you can see, in general, the Ford F-150 has had more powerful engines available compared to the Silverado in the same year.
Towing Capacity
Similarly, when considering what kind of towing capacity you can get from a truck, it's important to look at the model year and the configuration of the pickup. Two trucks from the same year can handle different loads based on their engines and the packages that were included with them. To get a basic sense of what's out there, however, consider some of the following examples.
The maximum towing capacity of a 2010 Ford F-150 was 11,300 lbs. when properly configured. On the other hand, a 2017 F-150 can have a maximum towing capacity of up to 12,200 lbs. By comparison, a 2010 Chevy Silverado 1500 can have a maximum towing capacity of up to 10,700 lbs. when properly equipped. Meanwhile, a 2017 Silverado 1500 could have a maximum towing of up to 12,500 lbs. So many factors can affect these numbers, however, that you really need to look at each used model you find specifically.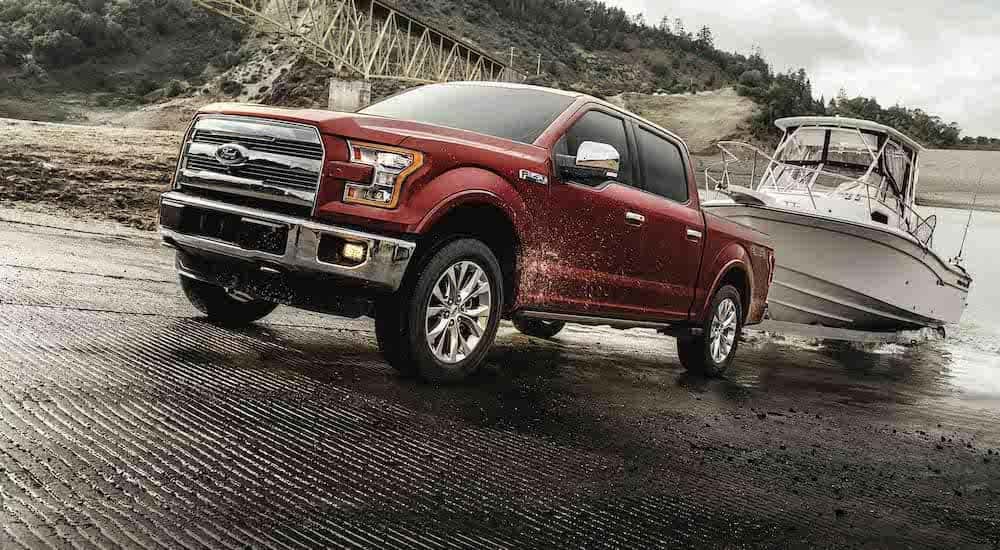 Reliability and Resale Values
Trying to determine the reliability and resale value of used trucks can be really difficult, which is why it's often best left up to the experts. When comparing a used Ford F-150 vs Silverado 1500 from Chevy, let's look at several different examples from Kelley Blue Book and see how they compare. We'll look at the expert and consumer ratings for these trucks, as well as their estimated fair market value as a base model without considering any specific features.
2011 Ford F-150: Expert Rating – 4.0/5; Consumer Rating – 4.6/5; Fair Purchase Price: $11,060.
2017 Ford F-150: Expert Rating – 4.5/5; Consumer Rating – 4.7/5; Fair Purchase Price: $23,537.
2011 Chevy Silverado: Expert Rating – 3.3/5; Consumer Rating – 4.5/5; Fair Purchase Price: $12,823
2017 Chevy Silverado: Expert Rating – 4.2/5; Consumer Rating – 4.5/5; Fair Purchase Price: $23,963
So, as you can see, Kelley Blue Book's expert rating on the F-150 is higher than comparable models of the Silverado in both years. And the baseline fair pricing is lower for the F-150, which means you will probably get more for your money if you choose a used Ford F-150 over a Chevy Silverado 1500. Just remember that the prices you'll pay for these trucks will reflect trims and features not accounted for in these price estimates.