5 Ford Performance Vehicles You Should Know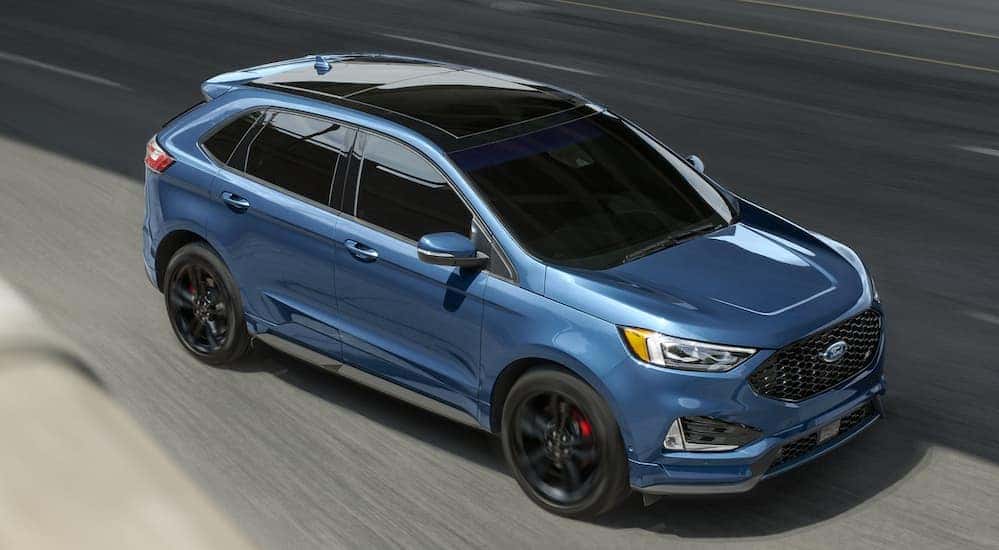 The term "performance vehicle" gets thrown around a lot, but what does it really mean? To us, a performance vehicle is usually a coupe but not exclusively, which is primarily designed with speed, power, and performance in mind. So if you are planning on doing some shopping at Ford dealers in Ohio and you want a driving experience that puts you back in your seat and gets your blood pumping, you should know about Ford's performance vehicles.
Take a moment to consider those three elements: speed, power, and performance. Speed is important, but a rollercoaster can go fast, that doesn't mean we want to cruise down the freeway in one. Power is great, but heavy-duty pickup trucks have power; their power is designed for towing a trailer and allowing a ton of weight to be loaded onto them. And performance is what makes driving truly fun, not just something you have to do to get from Point A to Point B.
It's those three elements together in exquisite harmony that turns a car into a performance vehicle. Without all three of them, you are left with something that could still be quite impressive, but it's just not on the same level. So what are the five performance vehicles you should know about before checking out Ford dealers in Ohio? Well…
#1 – The 2020 Ford Edge ST
This is going to seem like a weird place to start, and we admit that if you were wandering around one of the Ford dealers in Ohio and saw the 2020 Ford Edge ST at a glance, you probably wouldn't think much of it. After all, it's a 4-door vehicle for one thing, for another it's not even a sedan. The 2020 Ford Edge is a crossover SUV.
Yeah, you read that right, this is a performance crossover. And yes, you can find it at your Ford dealer in Ohio. And no, we're not just making this up in hopes that you'll arrive asking for it and look silly (though we wouldn't tell you if we were).
In all seriousness, the Edge ST is a small crossover with seating for up to 5 people, and from all appearances, it is pretty unassuming. That is until you check out the 2.7L V6 EcoBoost engine that provides it with up to 335 hp and 380 lb-ft of torque. With its small, lightweight design, having that much power makes for a very fun, very sporty ride. A performance SUV might not be the right choice for you, but if you're in the market for something different, then you definitely have to check it out.
#2 – The 2020 Ford Mustang
Now we come to what you're expecting, and we don't blame you. If you go to a Ford dealer in Ohio looking for a performance vehicle, the first word out of your mouth will probably be "Mustang." Okay, we hope the first word out of your mouth is "Hello," or "Good afternoon," but if you come onto our lot wide-eyed and shouting, "Mustang!" we'll know what you're looking for. And you'll know that you've found your people.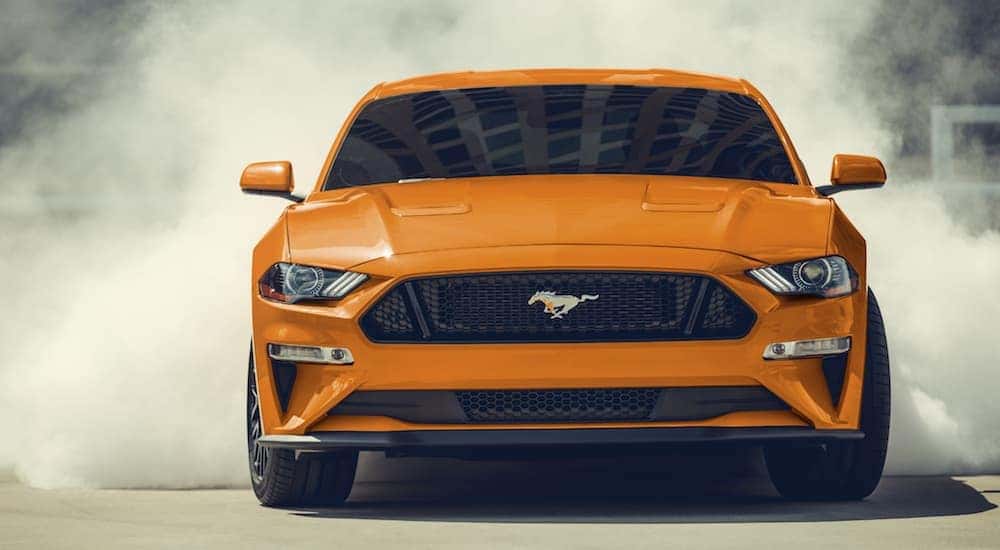 The 2020 Mustang is an absolute beauty that is the perfect combination of speed, power, and performance, all coming together in a package that is absolute driving bliss. There are numerous engines available on the Mustang, depending on which trim you go with, starting with a 2.3L EcoBoost engine that offers up to 310 hp and 350 lb-ft of torque. Not enough? Check out the High Performance version of the engine, which provides up to 330 hp and 350 lb-ft of torque.
Step up to the GT, and you get a 5.0L Ti-VCT V8 engine that offers up to 460 hp and 420 lb-ft of torque. You can see where this is going. The 2020 Ford Mustang is gorgeous, has some incredible engines available, and gives you everything you want in a performance vehicle. Unless you want even more power, in which case consider…
#3 – The 2020 Ford Mustang Shelby GT350
Now things are getting serious. On the one hand, you could consider this a trim level for the standard 2020 Ford Mustang. But on the other hand, this thing is such an absolute beast that it really needs to be talked about on its own. What sets the Shelby GT350 apart from the standard Mustang?
Well, how about a TREMEC 6-speed manual transmission designed to ensure you are constantly in control of the vehicle? How about a 5.2L NA Ti-VCT V8 engine that offers up to 526hp and 429 lb.-ft. of torque? All that and a sleek design that tells the world it's more than a Mustang – the Shelby GT350 is truly something special. But we're not done yet.
#4 – The 2020 Ford Mustang Shelby GT500
Just when you think the 2020 Ford Mustang couldn't get any better, there's the Shelby GT500. Now, to be fair, this is probably not something you will find at every Ford dealer in Ohio – and if you do, you're not going to find a dozen of these to choose from on the lot. That being said, this is the pinnacle of Mustang power and performance.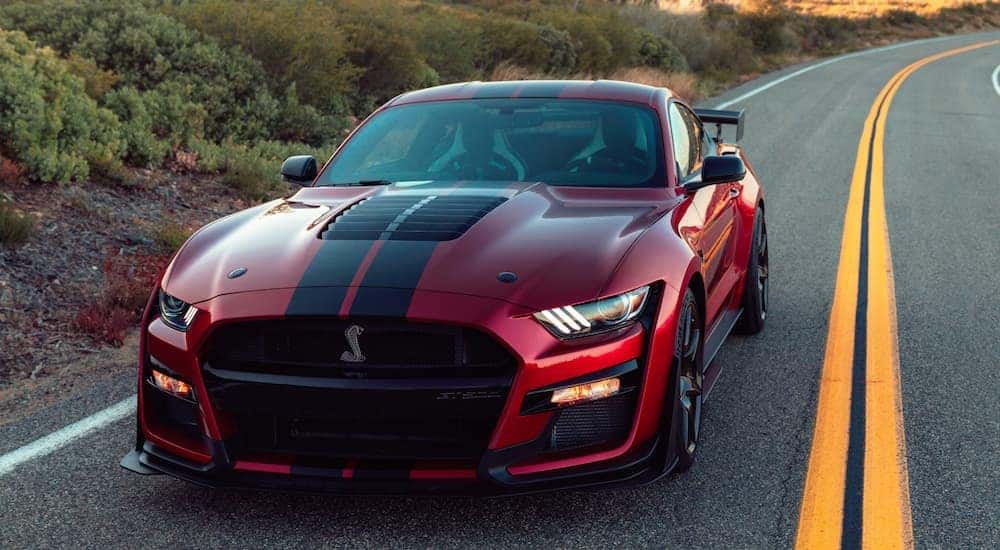 What does that mean? Well, the 2020 Ford Mustang Shelby GT500 has a 12-inch LCD digital instrument cluster to display all the information you need, including a track setting that provides you with relevant data when you're running laps. Speaking of being at the track, the GT500 also has a launch control system that integrates the brakes, traction, and powertrain control to get you off the line faster. And the engine? It's a 5.3L Supercharged Cross-Plane Crank V8 that offers over 700 hp and up to 625 lb-ft of torque.
This is not a performance vehicle for someone just looking to turn head's cruising through downtown. This is a car born for the track; it just happens to look really good cruising through downtown too.
#5 – The Ford GT
So, after all of that, what could possibly top the 2020 Ford Mustang Shelby GT500? Only one thing, the Ford GT – the most powerful Ford GT ever built. To be fair, this is definitely not something that will just be hanging out at most Ford dealers in Ohio; it's really a racecar that has found its way off the track and into our hearts.
We should also mention that this is definitely not a performance vehicle that is right for everyone. Not only is it a serious investment, but it is well beyond what you need to be able to safely enjoy cruising along the highway and feeling the wind in your hair. We cannot stress this enough; last time we checked, there's no Autobahn here in Ohio, so don't come looking for the Ford GT in the hopes of opening it up on a drive from Cincinnati to Cleveland. Though, it would certainly make for a memorable trip through Hocking Hills.
So what are we talking about here? The Ford GT has a 3.5L EcoBoost V6 engine that provides up to 647 hp with an aerodynamic shape and design that is truly built for the track. It is fast, powerful, and offers a level of performance that cannot be fully expressed in the written word. Some sensations in this world, like the smell of rain, a first kiss, or the feel of more than 600 hp pushing you back in your seat, simply have to be experienced firsthand.
Ready for a performance vehicle? Come visit us at Kings Ford and discover what you've been missing.