15 Great Features to Look For in a Used Ford Truck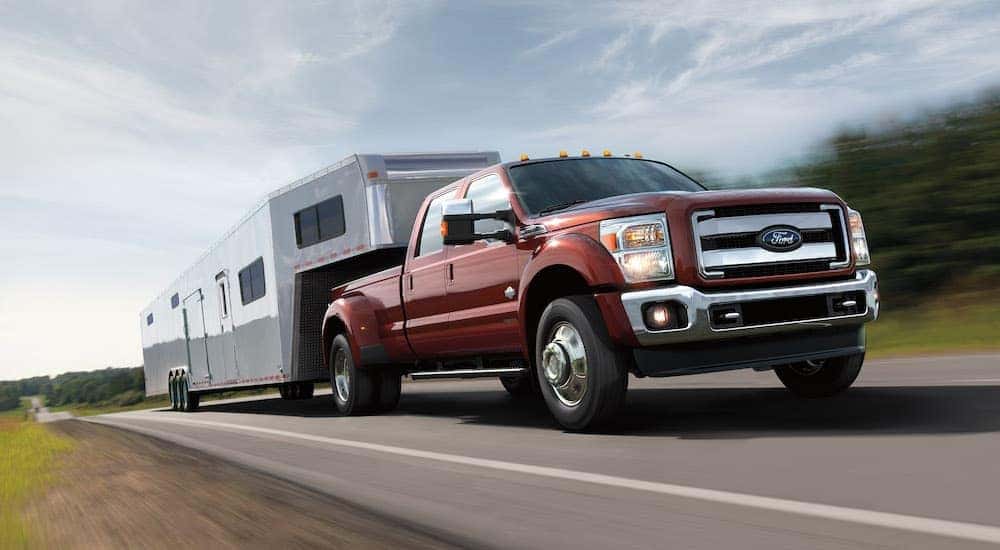 Ford trucks are among the best pickups on the road, if not hands-down the very best trucks available anywhere. When shopping for used Ford trucks, however, there are probably some particular features or specs that you are interested in and want to find. Here at Kings Ford in Cincinnati, Ohio, we have a lot of customers asking us about certain features and whether they are available or not on used models. That kind of knowledge when shopping for trucks is great, and we love seeing customers who are informed about what they want and need in a truck.
Whether you have just started shopping for used Ford trucks, or you have a strong sense of what you want, consider the following features, and be sure to keep an eye out for them.
#1 – High Payload Capacity
First things first: payload capacity refers to how much weight you can load onto a truck, including you and passengers, and can vary a lot from one model to another. In general, however, most models from the last decade have pretty comparable payload capacities. For example, the 2019 Ford F-150 has a maximum payload of up to 3,270 lbs. while a 2010 model has a maximum payload of up to 3,030 lbs.
#2 – High Towing Capacity
This is another spec that will vary quite a bit when looking at different used Ford trucks. The main thing to know is that, in general, the maximum towing capacity has improved year after year for Ford trucks. The improvements have been relatively small in some cases, but overall a newer model has the potential for higher capacity. When looking at the Ford F-150, for example, a 2010 model had a maximum possible towing capacity of 11,300 lbs. while a 2015 model had a maximum towing of up to 12,200 lbs. and a 2019 model can have up to 13,200 lbs. of maximum towing.
#3 – Off-Road Package
Off-road packages have been available on used Ford trucks for decades, so you can typically find one no matter what year you look at. It's worth remembering, however, that some years this has been part of a trim level as well as an available package. For example, starting in 2002 the FX4 Off-Road model became its own trim level, whereas since 2010 the FX4 and the Raptor have typically been the dedicated off-road trim levels.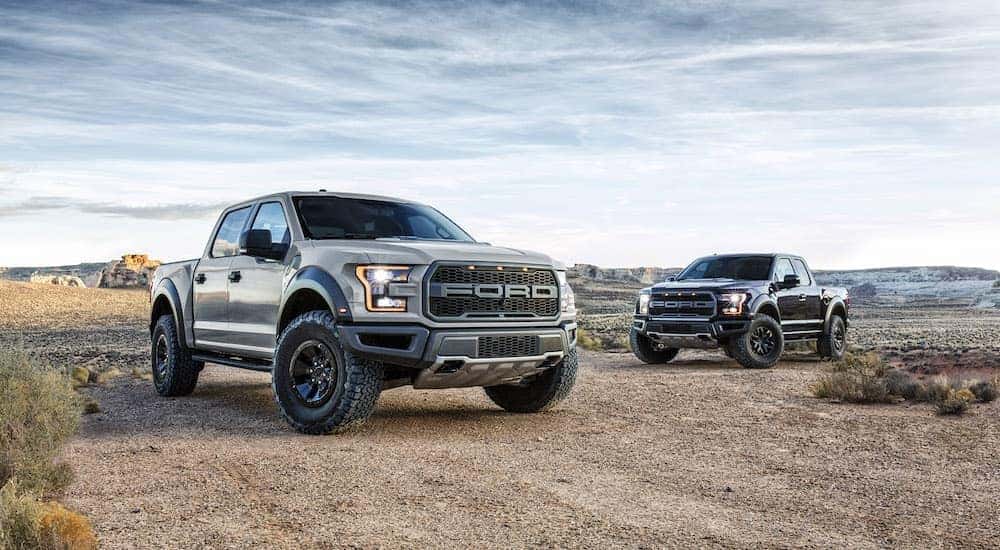 #4 – A Ti-VCT V8 Engine
Although different engines have been available on Ford pickups over the years, one of a few options to look for with specific used Ford trucks is a Ti-VCT V8 engine. The Twin-independent Variable Cam Timing engine first became available on 2011 Ford F-150s, with both a V6 and a V8 available. These engines deliver excellent fuel economy and power, though they have been improved in numerous ways over the years. For example, a 2011 5.0L Ti-VCT V8 engine offered up to 360 hp and 380 lb-ft of torque; while a 2019 5.0L Ti-VCT V8 engine can provide up to 395 hp and 400 lb-ft of torque.
#5 – An EcoBoost Engine
The second type of engine you might want to look for when shopping used Ford trucks is an EcoBoost model. These were first introduced in 2011 and typically offer excellent fuel economy and tremendous power. The 3.5L EcoBoost engine in the 2011 Ford F-150 offered an estimated 16 mpg in the city and 22 mpg on the highway; while a 3.5L EcoBoost engine in a 2019 F-150 offers an estimated 18 mpg in the city and 25 mpg on the highway. So, as you can see, more recent models offer better fuel economy.
#6 – A Turbo-Diesel Engine
If you want a lot of power when looking at used Ford trucks, then a turbo-diesel engine is typically an unbeatable option. While these engines have been offered in F-250 and F-350 models for a long time, they were only recently made available in the F-150 series. If you want a Ford F-150 with a turbo-diesel, then you need to choose a 2018 model or newer.
#7 – 10-Speed Transmission
To find a used Ford truck with a manual transmission, you will have to go back to 2010 or earlier, as 2011 and later models only offer automatic transmission. Most models from 2011 to 2016 were offered with a 6-speed automatic transmission. If you want a 10-speed automatic, then you will need to choose a 2017 or later model – but keep in mind it has only been available with certain engines over the years.
#8 – Pro Trailer Backup Assist
If you plan on hauling a trailer or similar item behind your vehicle a lot, then the Pro Trailer Backup Assist technology can be a great help. Look for used Ford trucks from 2016 or later for this technology, as that is the first year it was introduced. While earlier years can include Smart Trailer Connectors and similar features, you won't find the Pro Trailer Backup Assist before 2016.
#9 – Remote Tailgate
A remote tailgate makes it easy for you to unlatch and open your truck bed with the push of a button on the key fob. This feature was introduced in the 2015 model year, so if you want it then you'll need to look for used Ford trucks from 2015 at the earliest. While some other great features are available on 2014 and earlier models, the remote tailgate was not one of them.
#10 – Lane-Keeping System
Lane-keeping systems are one of several safety features that are quite new in the auto industry, so if you want them then you'll need to focus on newer models. With the Ford F-Series, for example, lane-keeping became available starting in 2015. Since the modern generation of the F-Series started in 2015, it's no surprise that a lot of modern safety features got their start then too.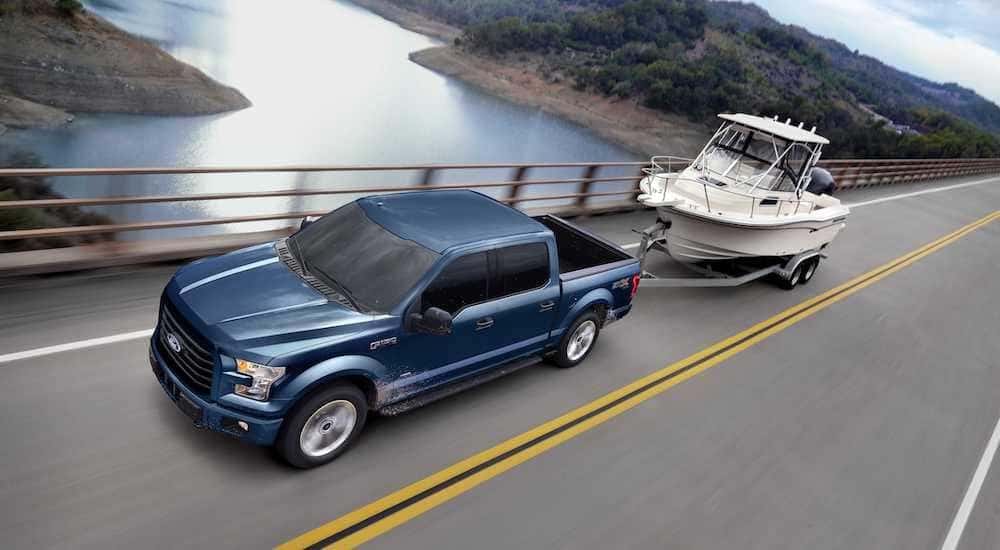 #11 – Cross-Traffic Alert
Much like a lot of other safety features on used Ford trucks, you can go back as far as 2015 to find models with cross-traffic alert on them. This feature was only available on high trim levels in the past, however, so keep that in mind. That can make it a bit difficult to find, but if it's important to you then keep an eye out for it.
#12 – Blind-Spot Information System
Similarly, the blind-spot information system was also introduced for 2015 models. Although a reverse-sensing system can be found on some used Ford trucks from 2014, the more impressive blind-spot information system with cross-traffic alert was a 2015 innovation.
#13 – Pre-Collision Assist with Automatic Braking
While a lot of safety features were introduced in the 2015 model year, this is one that you'll have to focus on more recent models to find. Pre-collision assist with pedestrian detection and automatic braking functionality was introduced on the 2018 models. That means there are fewer used Ford trucks out there with this feature, and they're likely to be more expensive than older ones.
#14 – Rearview Camera
Rearview cameras have been available on Ford pickups for quite some time, going back to 2010 at least as an available option. It's important to keep in mind, however, that it was optional on these models and typically only found at the highest trim levels. The rearview camera only became standard on all models starting in 2018, though used Ford trucks from about 2015 on tend to have it more often than those from before that year.
#15 – Center Stack Screen
Touchscreen displays have been available on Ford pickups going back to at least 2010, including available 8-inch displays with Navigation. Of course, this technology has improved over the years, so more recent models are likely to have better overall functionality. They have also become increasingly standard, though lower trim levels usually have smaller screens.