Meet the Newest Ford Line-Up
What's new in the Ford line-up of vehicles? Plenty! At Kings Ford, you'll be amazed at some of the latest Fords to hit the scene.
Ford C-MAX
The Ford C-MAX is the auto giant's answer to hybrids with horsepower. Looking at this new vehicle, you can't tell that it's a hybrid thanks to its impressive styling. But you'll know when it gets up to 42 highway MPG.
Ford Escape
Make a getaway with a Ford Escape, the hatchback SUV that offers serious cargo space. Load it up and let the four-wheel drive take you wherever you want to be.
Ford Expedition
The Ford Expedition sits at the pinnacle of Ford SUV models. It's a luxury ride with everything you need and want from a bigger vehicle. You'll appreciate the roominess and quiet, smooth ride whether you're in town or exploring the countryside.
Ford Explorer
Want an SUV that drives with the Ford energy you've come to know and love? The Ford Explorer is the answer. Not only is it attractively priced for SUVs, but it allows you to haul all your gear and family members in style.
Ford F-150
When you say "truck," prepare to think of a Ford F-150. Now in its teen generations, the F-150 is the truck that all other trucks try to imitate. Not only does it have the power you need to blow through projects with ease, but it offers an aesthetic appeal unmatched in its category.
Ford Fiesta
For maximum efficiency, it's tough to do better than the Ford Fiesta. Compact in size, its gas mileage, and pick-up is appreciated. Looking for a vehicle that won't let you down and gets up to 35 MPG on the highway? The Ford Fiesta is the winner.
Ford Focus
As a step up from the Fiesta, the Ford Focus is a bit bigger but still as effective. Choose from a variety of amenities in your Focus, including self-parking features to get rid of the parallel-parking jitters.
Ford Fusion
Another car that saves you money on fuel, the Ford Fusion has an eco-boost component that delivers premium highway mileage at around 32 MPG. It's a stately looking, appealing mid-range vehicle whose potential add-on features make it a winner.
Ford Mustang
Since the golden age of the sports car, the Ford Mustang has stood as an elite treasure. It's fast-looking, fast-functioning, and fast-selling. Find the perfect Ford Mustang to fulfill your dreams of speed and good looks.
Ford Taurus
The Ford Taurus is a premium car that provides a smart, fast ride without compromise. Known as a power-filled model, it's become a standard among Ford's hottest offerings.
Create the Ford of Your Fantasies At Kings Ford
When you visit our Ford dealer in Cincinnati, be sure to talk to our helpful personnel about all the ways you can design your own Ford. When buying a new vehicle, you have plenty of opportunities to make it exactly what you want. You'll be pleasantly surprised to learn how many technological advances have changed the buying process for new Ford purchasers.
We look forward to serving you and taking you for a spin in any of our showroom Fords. Plan your visit to Kings Ford today!
Buy Best-Selling Used Fords in Cincinnati
In the market for a pre-owned Ford? You've found the place where we have all the best-sellers in one convenient, easy-to-find location.
As you look through our online catalog or walk around the Kings Ford lot, you're sure to notice some of the all-time best-selling Fords for sale, including:
Ford C-Max - Have hybrid fever? We're here to satisfy your needs. The Ford C-Max is not only a midsized stylish car, but it can get around 50 MPG whether you're driving in the city or on the highway. That's a huge benefit to owning one of these need breeds of Ford vehicles.
Ford Edge - For a midsized SUV, you can't do better than a Ford Edge. Not only is it trustworthy, but it rides smoothly even over uneven terrain. It's consistently rated among the most purchased new and used Ford vehicles.
Ford Escape - Looking for an SUV that's compact but still spacious enough to carry everything you need from place to place? The Ford Escape provides superior performance in a sleek, award-winning design. Best of all, it offers excellent value for your dollar.
Ford Expedition - Mighty and tough, the Expedition is an SUV that has solidified its place as a leader. Plan to take our pre-owned models for a spin today and find out why drivers applaud this vehicle's heavy-duty horsepower.
Ford F-150 - This model consistently flies off the lot thanks to its award-winning style. Plus, it's a safe bet for people who love their trucks. New Ford F-150s start at around the mid-$20s and rise according to amenities and add-ons, so pre-owned F-150s will be less than their fresh-from-the-plant counterparts.
Ford Fiesta - This is one of the Ford cars that's highly attractive to buyers who need reliability but have a limited budget. One look at this subcompact vehicle and you'll understand why frugal shoppers can't resist taking a test drive. Saving money on fuel was never as appealing!
Ford Focus - As a compact vehicle, the Ford Focus delivers a great ride at a competitive price. Pre-owned Ford Focus models offer some great deals on this favorite among the Ford sedan offerings.
Ford Fusion - When you're gravitating toward a vehicle with high safety ratings, you shouldn't overlook the Ford Fusion. It's a midsized car that consistently ranks among its counterparts for a ride that provides peace of mind. At Kings Ford, you'll find preowned Fusions of varying trims and optional upgrades.
Ford Mustang - It's hard to look away from a Ford Mustang, especially if you're drawn to beauty and brains. Each Mustang generation has its nuances, and occasionally Kings Ford has an antique-level model for sale.
Make Kings Ford Your Cincinnati Ford Dealer of Choice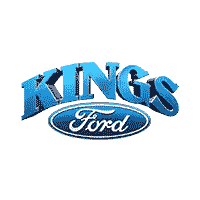 Don't let the name fool you. Kings Ford offers tons of new and pre-owned vehicles, including your Ford favorites.
Let us wow you with our superior selection and second-to-none service today. Stop by our showroom and lot, or start your visit online by browsing through today's hottest cars, SUVs, and trucks.
Why go anywhere else when you have a Cincinnati Ford dealer with everything you need?