The Top 3 Breakfasts in Cincinnati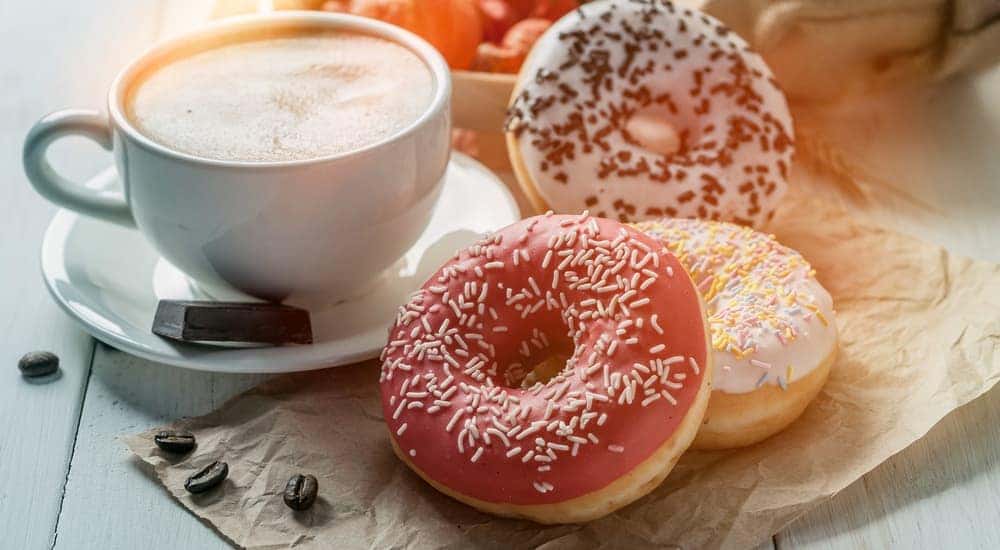 There's nothing quite like a good breakfast. Welcoming the morning with a filling and delicious meal makes a long day ahead seem that much easier to tackle. Luckily, Cincinnati is home to several highly-rated brunch and breakfast establishments. Before you stop by for car shopping at Kings Ford, you might want to fuel up at one of our top choice restaurants. These three options all have something unique to offer. Whether you're in the mood for a fresh foodie dish with local ingredients, an old-fashioned donut, or an award-winning waffle, we're pretty confident that you won't be disappointed by these selections.
Maplewood Kitchen and Bar
For a tasty brunch, look no further than Maplewood Kitchen and Bar. Other than a 24-hour diner, you can't find extended brunch hours like this elsewhere. They serve up a hot morning meal on Monday through Friday from 7 a.m. to 3 p.m. and on weekends from 8 a.m. to 3 p.m. In addition to breakfast, a delightful assortment of salads, sandwiches, and bowls round out their menu.
Using only top-quality ingredients, you'll find delectable breakfast items, like lemon ricotta or blueberry granola pancakes. These come with a side of fresh seasonal fruit, local syrup, and grass-fed butter. The eggs used in their bistro steak and eggs, avocado benedict, and creative omelets are all cage-free. Get your protein at breakfast with their chicken hash (pulled rotisserie chicken with hashbrowns, veggies, jalapeno, and eggs) or chicken tinga (chipotle-braised chicken, crispy tostada, charred tomatillo salsa, black bean puree, and more).
Don't forget to try their cold-pressed juices or classic cocktails. Maplewood Kitchen's cold-pressed juice mimosa is a modern twist on an old favorite. Pair LaMarca Prosecco with Maplewood's in-house Sol Glo or Sweet Greens juice. The Sol Glo is a fiery mix of orange, pineapple, carrot, and ginger. The Sweet Greens juice blends cucumber, green apple, pear, lemon, kiwi, lime, and celery. If you prefer just regular (freshly squeezed) orange juice, that's a surefire option as well.
The Bloody Mary comes with Tito's handmade vodka and Maplewood's own bloody mary mix. For a slightly different version, try the roasted Tomatillo Bloody Mary that incorporates Maplewood's Super Greens juice for an antioxidant boost. Super Greens has spinach, pineapple, romaine, kale, parsley, and celery. Of course, any of their fresh juices can always be served on their own rather than part of a cocktail. Start your day with a punch of their UpBeet juice, a refreshing mix of beets, lemon, green apples, and carrots. Find Maplewood Kitchen and Bar on 525 Race Street in Cincinnati, or visit their new location in Deerfield.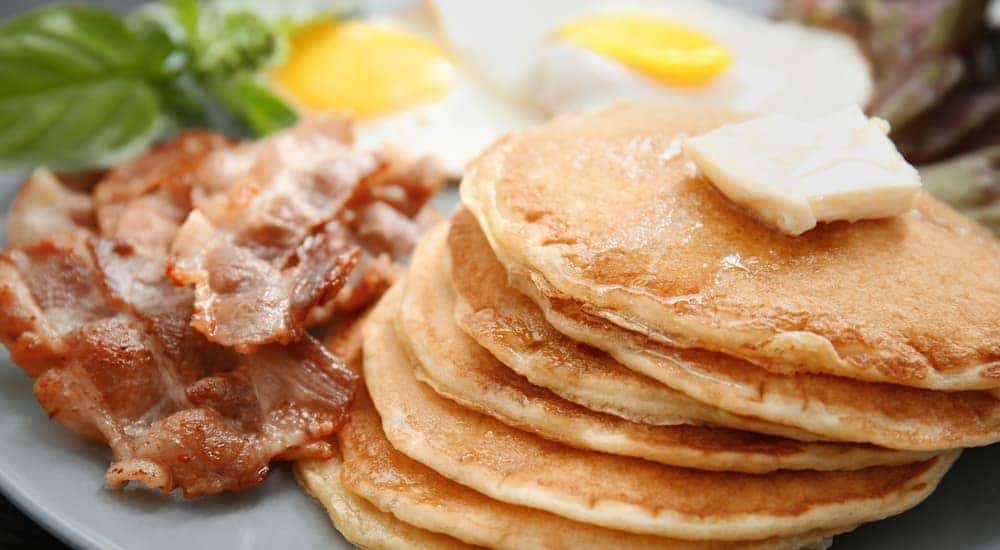 Holtman's Donuts
For more of a niche breakfast, stop into Holtman's Donuts. This family-owned establishment started in 1960 with the original donut shop located in Newton, Ohio. When grocery stores began selling milk, Marvin Holtman (a former milkman) was put out of work. This prompted his sons, Charles and Roger, to provide for the family by opening up a donut shop. It was a quick success with the local community. Within four years, a second location was opened in Milford.
From there, the family franchise grew to several locations throughout Cincinnati. In 1995, Charles convinced his daughter, Toni, to start taking over the shop in Loveland. In 2009, Toni and her husband, Chuck, opened another location in Williamsburg. In 2013, Toni's son Danny opened the Over the Rhine Shop with his wife, Katie. The simple perfection of fresh donuts, made daily from scratch, has proven to be a winning recipe for the Holtman family. Four locations are currently in operation in the Greater Cincinnati area.
A donut special you may find at one of Holtman's locations includes their pumpkin spice latte donut. This pumpkin-flavored cake donut is topped with an espresso glaze. Pumpkin lovers can also try the pumpkin brulee donut, which is a pocket donut filled with pumpkin and topped with brulee. Their peanut butter and jelly donut is a meal in itself. This long john donut is stuffed with various jelly fillings and topped with peanut butter icy and crunchy peanuts. Also topped with peanuts, is their caramel apple donut. This donut has a gooey, apple pie filled center, drizzled with caramel icing. Try the blueberry rosemary fritter for an artisan donut with rosemary glaze. For a goofy treat, kids and adults love Holtman's alien donut. Complete with neon green vanilla icing and three sugar eyes.
True fans can now bring the joy of Holtman's Donuts along with them on vacation. In addition to their famous treats, the shops also sell a donut snow tube, donut frisbee, and donut pool float. Their retro design features a round yellow donut with pink frosting and colorful sprinkles. For Cincinnati residents, home wouldn't be quite the same without Holtman's Donuts.
In 2018 alone, Holtman's was featured in at least nine different press features. The Cincinnati Enquirer called it a "Match Made in Heaven" when announcing the new Oakley location. Holtman's Donuts was the top Reader Pick for Donuts in CityBeat. It was also noted in Food & Wine magazine's article on the Country's Most Promising Food Scenes. Food & Wine describes Holtman's Donuts as " a cheerful, modern shop, bridging the divide between the classic and the nouveau, all while keeping prices reasonable." With all of this press coverage, one thing is for sure. A morning in Cincinnati is sweeter at Holtman's.
Taste of Belgium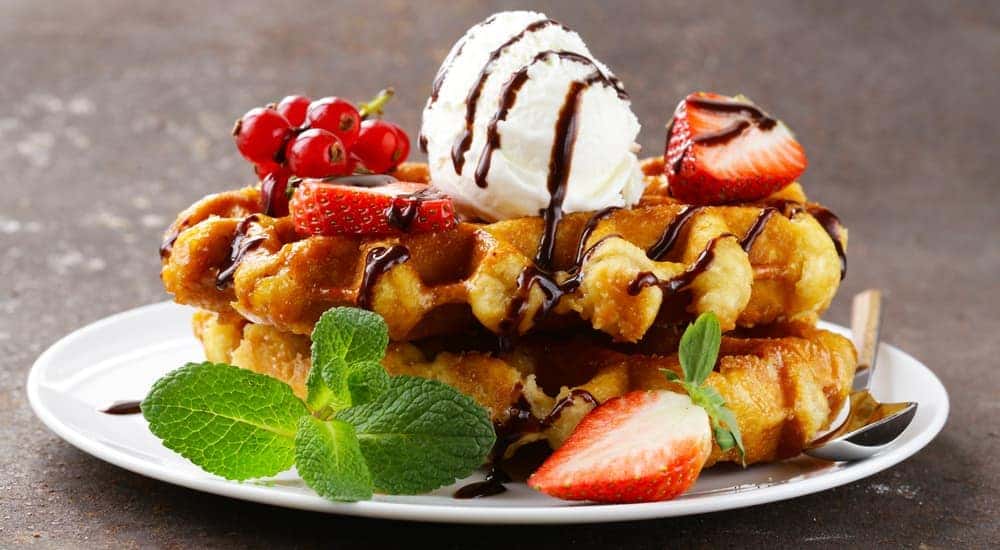 The Taste of Belgium offers an all-day brunch and an intriguing waffle menu that's hard to pass up. This group of restaurants represents Belgian-style eateries that were founded by Jean-François Flechet in 2007. The story goes that using a cast iron waffle maker from his native country he started making Belgian waffles out of the back room of Findlay Market. Word spread quickly, and Jean-Francois was forced to find a new place to house his popular waffle establishment.
Today, two market locations exist, one in Columbus at Findlay Market and one in Cincinnati at the North Market. In addition, four full service bistros offer breakfast, lunch and dinner with a selection of Belgian beers and a famous weekend brunch. It was recognized on the hit show, Diners, Drive-ins and Dives, and has also been named the official waffle of the Cincinnati Reds.
In addition to the market locations, you can find Jean-Francois' famous waffles at Over-The-Rhine on 1135 Vine Street, Clifton at 2845 Vine Street, Rookwood on 3825 Edwards Road and The Banks at 16 West Freedom Way. Order online, book a reservation, or schedule your delivery from any of these locations. You can also request to rent out one of the bistros for your next event, or order catering to go.
Interesting finds on their menu include "shareables" like bier cheese with raspberry lambic and housemade pretzels, the escargot plate or carbonnades poutine. Their signature waffles are their iconic claim to fame. With options like the beltucky hot brown (pulled turkey, candied bacon, tomatoes, cheddar, cheddar Mornay sauce), ham and brie (ham, brie, apples, basil & walnut pesto, frites) and shrimp and grits (cheddar grits waffle, blackened shrimp, creole sauce, green onions, cilantro), even the most seasoned waffle connoisseur is bound to find something new and interesting to try.