The Best Fords for Mason Drivers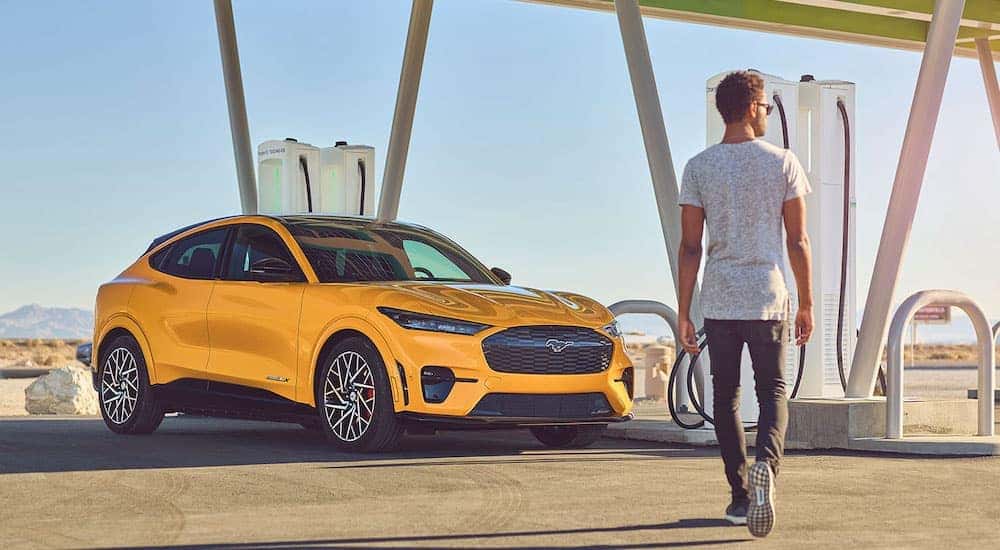 Living in Mason and the surrounding Cincinnati area gives you a lot of opportunities for enjoying everything that southern Ohio has to offer—not to mention nearby-Kentucky. Having the right vehicle makes a big difference in being able to do whatever you want, so it's important to choose the best vehicle to meet your needs. If you're looking for a Mason Ford dealer, we suggest you visit us here at Kings Ford, located conveniently in Cincinnati, and we'll be happy to help you find that perfect vehicle for traveling around Mason.
We know that one of the keys to being able to get through (and maybe even enjoy) your morning commute, running errands, and getting the most out of your free time is a vehicle that facilitates your lifestyle. For a lot of our customers, that means one thing: fuel economy. With gas prices being what they are, it's never been more important to choose a vehicle that gives you the freedom you want with high fuel efficiency, so you're not stopping at the pump every other day. Let's look at some of the best options in the Ford lineup for getting around Mason, taking trips to Cincinnati, and enjoying everything else in the surrounding area.
The Mustang Mach-E
When it comes to great fuel economy, our first pick is a bit of a cheat for one simple reason: it's an all-electric model. That being said, the Ford Mustang Mach-E is such an exceptional choice that we can't help but strongly recommend it to anyone looking for a great SUV to get around the Cincinnati area, including Mason while keeping costs low. Just a few years ago, the idea of saying "Mustang" and "great fuel efficiency" would've seemed like a contradiction, but the industry has changed, and the Mustang name stands for more than just raw, gas-powered muscle these days.
The Mach-E beautifully lives up to the Mustang name because it delivers incredible performance that is absolutely heart-pounding. There are several different models available with various options for motors and batteries, so you can prioritize what really offers the most for you. If you prefer a fantastic range, you can choose a California Route 1 model to get more than 300 miles of estimated range from a full charge. A GT Performance model, on the other hand, prioritizes power and lets you go from 0 to 60 in just 3.5 seconds, with instant torque that will put you back in your seat with a huge smile on your face.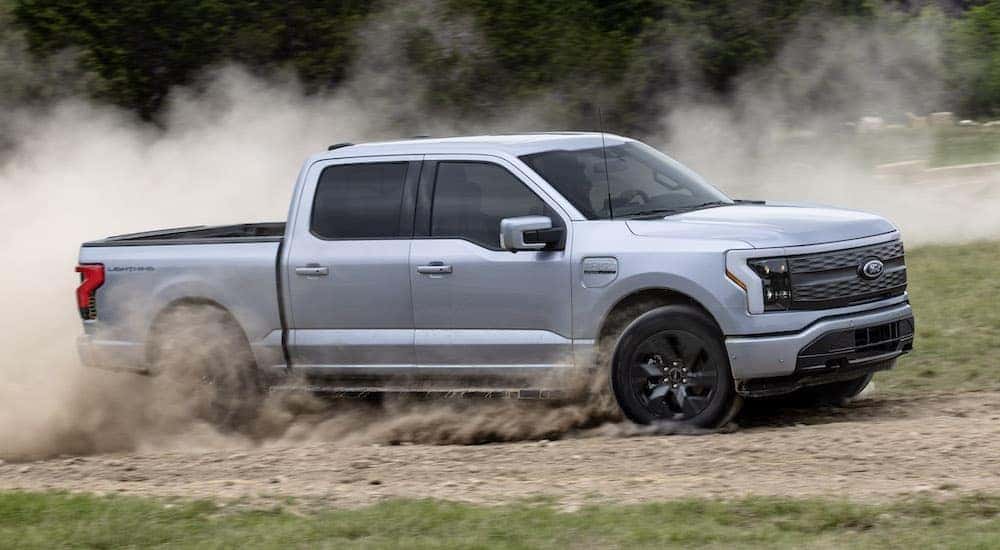 The F-150 Lightning
Our other choice that offers fuel economy you really can't beat is the remarkable Ford F-150 Lightning, an all-electric pickup that is changing everything we expect from a truck. While a truck isn't necessarily right for everyone, if you're looking for a full-size pickup that can get a lot of work done and let you skip the gas pump, then the Lightning should definitely be on your radar. Mason drivers who are looking for a truck that balances capability and efficiency should take note. It comes with all-wheel drive standard, thanks to a motor on each axle, and can get more than 300 miles of estimated range from a full charge.
Some may be concerned that switching to an electric model means giving up some of the muscle you've come to expect from Ford trucks. With the F-150 Lightning, that's not the case—it can handle more than 10,000 lbs of towing and 2,000 lbs of maximum payload capacity. Combine that with instant torque that lets it go from 0 to 60 in about 4 seconds, and you've got a truck that's unlike anything we've seen before. Plus, with the latest version of Ford's Pro Power Onboard system, the Lightning can not only power appliances and power tools but even act as a full-home generator in case of an emergency power outage.
The Escape
If you're interested in an SUV but don't want to switch to an all-electric option just yet, the Ford Escape is one of your best choices for great fuel economy. Even putting fuel efficiency aside, the Escape is a terrific compact crossover model with seating for up to five passengers and fantastic technology throughout. For Mason commuters in the market for an SUV but still want to avoid regular trips to the pump, Ford has you covered. It's also one of the safest models on the road, with a 5-Star Crash Safety Rating from the National Highway Transportation Safety Administration; plus, it has selectable drive modes that make it ideal for dealing with rough winter weather and slippery road conditions.
What really helps set the Escape apart from a lot of other options, however, is the selection of engines it has available. The standard engine gives you an estimated 28 MPG in the city, 34 MPG on the highway, and an overall 30 MPG combined fuel efficiency—this is perfect for getting around Mason and taking trips to Cincinnati or anywhere else you want. Beyond that, however, you also have a couple of hybrid options available—the standard hybrid gives you 43 MPG in the city, 37 MPG on the highway, and 41 MPG combined. There's also a plug-in hybrid available with an estimated 40 MPG combined fuel economy, though you can get an estimated 105 MPGe (miles per gallon equivalent) thanks to the electric motor or up to 37 miles of electric-only range from a full charge.
The Explorer
If you want something larger, but fuel efficiency is still important to you, then it can feel like you're out of luck with a lot of brands. The Ford Explorer, however, is a three-row SUV with plenty of space inside; perhaps best of all—it has a hybrid engine available. This means you can still get seating for seven passengers and more than 87 cu.ft. of total interior cargo space behind the front row of seats, while also going longer between stops at the gas pump. Luxury options for the Explorer are exceptional, including an available twin-panel moonroof, a 10.1-inch Infotainment display, and a 12.3-inch customizable driver display.
With its standard engine, the Explorer gets decent fuel economy, even a bit better than what you'd expect from an SUV of this size. If efficiency is really important to you, however, you should check out its available 3.3L V6 hybrid engine, which is still very powerful and fun to drive. With the hybrid engine, you get an estimated 27 MPG in the city, 28 MPG on the highway, and a 27 MPG combined fuel economy, which means you can bring six of your friends along without worrying too much about which ones will chip in with gas money.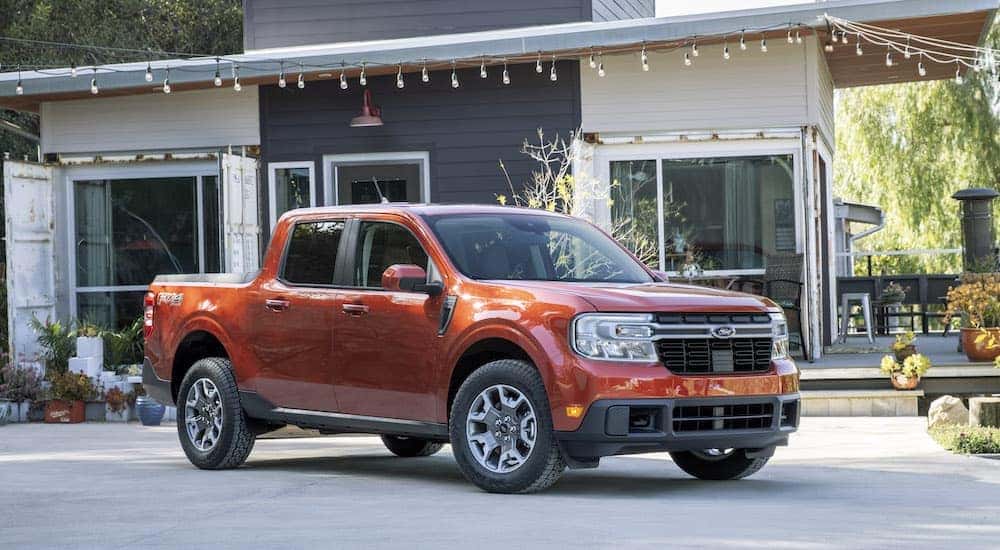 The Maverick
Finally, Ford has expanded its pickup options for their truck fans with the completely-new Ford Maverick compact truck. The small size of the Maverick makes it a fantastic option for city driving since large models like the F-150 can be a bit tricky on crowded streets. Despite its small size, however, this is still a Ford truck through and through with 1,500 lbs of payload capacity and up to 4,000 lbs of maximum towing available.
What sets the Maverick apart is that it's the first-ever pickup to come with a hybrid powertrain standard. That means the base model gets an estimated 42 MPG in the city, 33 MPG on the highway and a 37 MPG combined fuel efficiency. You're not going to find this kind of gas economy from most other trucks, and it showcases how Ford has designed this pickup for city drivers.
As you can see, the Ford lineup has something for everyone, even if great fuel economy is your top concern. You don't have to be limited to just a compact car that barely has enough room for you, let alone your passengers. Come visit us at Kings Ford, and we'll show you fantastic vehicles that fit your lifestyle and save you money while you get the most from them.