2019 Ford F-150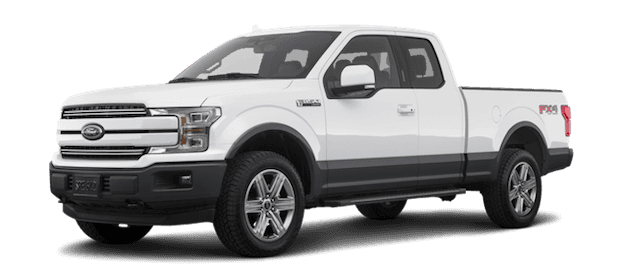 Starting at
$28,155
2019 Toyota Tundra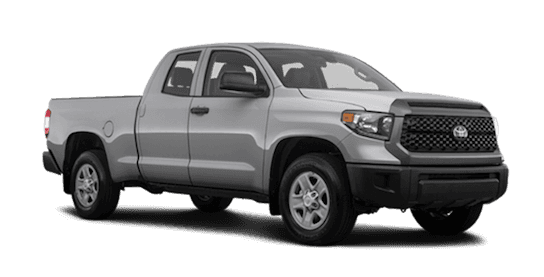 Starting at
$31,420
| | | |
| --- | --- | --- |
| 6 | Engine Options | 3 |
| 5-Star | NHTSA Rating | 4-Star |
| 7,700-13,200 LBS | Towing Capacity | 6,800-10,1000 LBS |
| 290-450 HP | Available Horsepower | 310-381 HP |
At King's Ford, We Understand the Importance of Choosing the Right Truck
Making the decision to buy a new truck is a big deal. You need to find a vehicle that will work just as hard as you do and transition seamlessly from the worksite to the weekend. It also needs to fit your budget, style, and have excellent overall safety ratings. This new truck will probably be with you for years to come, so you want to be sure that you're satisfied with your final decision. Since this truck will likely last you for years, you want to take all eventualities into account. Will you ever want to tow a boat? Go off-roading? Fit your family inside? When you first start looking for a new truck, you'll probably come across the 2019 Ford F-150 vs 2019 Toyota Tundra. These trucks are both popular in the USA and you've probably seen them on the road. At King's Ford, we want you to begin your quest for a new truck with all of the information so that you can find the truck that will best fit your needs. That's why we've put together this side by side comparison of the 2019 Ford F-150 vs 2019 Toyota Tundra so that you can see all the facts. We think you'll be surprised with what we've unearthed.
Performance

When people think about the purpose of trucks, their minds generally go right to performance. Trucks were created to be able to perform in tough conditions like on uneven ground, when they're towing something, or when the cargo is extremely heavy. Trucks are first and foremost vehicles which improve the driver's utility and help them get whatever job they have done.
The 2019 Ford F-150
There are lots of engine options to choose from with the 2019 Ford F-150, six total options in fact. Whether you want a capable truck to use for heavy housework or a beast that can haul your motorboat to the lake, the Ford F-150 can be customized to suit. The base engine is a sturdy V6 engine which makes a great choice for everyday driving. There is also a V8 engine to choose from, a turbodiesel one, and three turbocharged V6 engine options. As you upgrade, the towing and hauling capabilities of the F-150 grow.
Despite getting between 290 to 450 hp with the F-150, it isn't a gas guzzler. In fact, the F-150's gas mileage is surprisingly good for such a powerful truck. With the base engine equipped, you can expect to get up to 19 MPG in the city and 25 MPG on the highway. Now too bad if we do say so ourselves!
You're probably looking forward to being able to haul and tow all kinds of things in your new truck. If you are, the Ford F-150 will definitely have your back. Depending on the engine option you choose, the F-150 can pull heavy trailers or even haul a full bed of cargo without feeling strained and overtaxed. Just like the American workers it's built to serve, the F-150 ranks top in its class for maximum capabilities, hauling nearly 3,300 pounds total and towing an amazing 13,200 lbs when it's been properly equipped.
The 2019 Toyota Tundra
Unlike the 2019 Ford F-150, the 2019 Toyota Tundra is much less customizable. You'll find just two engine options to choose from, both of which are V8 engines. You can choose from either the base 4.6L engine or 5.7L V8 engines. Because of this limited flexibility, the Tundra's lowest trim level gets more horsepower than the F-150's base model, but its highest trim level also gets less. Essentially, there are simply fewer options for the Tundra. You'll get between 310 to 381 hp with this truck.
In the Toyota Tundra, you'll be able to haul 1,440 – 1,730 pounds of cargo in the bed and tow between 6,800 – 10,100 pounds. Neither of these statistics are too shabby, but again, the Tundra offers less flexibility than the F-150. If fuel efficiency is a concern of yours, this also might be a turn-off for you with the Tundra. At its best the 2019 Toyota Tundra gets up to 15 MPG in the city and 19 MPG on the highway.
Safety

Just because you're working hard doesn't mean you don't value safety in a truck just as highly as you would in a sedan. In fact, you're likely to be traveling on more difficult terrain, meaning a little extra safety could go a long way in protecting yourself and your passengers. Modern technology is helping to improve vehicle safety scores for cars and trucks all throughout the market, and this trend continues for the 2019 Ford F-150 and the 2019 Toyota Tundra.
The 2019 Ford F-150
Safety might not be the first thing that springs to mind when you think of the saying "Built Ford Tough." You probably think of a powerful truck tearing through mud and debris with ease or towing a huge boat behind it. Those impressions would be correct, but you should also think of safety the next time you picture a Ford truck. In fact, the 2019 version of the Ford F-150 scored 5 out of 5-stars overall for safety by the National Highway Traffic Safety Administration, the highest ranking!
The F-150 comes with many standard and available safety features that are powered by technology. Standard features of the F-150 include automatic high beams, forward collision warning, automatic emergency braking, pedestrian detection, and a rearview camera with Dynamic Hitch Assist. This means that trailer hitch assist and hill start assist both come standard with the F-150! Available active safety features that can be added with upgrades on the F-150 include a 360-degree camera system, rear parking sensors, lane keep assist, blind spot monitoring, rear cross traffic alert, adaptive cruise control, and active park assist. That's a lot of safety features! No wonder the NHTSA gave it a 5-star rating.
The 2019 Toyota Tundra
Safety is a term that is generally associated with Toyota as an automaker. Unfortunately, the 2019 Toyota Tundra seemed to have missed the memo. That isn't to say that the Tundra isn't a safe truck, it is, but it pales in comparison to the F-150 with an overall safety rating of 4 out of 5 stars by the NHTSA. It even received a 3-star rating for rollover crash safety, yikes.
The Tundra is available with blind spot monitor and rear cross-traffic alert, 8 airbags, and Toyota's STAR safety system, which includes vehicle stability control, traction control, anti-lock brakes, electronic brake-force distribution, brake assist, and smart stop technology.
Features and Trim Options

Having different features and trims to choose from is one of the best ways for a new car buyer to customize their ride to fit their individual needs. It's also loads of fun! Here's a look at the different standard and available features of the 2019 Ford F-150 and the 2019 Toyota Tundra.
The 2019 Ford F-150
This iconic and classic truck comes in your choice of 7 trim levels. That's right, 7! You can go with the base model, the XL, or go all-in and upgrade to the Limited. Other trim levels, each with their own unique exterior styles and features, include the XLT, Lariat, King Ranch, Platinum, or Raptor.
Inside the F-150 you'll find plenty of upgradable features. Option include a twin-panel moonroof, dual-zone automatic climate control, the SYNC 3 infotainment system, an 8-inch touch screen, navigation, a 10-speaker Bang & Olufsen audio system, satellite radio, Bluetooth, a USB port, and a Wi-Fi hot spot. If you want, you can even enjoy connectivity features like Apple CarPlay or Android Auto. With these features, you will be sure to stay entertained, on your path without getting lost, and comfortable no matter where the road takes you.
The 2019 Toyota Tundra
This truck will keep you entertained and on course when you're out and about. With the 2019 Toyota Tundra, you can access Entune Audio (Toyota's infotainment system), Bluetooth music streaming, and listen to audio from 6 total speakers. Voice activation also comes standard and USB charging ports are available so that you'll never lose charge on your mobile devices while on the road. If you're more of a CD person, the Tundra is one of the few newer vehicles that still comes standard with an in-dash single CD player.