2018 Ford F-150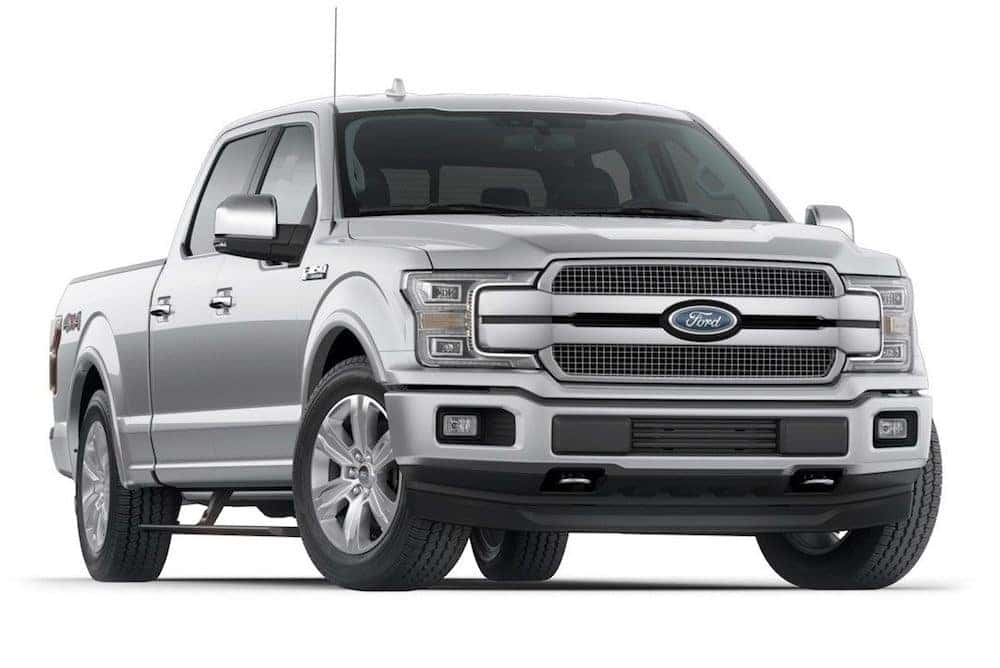 Starting at
$27,705
2018 Honda Ridgeline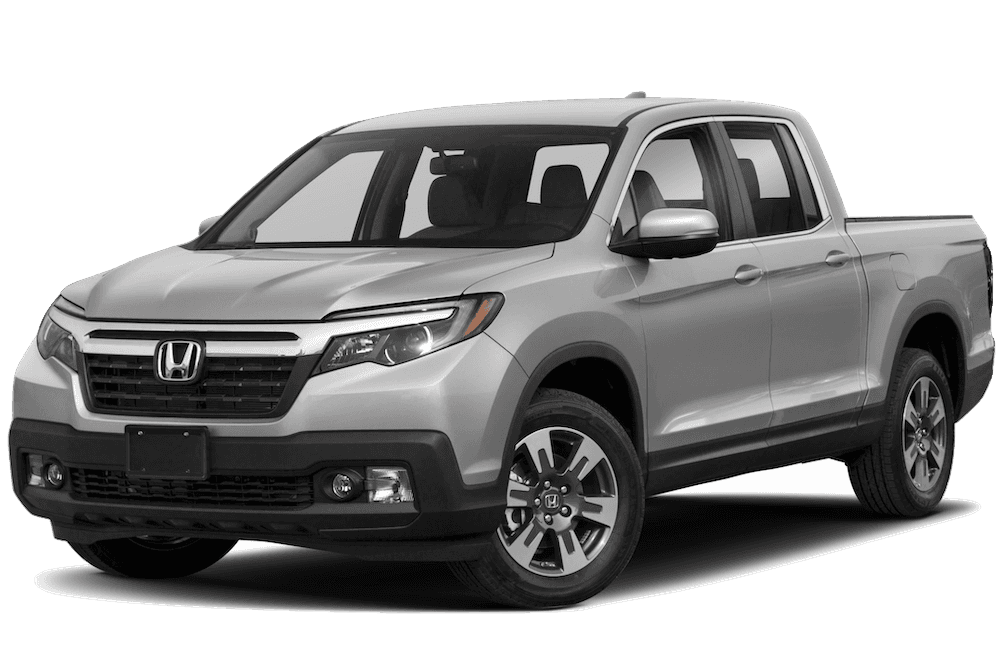 Starting at
$29,730
| | | |
| --- | --- | --- |
| 20/26 | MPG | 19/26 |
| 450 hp | Horsepower | 280 hp |
| 510 ft-lb | Torque | 262 ft-lb |
So, you're looking for a new vehicle, and you've decided on a truck. At least you've gotten this far! But, which make and model will you choose? If you've been researching the latest 2018 models, you've most likely come across both the 2018 Ford F-150 vs 2018 Honda Ridgeline. Both trucks are capable, well-designed, and incredibly advanced when it comes to safety and entertainment. However, one truck comes out the clear overall winner.
The 2018 Ford F-150 is a truck built on decades of success by a brand with a reputation for unprecedented power and innovation. When it comes to tough, high-performing trucks, a Ford truck is likely to come to mind. The 2018 Ford F-150 lives up to its brand's intentions with incredible towing capacity, horsepower, and even fuel efficiency. This pickup truck does not disappoint when it comes to onboard entertainment and safety technology either. Overall, this truck is a powerhouse of a vehicle with all of the convenience, entertainment, and safety features drivers are looking for in a 2018 model.
The 2018 Honda Ridgeline also offers many premium features when it comes onboard tech and safety, and even offers a few exemplary convenience features. However, if you're looking to haul heavy loads or explore the world off the road, this truck is not for you. With limited off-roading abilities and a very low towing capacity compared to others in its class, this is not a pick truck for the driver prioritizing power and capability.
That being said, trucks were intended for both power and capability. So, it goes without saying that when it comes to purchasing a truck, most drivers are going to want a vehicle with some serious strength. And for a lower starting MSRP, the Ford F-150 offers exactly that. In fact, between power, value, fuel efficiency and more, the Ford F-150 has the 2018 Honda Ridgeline beat. But let's take a closer look at the 2018 Ford F-150 vs. 2018 Honda Ridgeline.
Technology
When you're in the market for a tough pickup truck, you may not expect to find premium onboard technologies. However, both the 2018 Ford F-150 and 2018 Honda Ridgeline offer some impressive features when it comes to entertainment, safety, and convenience. Let's take a look at what these trucks have to offer.
2018 Ford F-150
When it comes to entertainment, although beastly, the 2018 Ford F-150 does not disappoint. If you choose the Lariat, King Ranch, Platinum, or Limited trim levels, the intuitive 8-inch dashboard display will come standard. This advanced and convenient monitor will allow you to keep track of your fuel efficiency, as well as off-roading and towing capabilities. The 2018 Ford F-150 also comes with the Ford SYNC3 multimedia system which works closely with the mobile app, FordPass, giving you access to control and monitor several aspects of your truck from your phone. These include locking and unlocking your truck, checking on fuel, remote start, and even the ability to compare fuel prices from your local gas stations.
For convenience features, the 2018 Ford F-150 comes standard with a rearview camera, and even Dynamic Hitch Assist making hooking up a trailer quick and easy. When it comes to worksite productivity, or even increased speed during weekend adventures, this technology is a huge advantage.
There are also several advanced driver assist technologies available including Pre-Collision Assist with Pedestrian Detection, Lane Keep Assist, adaptive cruise control, and a Blind Spot Information System. When it comes to towing and hauling heavy loads, these technologies greatly improve the overall safety of the 2018 Ford F-150.
2018 Honda Ridgeline
On the 2018 Honda Ridgeline's base trim, RT, a few key features are included as standard such as the 5" touchscreen, Bluetooth connectivity, a USB port, and the 4.2" Driver Information Center. Included as standard convenience features on the base RT trim is a rearview camera, Dual-Action Tailgate, and keyless start. However, to upgrade to the more advanced entertainment, safety, and convenience technologies, drivers will have to choose higher trim levels and packages at steep costs. These features include the Honda Infotainment System with its 8-inch touchscreen display, Navigation, and Apple CarPlay and Android Auto compatibility. Upgrading to the highest trim levels will even get you a few luxury features like leather upholstery and heated and power adjustable front seats.
Design
When you're ready to purchase your new truck, you're going to want to make it truly your own. This is where varying trim levels and cab configurations come into play.
2018 Ford F-150
When it comes to trim levels for the 2018 Ford F-150, there are a total of 7 options including:
XL
XLT
Lariat
Raptor
King Ranch
Platinum
Limited
For cab choices, the 2018 Ford F-150 does not disappoint and offers the Regular Cab, SuperCab, and SuperCrew Cab. The Regular Cab is only available on the XL, and XLT trims, while the SuperCab is available on only the XL, XLT, Lariat, and Raptor trim levels. Offering four doors, like the SuperCab, the SuperCrew Cab comes standard on the King Ranch, Platinum, and Limited trims. But what is the difference between each cab style? Here is a quick breakdown:
Regular Cab – This is your standard two-door cab configuration.
SuperCab – This style features a total of four rear-hinged, "suicide doors."
SuperCrew Cab – Like the SuperCab, this cab style also features four doors. However, the doors on the SuperCrew Cab configuration are front-hinged.
2018 Honda Ridgeline
For the 2018 Honda Ridgeline a total of six trim levels are available including:
RT
Sport
RTL
RTL-T
RTL-E
Black Edition
For cab styles, drivers of the 2018 Honda Ridgeline will have only one choice – the crew cab. This is a four-door option with seating for up to five passengers. Since the cab style, engine, and seating remain the same across all trim levels, upgrading to higher trims really becomes a preference in terms of drive and additional tech features. Since technology will be discussed in a latter section, let's take a look at the drive options for each trim:
RT – Front-Wheel Drive Only
Sport – Front-Wheel Drive and All-Wheel Drive
RTL – Front-Wheel Drive and All-Wheel Drive
RTL-T – Front-Wheel Drive and All-Wheel Drive
RTL-E – All-Wheel Drive Only
Black Edition – All-Wheel Drive Only
Clearly, if you're looking to customize your new pickup truck, you're not going to have many options available with the 2018 Honda Ridgeline. However, the 2018 Ford F-150 will truly let you customize your truck to your individual needs.
Performance
If you're interested in owning a truck or upgrading your current truck model, you're most likely looking for a capable, tough, and versatile vehicle. If this is the case, this category will be among the most important in this comparison of the 2018 Ford F-150 vs. 2018 Honda Ridgeline.
2018 Ford F-150
Power is truly the category that the 2018 Ford F-150 excels in the most. With a max towing capacity of up to 8,000 LBS, drivers can tackle any job with ease. Standard the 2018 Ford F-150 comes with a 3.3L V6 engine producing 260-hp, however, when properly configured the F-150 can produce up to 450 hp. In fact, the 2018 Ford F-150 offers six impressive engine options including:
2.7L EcoBoost Engine
3.3L TI-VCT V6 Engine
3.5L EcoBoost Engine
DOHC 24 Valve, High-Output 3.5L DOHC EcoBoost Engine (available for the 2018 Ford F-150 Raptor)
5.0L TI-VCT V8 Engine
The majority of these engines pair with a 10-speed automatic transmission, except for the 3.3L TI-VCT V6 engine which pairs with a 6-speed automatic transmission. In terms of power and efficiency, these engines are top-of-the-line options for drivers looking to experience the ultimate in performance capabilities.
2018 Honda Ridgeline
The 2018 Honda Ridgeline comes standard with a 3.5L V6 engine, which produces 280 horsepower and 262 lb-ft torque. However, for drivers investing in a Ridgeline, this is the only engine option you will receive. The 3.5L V6 engine powers a meager max towing capacity of 5,000 LBS, meaning the largest item you can tow will be a small/averaged sized speed boat. If this sounds like an extremely low max towing capacity, it is. In fact, the 2018 Honda Ridgeline comes out behind the 2018 Ford F-150, 2018 GMC Canyon, 2018 Toyota Tacoma, and even the also low performing 2018 Nissan Frontier in terms of maximum towing capacity.
Needless to say, if you're looking for a pick truck with above average or even average towing capacity for work or play jobs, this is by no means the truck for you. Meanwhile, the 2018 Ford F-150 performs among the top of its class in terms of overall power.