What a Ford Can Mean for Cincinnati Drivers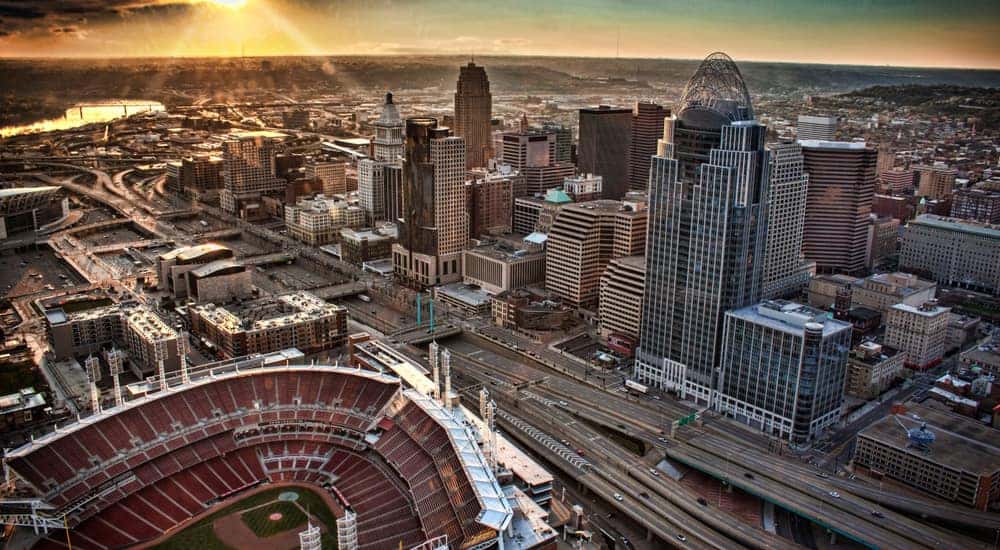 All big cities have their challenges while driving. Traffic is an issue on interstates and major highways. Weather is a concern regardless of where you live in this country. With that said, however, Cincinnati, Ohio has some unique driving challenges you might not know how to prepare for with your current vehicle.
Whether you live in the city, commute on a daily basis, or are planning on moving to this area, it's helpful to know what you are in store for. More importantly, you should know why a Ford is a great vehicle to drive in the city. If you need something like a small commuter car or a powerful truck to pull a trailer on the Cincinnati streets, Ford has something for you. Their current lineup has the performance, specifications, and features to meet whatever needs you have on a daily basis.
So what makes driving in Cincinnati so unique?
Unique Challenges in Cincinnati
Cincinnati is just like any other major city with a great network of roads, highways, and interstates. Unfortunately, just like any other city, our infrastructure regularly reaches its limits. Traffic is one of the most common challenges you will face while driving.
Sitting on I-75, for example, for hours on end just to get ten miles down the road is commonplace during rush hour. If you are a fan of going nowhere slowly, this shouldn't be a problem. If, however, you are like so many other drivers, traffic is stressful and inconvenient.
What can make the traffic worse? How about a little weather as well.
Ohio is neither too far north or south in this country to enjoy consistent cold or hot weather. Being somewhat in the middle, our summers and winters can be rather unpredictable. During the winter months, for example, we may have seasons of warmer temperatures and little snow. The next year, nature may throw a curveball and dump a ton of snow on our streets.
Even driving on a day-to-day basis can be tricky. Preparing for the weather requires either a constant attention to the weather reports or a vehicle that is adaptable. Regardless, you are likely to face many days of light snow, rain, ice, and other hazards during the daily commute.
Given the chaotic changes and congestion our beautiful city presents, to really thrive while driving, you need a vehicle that can handle the challenge. That is where Ford comes in.
Handy Features for Driving
Ford's line of cars and trucks includes a number of great features that can help you minimize or eliminate the challenges of driving in Cincinnati. Many of these features are shared between different models, so you can purchase what you really want to drive without making many sacrifices.
There's very little you can do about the traffic in any city. Unless you can command the flow of thousands of cars at once or change your daily route, you are going to be stuck. That doesn't mean you have to pay a lot of money for the gas you're wasting, however.
Engine options have become more and more fuel-efficient due to Ford's EcoBoost technology. If you want the ultimate level of fuel efficiency, the hybrid drivetrain is another great option. Throw in an advanced navigation system to help you navigate around congested spots and you might find your daily commute is a little more painless.
For the weather, safety is key. Technology that can help you avoid issues before they happen is paramount. That is why handy technologies like blind spot detection, adaptive cruise control, and intelligent traction control will help you through the challenging weather. For example, many of the vehicles that sport all-wheel-drive come with intelligent drivetrains that will shift torque between the front and rear wheels for better traction. Forward collision sensors can also automatically apply the brakes before a major accident.
Finally, the convenience and carrying capacity many Ford vehicles offer shouldn't be ignored. If you have a longer commute into or out of Cincinnati, maximizing the number of people and cargo you can hold is important as well. SUVs like the Ford Explorer can carry your entire family and then some in one trip. Ford trucks with an 8-foot bed and full cab will transport the family and some cargo, equipment, or adventure toys in one go as well.
From safety, convenience, to efficiency, Ford vehicles are the most logical choice to master Cincinnati streets. So which vehicle should you choose?
Good Models for These Roads
The perfect choice of car, SUV, or truck depends on your personal needs. If you don't mind going small and efficient to save on some gas, one of the popular Ford minicars or sedans may be a good choice.
Take a look at the Ford Fiesta, a supermini car with over seven generations under its belt. For something a little bigger, check out the company's pure hybrid line, the C-Max. This compact multipurpose vehicle can reach fuel ratings of up to 42 miles per gallon.
Need something bigger? An SUV or truck may be the way to go. Compact SUVs like the Ford Escape offer a great mix of fuel efficiency, maneuverability, and cargo capacity. Upgrade the size with the Ford Explorer for the maximum amount of passenger space inside.
Of course, the only thing that many Ford customers really look at are the trucks. The F-150 has remained America's most popular truck for decades now. Whether you want to haul heavy trailers or simply need something stable for the daily grind, a truck like this can offer more traction and stability when needed.
Thriving on Cincinnati Roads
Driving in Cincinnati, Ohio requires experience, skill, smart thinking, and the right vehicle. Paying attention to traffic and weather reports is a must, but more importantly, you need a vehicle you can trust. Ford cars, SUVs, and trucks are the best choice for people needing reliability, safety, and great performance. Want to see what a Ford can mean to you? Check out what Ford has to offer on the Kings Ford's lot today.