Go Further With Kings Ford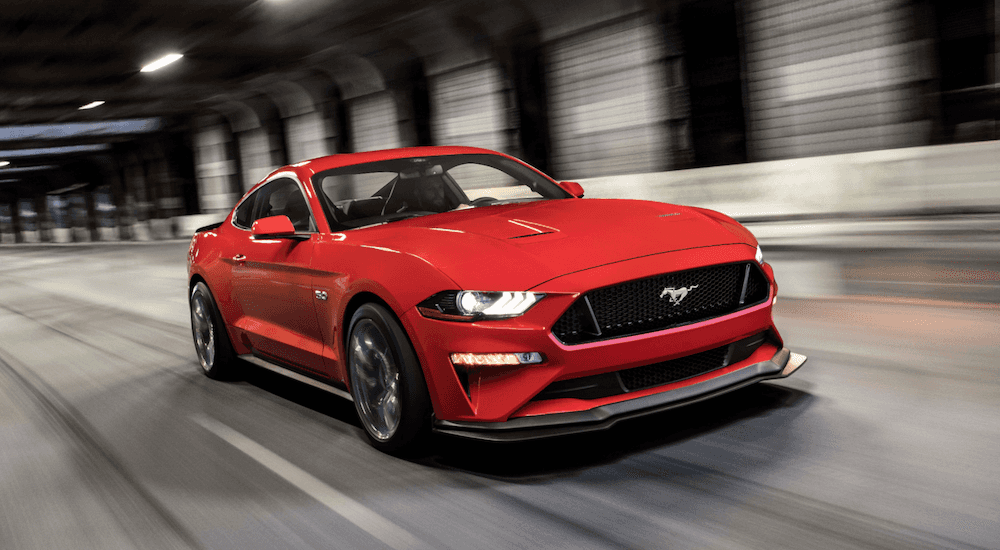 Ford requires no introduction. It needs no embellishment.
Arguably the most enduring and iconic automaker of all-time, Ford embodies a near-perfect realization of continual evolution. Regardless of model, trim level or model year, each and every Ford vehicle exists as an ambassador to brand integrity, albeit with a diversity that makes each unique and perfect for a different kind of driver.
Ford Dealerships could be accused of being just as diverse, especially in terms of the values that drive and define them. With that in mind, Kings Ford takes great pride in the commitments that we honor.
First (and most importantly) it begins with an enduring commitment to our community. We consider this both a responsibility and a joy, performing charity and sponsoring programs that help Cincinnati (and the people who call it home) to thrive. This rests at the core of everything that we do.
It extends to our approach to customer service. Every facet of our business is built to create or support lasting relationships with all of our valued customers. Regardless of whether you're a new or existing customer, regardless of walk of life, we embrace the diversity of our customers knowing that they are who makes us what we are: a dealership fortunate enough to call our customers our friends.
And as our friends, we are committed to offering you the best possible pricing. Whether you're considering a new model year offering, a pre-owned vehicle (Ford or otherwise) or a Ford Certified Vehicle, we aim to make it accessible as possible. This means helping your budget to go further, ensuring your satisfaction.
Specials & Offers
Built around the desire to offer you the best possible pricing, we at Kings Ford take great pride in finding opportunities to generate savings.
This may take the form of our transparency, honoring manufacturer offers or regional incentives that other dealerships might keep hidden. It could come from specials that we offer on both new and used inventory. You may even experience it in our Financing Specials.
Empowering our customers to get more car for their money is important to everyone here at Kings Ford. Visit us, and we invite you to inquire about current offers and specials that could help you in your next vehicle purchase.
New Model Year Offerings
If you're not familiar with the diversity of Ford's model year offerings, we recommend that you begin exploring now.
Granted, most people are aware of Ford's F-Series trucks. More than just the best-selling trucks of all-time, the F-Series earns the added distinction of being best-selling of all vehicles (including cars, SUVs, etc). An impressive standing to say the least, but Ford's offerings extend well beyond the iconic F-Series.
Ford's series of cars, for example, exemplifies brilliant diversity. From the accessible pricing of the fun and funky Fiesta to the convenient hatchback styling of the Focus…from the modesty of the Fusion to the luxury-inspired Taurus, Ford covers the gamut. And (of course) there's the legendary performance of the Mustang (but we'll leave that to your own exploration).
Crossovers and SUV offerings follow the same suit, albeit with a wider-range of both performance and versatility. From the Ecosport to the Expedition, Ford serves up the ideal solution for those in search of a family (or cargo) hauler. Well-equipped in terms of infotainment technologies and utilitarian technology, any of these offerings might be perfect for you.
And for those with an eye to sustainability, we'd be remiss if we failed to mention Ford's hybrid and EV variants of the C-Max, Fusion, and Focus.
Regardless of what you're looking for in your next vehicle purchase, this lineup provides the perfect foundation for Kings Ford to help you find it. But our offerings extend well past that of the newest model year (or even Ford).
Pre-Owned Inventory
Our pre-owned inventory serves as one of the most diverse in Cincinnati. More than 'just Ford' our extensive selection is able to offer something for every palate, and every budget.
We invite you to explore further (on your time and your terms) right here on kingsfordinc.com. For every vehicle in our inventory, we offer a thorough online profile. This includes a comprehensive list of manufacturer specifications and unique vehicle features. You can also explore a photo gallery, including a 360-degree walk around, helping you to get to know each vehicle better.
Ford Certified Pre-Owned (CPO)
And if you're interested in buying pre-owned, but required added assurance, explore our Ford Certified Pre-Owned Inventory.
While CPO programs differ between automakers, they represent a partnership between the automaker and a dealership to offer their shared customers greater assurance in the purchase of a pre-owned vehicle. By ensuring that they meet very specific standards, qualified vehicles earn extended warranties and a number of additional perks.
If you're interested in further exploring the value of Ford's Certified Pre-Owned Program, you can find more information at www.ford.com/certified-used/inspection/
Your Time. Your Terms
Please remember…Kings Ford builds its business around you. That begins right here, allowing you to shop with the click of a mouse or the swipe of a finger. Once you find a vehicle that you'd like to explore further, you can schedule a test drive right online. You can even apply for financing right here, minimizing any further burden on your time. After all, you have better things to do, than spend your day sitting around a dealership.
It's Like We Say…
"If you want to pay more, that's your business. If you want to pay less, that's our business."
Driven by Ford's 'Go Further' motto, we aspire to help our valued customers do the same. This extends beyond the simple joy of driving and assurance of long-term dependability; it means ensuring that our customers receive the greatest return on their investment. By offering low pricing, excellent quality, and unparalleled service Kings Ford is able to guarantee that every cent of our customers' budget is able to 'go further'.
Let us prove that we can do the same for you.